Flight attendants are a staple of air travel. When chartering a private jet, knowing if your aircraft comes with flight attendants can ensure you are getting the flight experience you want.
The availability of flight attendants on a private jet will depend on the company you charter the aircraft. At Latitude 33 Aviation, you can request flight attendants for your chartered jet on any aircraft except for our light jet options. Additionally, a cabin attendant is included in your charter for CL-605 aircraft flights.
The Benefits of Chartering a Private Jet With a Flight Attendant
When considering whether you should request flight attendants for your private aircraft, knowing what they can add to your experience can highlight if flight attendants will meet your needs. They can improve the experience of many passengers flying on private jets with their various services, including:
Addressing passenger needs: Flight attendants offer many in-flight services to passengers to enhance their comfort and enjoyment. They can provide refreshments, from snacks and drinks to meals and luxury beverages. When you need assistance accessing in-flight services, like entertainment or rest, flight attendants can ensure you get the full experience of your private jet.
Working as a liaison between passengers and pilots: When flight attendants can manage passenger needs and safety procedures, pilots can better focus on flying the aircraft. Flight attendants will communicate with pilots and passengers to pass messages and keep passengers informed. This system allows pilots to increase safety and comfort while improving knowledge for passengers. Flight attendants can answer passenger questions about the plane and its features and they can also make announcements about turbulence or updated arrival times.
Streamlining onboarding and disembarking: Flight attendants have many skills, including customer service and assistance. Whether your party has elderly or disabled passengers who need more assistance or you want efficient onboarding and disembarking processes, flight attendants know the best practices to enhance safety and speed. They can help store bulky luggage and help individuals to their seats.
Speaking multiple languages: Flight attendants often have unique skills suited for frequent world travelers and working with many types of people. Many flight attendants speak multiple languages, especially with such language diversity across the country. If you have passengers who speak other languages, having a crew of flight attendants can enhance their experience and keep them informed and safe.
Each flight attendant has a mix of helpful skills that can enhance the passenger's experience on a private jet. With fewer passengers to serve than on commercial flights, passengers can receive assistance and attention more efficiently to better meet their interests and enhance comfort.
Private Jet Flight Attendant Frequently Asked Questions
If you are interested in investing in a flight crew for your private aircraft, getting answers to your questions can help you determine if this solution is right for you. While some factors might depend on your chosen aircraft and charter company, other decisions might depend on personal preferences and flight attendant capabilities.
1. Which Aircraft Include Flight Attendants?
When you choose Latitude 33 Aviation, you can customize your private aircraft experience by requesting flight attendants. This option is available for our midsize, super-midsize and heavy jets. Please note that while flight attendants are not commonly requested for light aircraft, we are open to accommodating such requests based on individual preferences.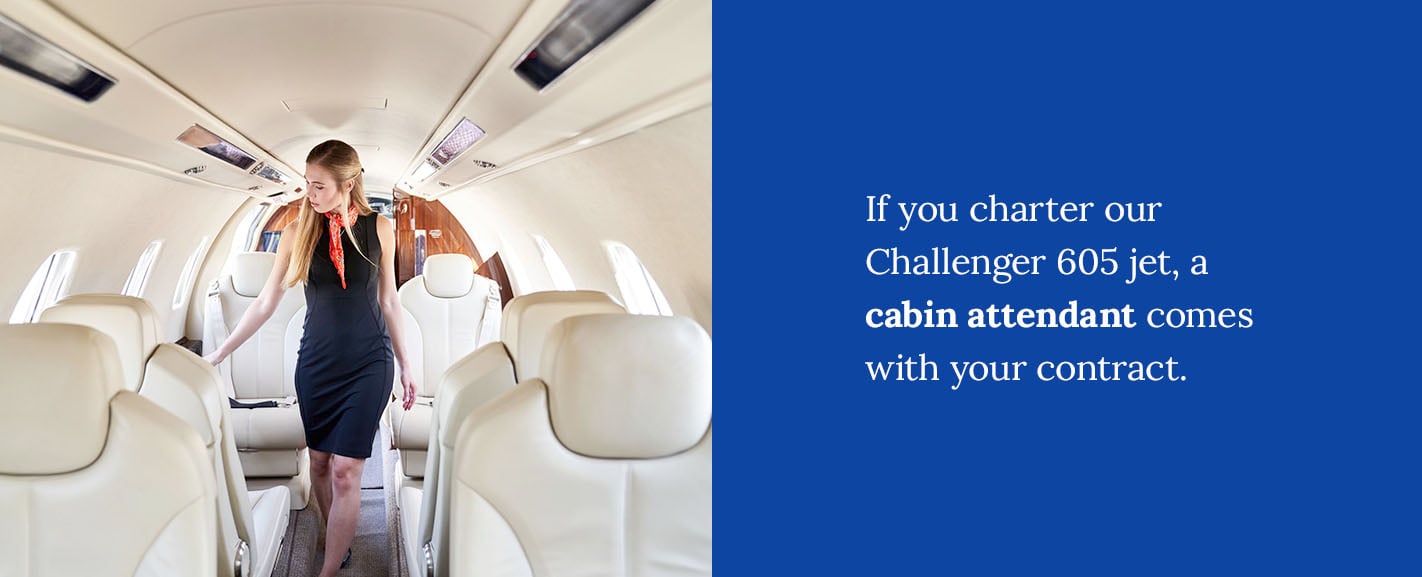 If you charter our Challenger 605 jet, a cabin attendant comes with your contract. However, cabin attendants have different responsibilities than flight attendants. Our cabin attendants are not required to receive safety training, so if you want flight attendants for the increased safety perks, you should consider requesting additional flight crews for this heavy aircraft.
2. How Many Flight or Cabin Attendants Will There Be on My Charter Flight?
You'll need to request flight or cabin attendants when flying on Latitude 33 Aviation private jets. However, you can request multiple attendants to provide the level of assistance you need for you and your guests. Especially if you have comprehensive needs or more guests on board, having multiple flight attendants can ensure everything runs smoothly throughout the flight.
3. Can I Add a Cabin or Flight Attendant to My Jet Charter?
When it comes to the service on our private jets, it's important to note the distinction between "flight attendants" and "cabin attendants." Our dedicated team of cabin attendants is specially trained to cater to your needs and enhance your in-flight experience. Unlike traditional airline roles, their primary focus is on your comfort and enjoyment. Our Flight Charter Concierge Sales at Latitude 33 Aviation is here to guide you in making the right choice for your journey.
4. What Services Will a Cabin Attendant Provide During My Flight?
Cabin attendants can offer various services to passengers on private jets, making them valuable assets that can increase your flight enjoyment. While each private jet charter company's cabin attendants will offer different services, the ones provided by the cabin attendants partnered with Latitude 33 Aviation include the following:
Offering food and beverage services: Whether you have a short flight along the coast or are traveling across the country, food and beverage services can keep passengers satisfied and ready to arrive at your destination. Our cabin attendants can also prepare catering options to fit dietary needs and restrictions to create a safer environment for your guests and loved ones.
Creating custom environments: Cabin attendants are well-versed in hospitality, creating a welcoming and enjoyable environment for passengers embarking on a chartered private jet. Further, they can follow instructions to develop the flight environment you need, whether you are entertaining friends or hosting business partners. Some examples of these services include providing magazines, newspapers, welcome displays or floral arrangements.
Preparing bedding for overnight flights: Overnight flights benefit many travelers, allowing you to arrive at your destination in the morning to optimize your time there. However, commercial flights can create uncomfortable environments where passengers can't sleep. Instead, our cabin attendants can arrange and prepare bedding for a comfortable, restful flight.
Maintaining the cleanliness of the cabin: The quality of our aircraft is important to us. A clean cabin is essential for ensuring a comfortable and safe environment. Our cabin attendants work to clean up messes and restock supplies for a clean flight without any complications.
5. How Much Do Cabin Attendants Cost?
Cabin attendants are available upon request for your Latitude 33 Aviation aircraft for an additional fee. Cabin attendants cost about $1000 per day on your chartered flight. For many individuals, the comprehensive services and benefits cabin attendants add to flights help balance the additional expenses of hiring them for private jets.
Charter a Private Jet With Latitude 33 Aviation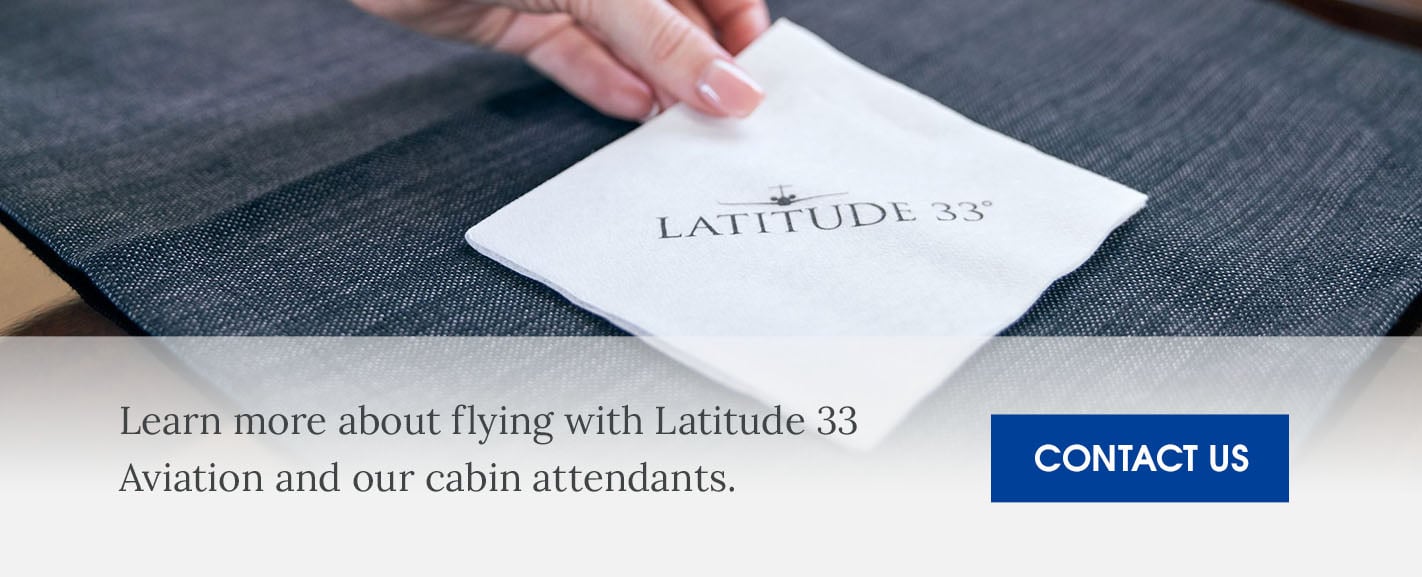 Private jets can provide the privacy, comfort and services individuals value when traveling. Latitude 33 Aviation offers comprehensive chartering services, allowing you to choose the aircraft size and services that best fit your needs. With options to travel to several cities and locations, you can travel across the country for work and pleasure with us.
Contact us today to learn more about flying with Latitude 33 Aviation and our cabin attendants.