Whether you're taking a luxurious vacation in the Bahamas or flying to an important business trip, you need to know your chosen mode of travel will get you to your destination and provide the high level of service you deserve. The question is, do you buy an online first-class ticket on a commercial airliner or charter a private flight for you and your traveling companions?
If you're considering whether to book a private jet vs. a commercial airline, this guide will help you understand the reality of private travel.
7 Myths About Private Travel Debunked
No matter where they're coming from, travelers who are booking a private jet for the first time often have similar reasons for feeling hesitant about the process. We understand the confusion — allow us to dispel some of the most common myths about private jets for you.
Myth 1: Scheduling a Private Flight Is Hard
There's a strong misconception among travelers that chartering a private flight is a headache in itself. In fact, it's one of the biggest reasons people choose first-class commercial seats over private flights.
Although the process takes a little longer than buying a ticket on a commercial flight, travelers often find that chartering a private jet is a much smoother experience. When you fly private, your charter operator's dedicated team will help you through every step of the process, from aircraft selection to accommodating special requests for in-flight catering.
Myth 2: Commercial Aircraft Are Safer Than Private Jets
Private flights are just as safe as your average commercial airliner. Charter operators take numerous measures to ensure passenger safety in line with Federal Aviation Administration guidelines.
At Latitude 33, we've hand-picked the most experienced, well-trained professionals in the industry to be part of our flight crews. We've logged more than 75,000 hours of safe aircraft operation since our opening in 2006, and we're an ARGUS Platinum-rated charter operator — which is the aviation industry's highest safety rating.
Myth 3: Only the Rich and Famous Can Fly Private
One of the most common misconceptions about private travel is that only celebrities and the uber-wealthy are able to fly private. The reality is anyone can charter a private jet. In fact, business travelers make up the majority of private flyers.
There are also plenty of cost-saving tricks you can use to bring the cost of a private flight down, such as:
Booking an empty leg flight
Being flexible with your travel schedule
Flying out of alternate airports
Scheduling your flight early
Choosing a smaller aircraft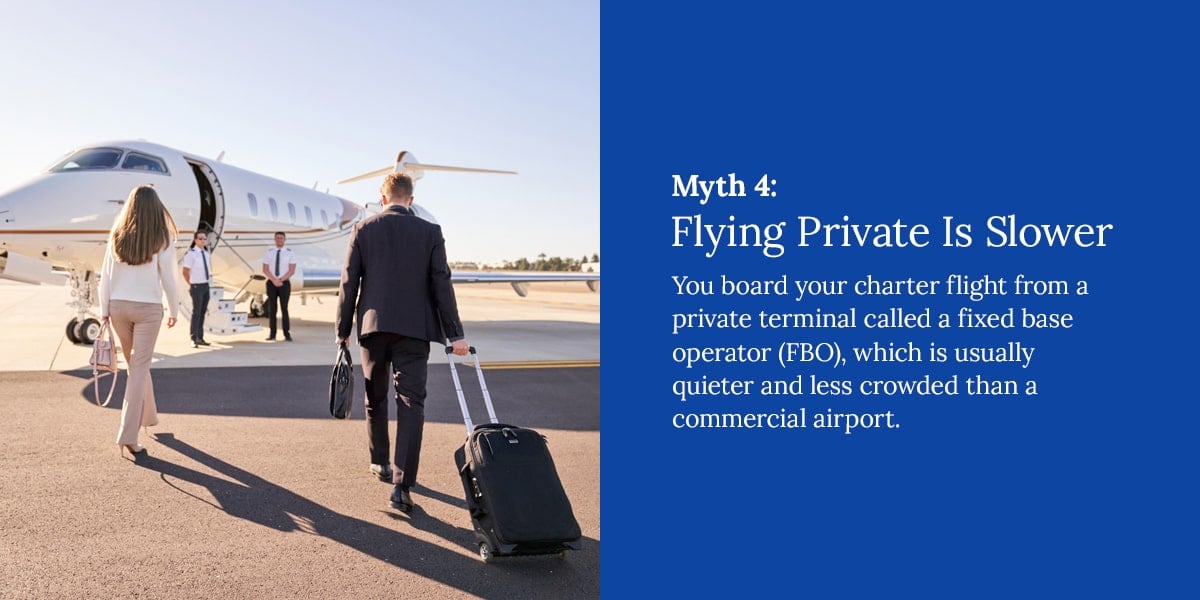 Myth 4: Flying Private Is Slower
Many believe that flying commercial is the only way to get to your destination quickly. Unless you need to book a last-minute flight, this myth is patently false.
You board your charter flight from a private terminal called a fixed base operator (FBO), which is usually quieter and less crowded than a commercial airport. There are no long lines or excessive security checks to pass through, so you can arrive closer to your scheduled departure.
Because private jets can fly at higher altitudes than commercial aircraft, they can avoid crowded airspace, which means you can take a more direct route to your destination. If the pilot believes there is a faster way to get there, they'll discuss alternate routes with you before you depart so you can get there on time.
Myth 5: Private Jets Can Only Fly to a Few Places
Many people believe private aircraft are limited by the number of airports they can use. On the contrary, private jets can access far more airports than your standard commercial aircraft. Out of the more than 5,000 public airports in the United States, only about 500 serve commercial flights. Private jets can land at more than 14,000 airports.
Several of these airports have FBOs and separate VIP lounges for charter jet passengers, so you can relax in your own comfortable space as you wait to board. That's a significant upgrade from the usual packed, chaotic commercial airport terminal.
Myth 6: Private Flights Are More Likely to Get Canceled or Delayed
You might think that private flights are more likely to experience complications due to their small size. After all, commercial flight cancellations have been on the rise since 2020 — it only makes sense that bad weather would affect charter operators, too.
Actually, poor circumstances are less likely to affect private flights. Because small private jets can fly higher than commercial aircraft, they can usually fly above storms that would delay or cancel commercial flights. Additionally, your pilot and charter operator will work with you to find alternate routes or reschedule if needed.
Myth 7: Every Private Jet Is the Same
Unlike standardized commercial aircraft, private jets come in a wide range of sizes and specifications. Most charter operators have a fleet of aircraft available to accommodate different travel requirements.
If it's just you and a business partner, for example, you'll likely fly in the company's smallest jet. When you're going on vacation with your family, you can book a larger aircraft to accommodate your group. The call is yours to make.
That also goes for charter operators. If you're considering booking a private jet, it's important to make sure you choose a reliable charter company. Conduct research using reliable online sources to find operators that seem trustworthy, then make sure to contact each operator for more in-depth information. The staff at each company you reach out to can answer any questions and concerns you may have, which can help you narrow down which operator to fly with.
What to Expect When Flying Private
Flying private is a very different experience from flying commercial — one that many passengers find far more comfortable and enjoyable. Here are a few points you should know before your first charter flight:
Privacy: You and your traveling companions are the only passengers on your charter jet, so you can spend your time as you please — napping, chatting with your group, getting work done, or whatever else you need to do.
Convenience: Private travel gives you the utmost flexibility in your travel schedule. Without the long lines, you can arrive at the airport as soon as 30 minutes before your scheduled departure.
Amenities: On a private flight, you have total control over the amenities at your disposal. You can make special requests for catering, entertainment, drinks, and other features and services.
Experience a Private Flight for Yourself With Latitude 33 Aviation
Are you looking for a faster, cleaner, and more convenient way to travel? Charter a private jet with us at Latitude 33. We offer safe, comfortable, and reliable private flights at excellent rates so you can enjoy a stress-free travel experience.
Contact our concierge department or request a quote today to get started.