About Latitude 33 Aviation
Latitude 33 Aviation was formed in 2006 with the goal of providing a superior level of aircraft management in Southern California. Specializing in individualized, client-specific management programs, Latitude 33 Aviation quickly grew from one Cessna Citation to its current fleet of over 30 Challenger, Phenom, and Citation aircraft. Latitude 33 Aviation is an industry-recognized expert in delivering professional, full-service management programs while maintaining a safety, security, and customer service record that its clients can count on. Founded and run by current, professional pilots, Latitude 33's leadership has the unique perspective of the private jet industry's pulse from the front lines, not from behind a desk. Whether you are a current jet owner, or simply looking to gain more information about the ownership process, Latitude 33 Aviation has worked for clients like you.
Latitude 33 Aviation provides private charter services that maximize flexibility, convenience, privacy, and efficiency. Travel on your own terms and schedule, skip the lines and connecting flights, and have the freedom and privacy to make the most of your time in the sky. Since our founding in 2006, we have been backed by an unparalleled aviation safety record.
Our management maximizes the efficiency and safety of your plane, as proper management is paramount to private aircraft ownership. The benefits of our aviation management services include maintenance discounts, reduced fuel rates, concierge services, aircraft detailing, and other vital support gained by working with our team of industry professionals.
Our dedicated aircraft experts provide acquisition and aviation broker services for clients looking to buy or sell their private jet. From initial inquiry to the final signature, we guide our clients through the entire ownership cycle to save them time and maximize their investment. Our personal approach to aircraft operations appeals to buyers and sellers alike.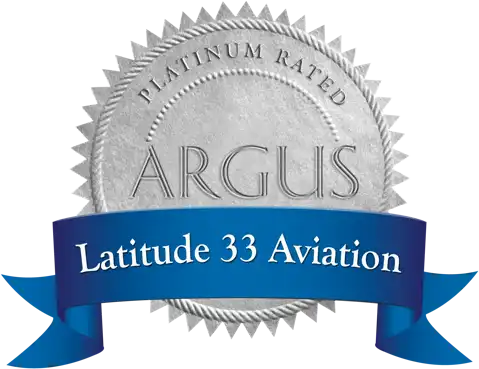 Latitude 33 Aviation is among the 5% of all charter companies to receive an ARGUS Platinum safety rating, the highest level of safety rating issued by Aviation Research Group International, Inc. (ARGUS). Latitude 33 Aviation strives to provide the absolute best of what the private aviation industry has to offer, and this accolade is yet another way it demonstrates its commitment to its clients, partners, and employees. Latitude 33 Aviation proactively promotes a culture of safety. The unwavering commitment to superior service has made Latitude 33 Aviation a preferred operator for private jet charter clients, aircraft owners, and business jet manufacturers.
We have close partnerships with leading industry organizations including:

View our fleet of over 30 managed and chartered aircraft ranging from Citations to Phenoms to Challengers and more.
Meet the team of professionals that have founded and grown Latitude 33 Aviation into the successful company it is today.
Fly in luxury and style with a private jet from Latitude 33 Aviation. Request a quote for your next flight.