Chartering a private flight is a convenient, comfortable, and flexible way to fly. It can help you save precious time, letting you spend more time at your destination after reaching it in comfort.
Various strategies can help you find incredible rates on private flights, which is especially advantageous if you are a frequent flyer. Continue reading to learn how you can find the best private jet charter rates.
7 Ways to Find an Affordable Private Jet Charter
Affordable air charters make private flying accessible to more individuals. The cheapest way to fly private depends on your preferences and flexibility. You can find affordable charter flights if you are willing to travel in a group, seek different flight options and keep your schedule open.
1. Travel in a Group
Traveling in a group lets you split costs with others. Booking a charter flight on your own typically requires paying for every seat on the flight yourself, but scheduling a flight with other individuals lets you share the cost and pay only for your seat. Whether you take friends, family, or co-workers, flying in a group could be one way to affordably access a private jet charter.
2. Choose a Smaller Aircraft
Smaller aircraft typically offer lower rates than other aircraft. Smaller planes use less fuel and have smaller crews, reducing flying costs. A smaller aircraft may lack a few of the luxuries of larger jets, but they offer comfortable flights at exceptional rates.
3. Join a Membership Service
Joining a membership can help you save money if you fly frequently. However, traditional charters often offer better rates than the hourly flight rates memberships offer. Avoid signing up for a membership and tethering yourself to one provider if you can find better rates with a traditional jet charter company.
4. Seek Empty Leg Flights
An excellent way to save money on a private jet charter is to seek empty leg flights. An empty leg flight occurs when passengers charter a one-way flight to a specific location and the aircraft lacks return passengers. If no passengers book a flight back to the home base after the aircraft lands, it's considered an empty leg flight.
An empty leg flight can also happen when a charter jet flies empty to pick up passengers away from the aircraft's home base or when it flies to a different location to be serviced.
Aviation brokers may offer discounted flights to fill empty aircraft seats. It's sometimes more affordable for an aviation broker to fly back to their home base than to wait for passengers to book flights in a specific location, but offering discounted flights lets them gain passengers without waiting.
An empty leg flight is sometimes referred to as a repositioning leg, ferry flight, dead-head, empty flight, or a one-way flight. They are typically available on short notice, so you may need to check for them often to book a charter. Booking an empty leg flight is an exceptional option if you don't have a specific destination in mind, but it's essential to remember that you will still need to book a separate flight home since an empty leg flight is a one-way charter.
5. Check Different Airports
Checking different airports can help you save money on chartered flights. Private aircraft often fly to alternate airports that are inaccessible to commercial jets. Flying out of alternate airports can save you time and money, and it lets you avoid the long lines of commercial airports. Certain departure locations may offer lower rates than other locations.
6. Book in Advance
Charter companies often strive to secure as many flights in advance as possible, which can save passengers money. Many companies offer better rates for advance bookings, so looking for flights ahead of your planned travel time is an excellent strategy to obtain a flight for the best price. You can save money by booking in advance as long as you seek flights outside of peak times and holidays.
7. Keep Your Schedule Open
Flexibility is another excellent way to save money on private jet charters. Many people pay high prices for the convenience of flying at specific times, but having an open schedule increases the likelihood of finding better rates on charter flights. You are more likely to find a great deal if you are willing to fly at any time and on any day than if you need to leave at a specific time.
It's essential to avoid booking flights during holidays and peak times if you want to save money. Rates usually increase during these times due to high demand. You can also take advantage of fixed routing programs. Some companies offer flat rates for passengers who frequently fly the same route.
Is a Private Flight Worth the Money?
The cost to charter a private flight varies, ultimately depending on the aircraft's size and type, how long you need to charter it for, your departure and arrival destinations, and what kind of amenities the jet offers.
A private flight is costlier than flying commercial, but many find it well worth the investment. Private flights offer incredible benefits such as convenience, flexibility, privacy, and comfort. You can typically enjoy a non-stop flight, avoid long commercial airport lines, and save valuable time, which is especially beneficial if you are a frequent flyer because it can save you hours. Private flights offer a scheduled alternative to the often unpredictable nature of commercial flights. The in-flight experience is also more enjoyable, with ample space, a quiet environment, and comfortable seating.
Private flights are an ideal option for business flights because they help individuals increase efficiency. You can work without distractions and manage meetings in a quiet space. Private charter flights are also equally safe to traditional flights, and air charter operations require extensive aircraft maintenance procedures, operational safety rules, and FAA pilot certification.
Request a Quote for Luxury Charter Flights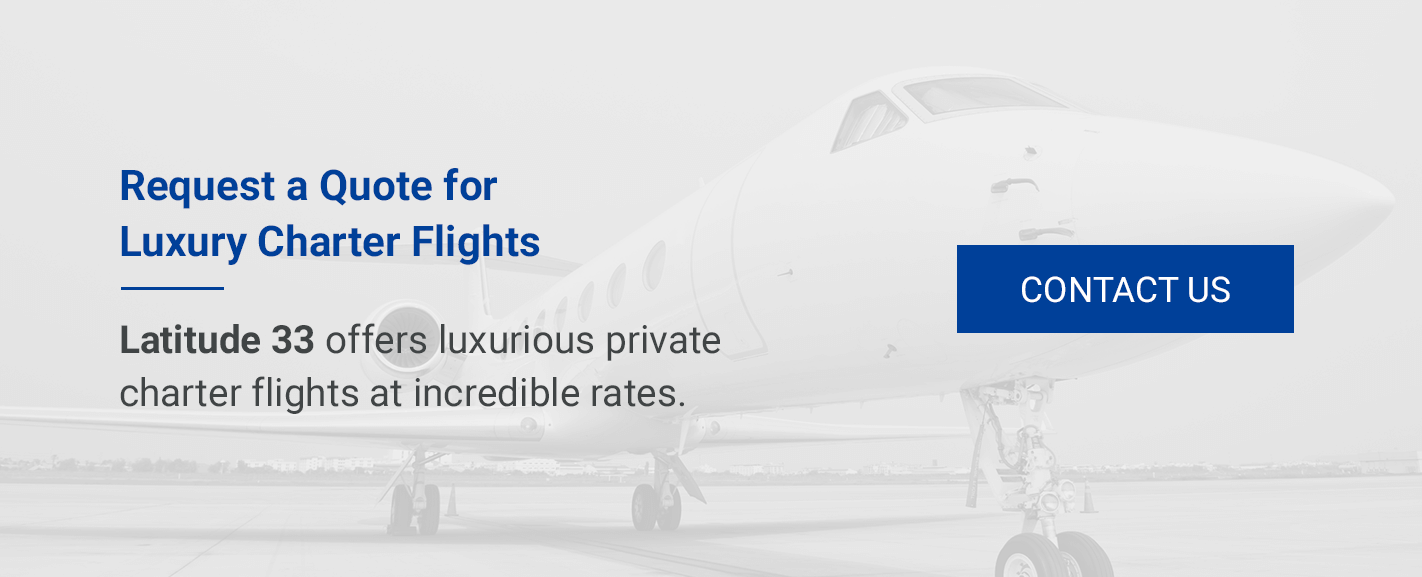 Flying private is an exceptional way to enjoy comfort, convenience, and peace in the air. On a private charter flight, you can complete work efficiently in a quiet space, rest in a comfortable seat with plenty of leg room, and reach your destination fast. When you fly privately, you can avoid airport lines and hassles and save precious time.
Your time is valuable, so you should be able to spend it on important matters. You can find competitive rates on private charter flights by booking in advance, keeping your schedule open, remaining flexible, flying in a group, and checking for empty leg flights.
Fly private with Latitude 33 Aviation. Latitude 33 offers luxurious private charter flights at incredible rates, helping you get a more comfortable, stress-free experience as you reach your destination. Contact Latitude 33 Aviation to request a quote for luxury charter flights.