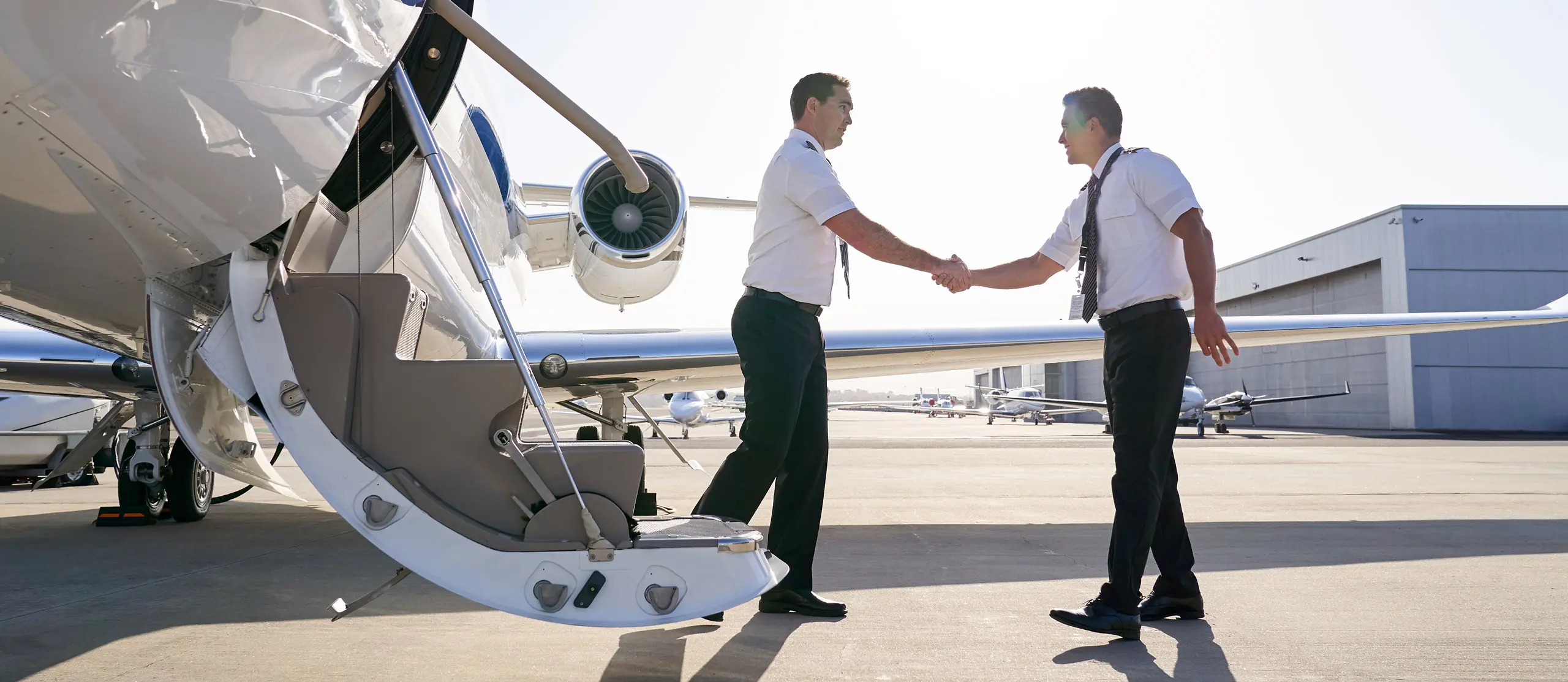 Pilot Jobs & Aviation Careers at Latitude 33 Aviation
A Passion for Excellence. Looking for Los Angeles or San Diego-based pilot jobs, charter sales opportunities, aircraft maintenance, or aviation marketing careers? The people at Latitude 33 Aviation are the most important asset of our company. We are passionate about providing unparalleled service and exceeding our clients' expectations at every possible opportunity. Does this sound like you? If so, take a look at our open positions below.
Weekend Flight Coordinator
Job Information Location:           Carlsbad CA – McClellan Palomar Airport
Position:          Weekend Flight Coordinator
Latitude 33 Aviation LLC, is looking for a motivated individual with a passion for aviation and attention to detail, to join our team on Trip Support in an entry level role. Primary responsibilities include arranging logistics and accommodations for clients, aircraft owners and crew prior to scheduled flights and providing ongoing support for current missions. This entry level position is multifaceted and fast-paced, and requires an individual who is a team player, and is able to multi-task while remaining focused and professional. A successful applicant must be reliable, self-motivated, detail-oriented, and organized, have strong interpersonal skills, and be able to communicate effectively both verbally and in written form, have a sound employment background, demonstrate integrity in their actions, and possess a professional work ethic.
Tasks:
Daily: prepare trip sheets for each aircraft movement to include: Notification of FBOs, selection of appropriate best contract fuel provider, confirmation of catering and ground transportation services for clients, logistics and accommodations for crew. Send to crew and confirm receipt of each.
Arrange client in-flight catering, ground transportation services or rental cars, accommodations and special requests
Provide ongoing trip support to crew and clients: communicate delays and diversions, real time flight tracking updates.
Arrange crew airlines, rental cars and accommodations
Work with flight crews to prepare for adverse weather and airport closures
Complete preflight briefings with crew for each Part 135 Charter flight
Arrange international flights:

Coordinate international departures and arrivals with the appropriate US Customs Border Patrol office
Input crew and passenger information into the Electronic Advanced Passenger Information system.  Assist crew members in filing.
Confirm handling services with international providers, send appropriate documentation for aircraft, crew, and passengers.
Specific Job Skills/Requirements:
*     Excellent communication and customer service skills with our team of crew members, office staff, management, clients and aircraft owners.
*     Professional appearance and attitude.
*     Top organizational skills, multi-tasking and ability to work under pressure
*     Ability to read, write, and speak English fluently.
*     Experience with MS Office applications.
Education and/or Experience: Some college education preferred. Aviation experience preferred but not required. Relative work experience in logistics or customer service taken into consideration.
Hours: 8 hour shift assignments to be between the hours of 7:00am and 6:00pm.  Weekend schedule is immediate need and Holidays are required with appropriate compensation. 
Job Conditions:   Not a remote position.  Office and airport operations setting. Working conditions include working alone and with others, with frequent interruptions and phone calls, computer and computer work.  
Compensation: Hourly pay.  Accrued paid time off.
Qualified applicants will be contacted by Latitude 33 after review of their submitted application and résumé. Applications not completed accurately and in their entirety, will be disqualified from consideration. We request that applicants not call or email Latitude 33 directly regarding the status of their submission.
Citation CJ3 Captain Charter Pilot
Location: Remote
Position: Full Time
Department: Flight
Level: Experienced
Opening for an exceptional Cessna Citation CJ3 PIC. Applicants must be willing to commute or relocate to the Carlsbad/San Diego area.
Job Summary
Latitude 33 Aviation has an opening for an experienced and exceptional Captain for its Citation CJ3 FAA Part 135 and Part 91 operations based out of Carlsbad Airport (CRQ) near San Diego, California. Significant opportunities are available to those who join our team and contribute to the success of the company.
What's it like to be a Latitude 33 crew member?
Our crews are among the best-trained and most experienced professionals in the aviation industry. As company ambassadors to our clients, they are highly qualified to safely and professionally fly our clients anywhere in the world. Our skilled crew members take seriously their responsibility, career, and our company's goal to achieve a higher standard. Our crew member program includes:
Annual recurring state of the art simulator training at the finest training facilities in the world.
In-house training for company specific items and adherence to our FAA approved procedures.
An Initial Operating Experience (IOE) and mentoring program that is proven to ensure our crew members meet and exceed industry standards.
Required Qualifications and Skills
2,500 hours total flight time
CE-525B type rating (preferred but not required)
250 hours in type CE-525B (highly preferred)
FAA ATP certificate
Current FAA Class 1 medical certificate
No significant accidents, incidents, or enforcements in the last 5 years
Exceptional customer service and communication skills
Benefits and Perks
Competitive salary
Health insurance contribution, dental option
401(k) retirement matching
10 days of PTO/year
Unique opportunity to work inside the world of private aviation with one of the best companies in the industry
Located in beautiful sunny Southern California
We now have a variety of new scheduling options to choose from:
Option 1: LOCALLY BASED:
Live within 2 hours driving distance of Carlsbad, CA
Flexible Schedule Options
Fixed Schedule Options (8 on 6 off or 15 on 13 off)
Highly Competitive Salary
Option 2: HOME BASED:
Live within 1 Hour of Approved Gateway Airports
Choice of Fixed Schedule Options (8 on /6 off or 15 on 13 off)
Positive Space Air Travel
Highly Competitive Salary
Option 3: DRIVE-IN COMMUTER:
Live within 4 Hours of Carlsbad, Ca.
Choice of Fixed Schedule Options (8 on 6 off or 15 on 13 off)
Company Sponsored Accommodations
Mileage Reimbursement
Highly Competitive Salary
Unique Latitude 33 Aviation Advantages
Large, varied fleet of 35+ aircraft.
Pilot-focused company – run by professional pilots who understand the pilot lifestyle, with a Chief Pilot who works hard to give his pilots the best quality of life possible
We do not have a sliding duty day like many Part 135 charter companies. Ours are generally 8am-10pm. Pilots will not receive calls for popup charter flights in the middle of the night. We find this provides a much better quality of life for our employees.
Wide variety of aircraft types including Citation CJ3, Phenom 300, Citation XLS+, Citation Latitude, Citation Sovereign+, and Challenger 300/350/605, Gulfstream 650 and Global 5500 aircraft – providing lots of opportunities for pilot upgrade/advancement/longevity
New fleet and impeccable maintenance – most aircraft are less than 10 yrs old, with usually 2-3 factory-new acceptances each year
ARGUS Platinum safety rating.
Multiple aircraft bases within Southern California and beyond, potentially allowing for a base change down the road
In business since 2006
Latitude 33 Aviation provides the ultimate in private aviation services. Managing one of the newest and largest fleets of light, midsize, and super-midsize jets in the U.S., Latitude 33 Aviation's mission is to be the absolute best at what we do. Specializing in individualized, client-specific management programs, we operate a fleet of over 30 Bombardier, Embraer, and Cessna aircraft and have been recognized as San Diego's Best Air Charter Company. Overseen by a highly-motivated leadership team, Latitude 33 Aviation delivers excellence in private jet charter services, aircraft management, and aircraft acquisition and sales services. Latitude 33 Aviation is an industry-recognized expert in delivering professional, full-service management programs while maintaining a safety, security, and customer service record that its clients can count on. Founded and run by current, professional pilots, Latitude 33's leadership has the unique perspective of the private jet industry's pulse from the front lines, not from behind a desk.