A vacation is a truly beneficial experience that can significantly enhance your mood and your health. Taking a break from work rejuvenates your mind and body, lets you connect with loved ones, and increases happiness. Vacationers often return with a fresh way of thinking.
Whether sampling exquisite wines with friends, taking your family on a beach getaway, or experiencing a new culture, taking time for vacations is important for your well-being. Consider the benefits of taking a vacation and disconnecting from your office responsibilities.
Improving Your Physical and Mental Well-Being
The health benefits of vacations can improve your life by reducing stress, improving mental health, enhancing positive moods, and preventing some health conditions. Understanding why vacations are important is the first step toward unwinding in an exciting or relaxing environment outside the office.
Reduce Stress
Work-related responsibilities require occasional recovery periods to counteract negative reactions and prevent chronic stress. Taking a vacation is an effective coping technique to help process work strain and avoid burnout. Vacation distracts individuals from stressors and lets them unwind, enhance their mood, and think positively.
Studies show that even vacations as short as four nights can provide adequate recovery time for individuals to increase their positive mood. When you take time to focus on enjoyable activities, relaxation, and time with friends and family, you can significantly reduce any stress you feel from your workplace.
Take Care of Your Mental Health
Vacations can significantly benefit mental health by reducing some symptoms of anxiety and depression. Studies show that people are less likely to experience depression if they have access to paid vacation leave. When you take time to travel for leisure activities, you remove yourself from an environment you may associate with stress and anxiety, allowing you to focus on a relaxing or exciting environment that invokes positive feelings.
One of the most beneficial psychological benefits of vacations is increased mindfulness. Traveling allows individuals to feel more present and aware of the people, environment, and activities around them. Being in a state of mindfulness can increase happiness and relaxation.
Prevent Heart Disease
Taking time away from work can help prevent heart disease and reduce the risk of heart attack and stroke. Reducing work stress helps lower the amount of the stress hormone your body naturally produces, called cortisol, and vacationing is an excellent way to reduce stress. When you reduce the amount of cortisol your body produces, you also may reduce blood pressure and protect your body from blood clots and heart disease.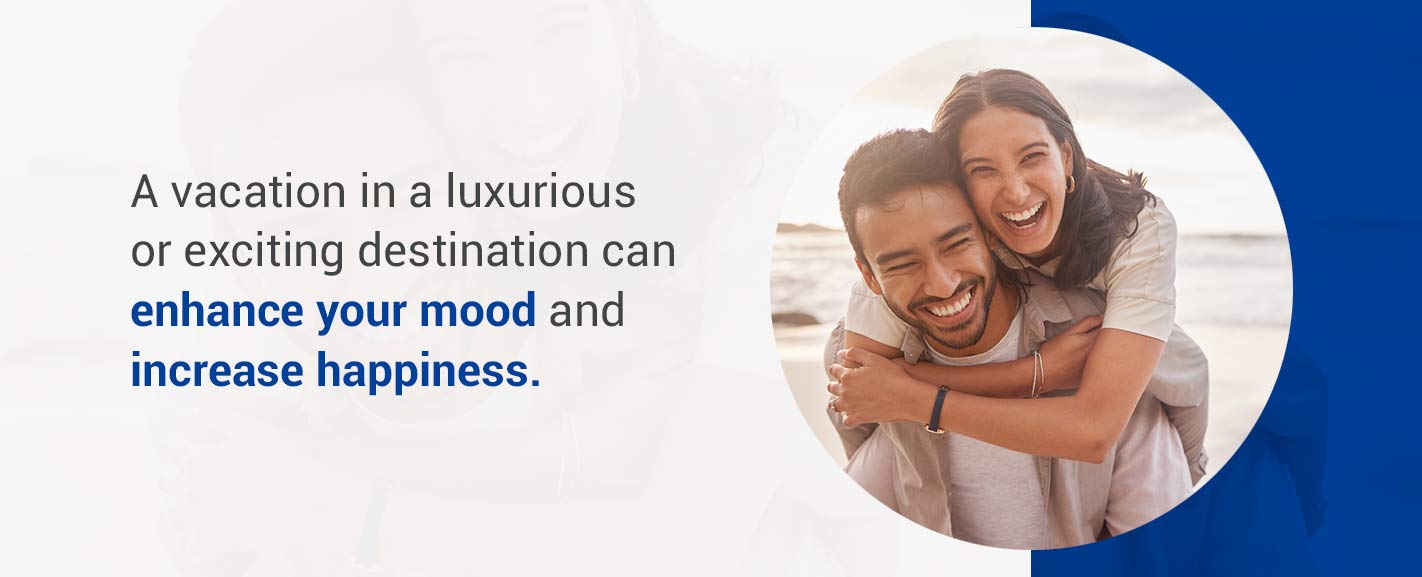 Boosting Your Happiness
A vacation in a luxurious or exciting destination can enhance your mood and increase happiness. Even the excitement you feel planning your travel details can increase happiness leading up to your trip. Taking a vacation elevates your joy because it allows you to do the following:
Try New Things
A vacation presents opportunities to try new things, whether traveling domestically or internationally. You can meet new people, taste new foods, and sample new cultures. You can hear the sounds of crashing waves on the shore, dance to live music, or glide through the air on a parasailing adventure. Traveling lets you step outside of your normal routine and experience new things.
Broaden Your Horizons
New experiences also broaden your horizons. When you travel to a new place, you experience new scenery, encounter different people, and learn new things that broaden your perspective of the world. Plenty of destinations feature fascinating history, remarkable art, breathtaking views, and compelling cultures that you can observe while broadening your knowledge and understanding of the world around you.
New experiences can also enhance creativity, which could inspire you to return to work with fresh ideas and new ways of thinking.
Strengthen Relationships
Taking a vacation can help you strengthen relationships with those you care about most. Whether you travel to reconnect with old friends or take time to spend with family, vacations allow you to enhance quality time with the most important people in your life.
On vacation, you partake in enjoyable activities and relax with loved ones without mental and physical distractions, allowing for closer connections.
Your Employer Might Pay for It
In addition to paid time off for vacation, your employer might help pay for the trip. Some employers provide a travel or vacation stipend to cover expenses such as flights, lodging, experiences, and transportation as an additional benefit for employees.
If your employer offers this benefit, you may be able to allocate more funds toward additional experiences, enhanced lodging options, or more comfortable transportation to your travel destination. Talk to your employer or human resources department for specific information about your company's vacation policies and opportunities.
Why Fly Private?
To enhance your vacation experience and truly recover from accumulated work stress to the maximum potential, consider flying private. Traveling in a private jet allows you to fly comfortably and stress-free, so your vacation is relaxing from start to finish. Avoid crowds and enjoy a flexible timeline that lets you arrive and depart when you are ready.
When you fly private, you can choose the aircraft size you need based on your traveling party, and you can rest comfortably with plenty of leg room and the convenience to eat and drink whenever you please. Loading the plane and arriving at your destination is simple, with helpful cabin attendants to assist with luggage and ensure ground transportation is ready for you upon arrival at your destination.
Flying private is the finest way to travel and experience a vacation that lets you fully unwind. After dedicating hours, days, and months to important work responsibilities, you deserve a break to retreat, reduce stress, and increase your happiness. Consider booking a private charter jet for your next vacation.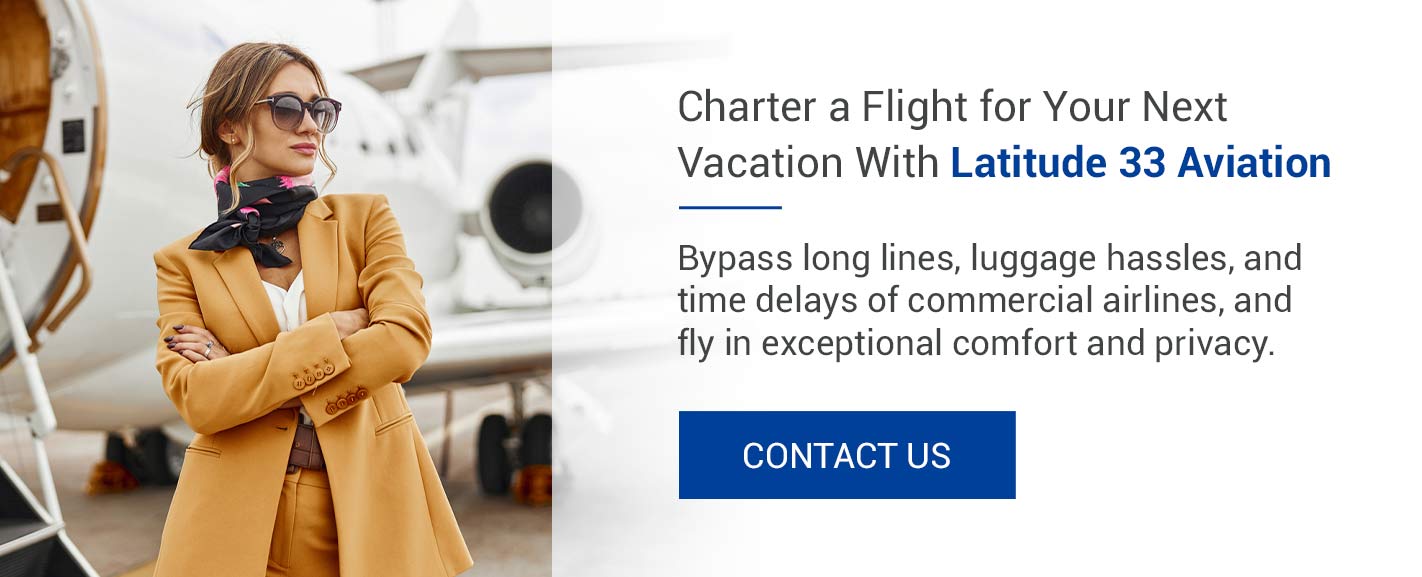 Charter a Flight for Your Next Vacation With Latitude 33 Aviation
A vacation is an opportunity to disconnect from your work responsibilities and enhance your happiness through positive and relaxing opportunities. It can even leave you feeling refreshed and inspired to return to work with new ideas and improved productivity.
Embark on an entirely stress-free flight that exceeds your expectations with Latitude 33 Aviation. Latitude 33 Aviation provides exceptional personal service, flexibility, and convenience so you can reach your destination at a time that caters to your plans.
Bypass long lines, luggage hassles, and time delays of commercial airlines, and fly in exceptional comfort and privacy. When you fly with Latitude 33 Aviation, your stress-free and relaxing vacation begins when you board the private charter jet. Contact Latitude 33 Aviation to learn how we can help you reach your next destination in comfort and on your schedule.