Aircraft are not one size fits all, that is why our acquisition program begins with an in-depth aircraft needs assessment. Each aircraft has different features and specific maintenance requirements. Because each aircraft owner has his or her own needs and requirements for a private jet, it's essential to call upon an experienced professional with expertise to help you determine which aircraft is right for you. Latitude 33 Aviation's jet acquisition services are tailored to help you get the most out of your private jet investment by finding the aircraft that fits your precise needs. Once we have determined the right jet for you, our team will handle every aspect of the process.
What are Jet Acquisition Services?
Aircraft acquisition services allow you to make a sizeable aircraft investment without having to worry about the fine details. Rather than navigating the sales market on your own, Latitude 33 Aviation determines your needs for an aircraft and shows you available models from reputable manufacturers within our network.
The intent of aircraft acquisition services and planning is to set you up for success long before making a final purchase. This involves tasks such as finding private jets within a specific price range, organizing a financial plan, and investigating operational costs.
Understanding the Jet Acquisition Process
It's our goal at Latitude 33 Aviation to connect you to a factory-new private jet without any hurdles. Our professionals guide you through each step of the aircraft acquisition process for full transparency between aircraft selection and closing on the final sale. Operating in the industry since 2006, Latitude 33 Aviation keeps you organized throughout the entire sales process, which includes the following steps:
How Latitude 33 Aviation Works for You
A private jet purchase is a complex and detailed process. Yet with Latitude 33 Aviation's knowledgeable professionals behind you, you can be confident that you will find the right aircraft for your needs. Our jet acquisition services include:
Detailed international market analysis, including market trends and current inventory. Our expertise means we know where the private jet market is going and what is available on the market to meet your needs. We will help you get the most out of your private jet investment.
Aircraft selection. We offer you the most extensive selection of private aircraft you can find anywhere.
Aggressive acquisition representation and contract negotiations. We will represent you during negotiations to ensure that the purchase of the aircraft is as beneficial to you as possible. We will make sure the aircraft acquisition process is smooth and enjoyable.
Legal and tax referrals. The connections Latitude 33 Aviation has will provide you with the most beneficial expert advice when it comes to the legal and tax repercussions of your purchase.
Facility selection for pre-buy and or maintenance and capital improvements. We will help you find the most convenient and appropriate location for inspecting or refurbishing your aircraft.
On-site pre-buy representation and management. Our representatives won't just help you from a distance. We'll be right there with you on site to provide whatever you need. While our main offices are located in the San Diego and Los Angeles areas, we travel to our clients to provide expert jet acquisition services.
Aircraft entry into service flights, and conformity (if to be added to our charter fleet). We will check every aspect of your new aircraft to guarantee it's in prime condition and quickly ready to become a revenue-generating asset.
Jet pilot mentoring. We can offer the crew of your new aircraft all the mentoring and training needed to provide you and your jet with the best possible service.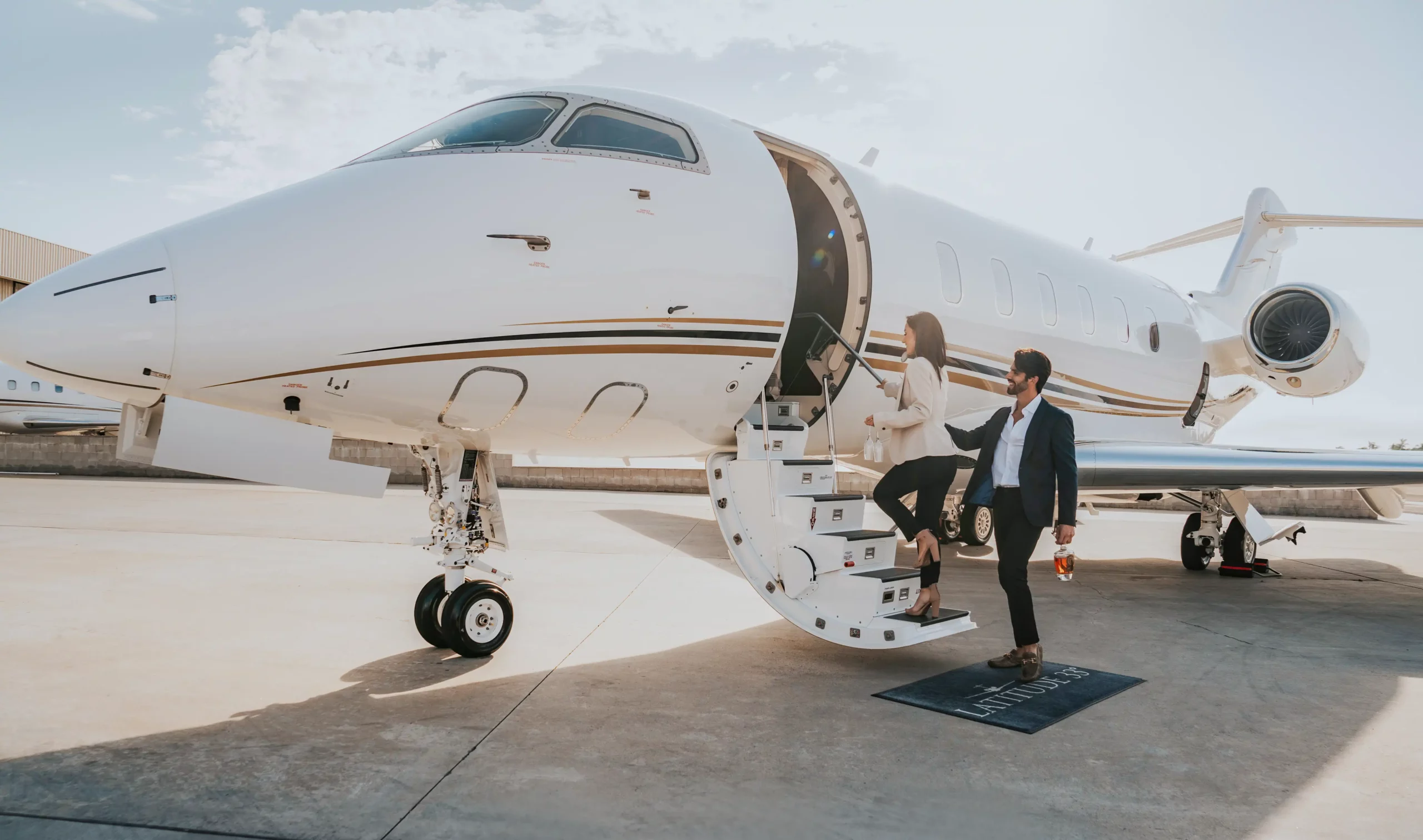 Advantages of Jet Acquisition Planning
Having knowledgeable experts on your side throughout aircraft acquisition planning stages is important for your satisfaction as an aircraft owner. Latitude 33 Aviation is dedicated to helping you purchase a private jet based on your expectations for performance, aircraft size, and price point. Whether this is your first private aircraft purchase or you are looking for an updated model, we make the aircraft acquisition process easy to follow.
The Latitude 33 Aviation team is made up of active pilots with over 100,000 hours of flight experience combined. We know what we are looking for when introducing you to potential jet options for work or leisure activities.
Jet Acquisition Financing
Latitude 33 Aviation helps you purchase a private aircraft in a way that works for your budget. Our professionals provide you with accurate estimates for factory-new aircraft early on in the acquisition planning stages so you know what to expect after closing. If you need an aircraft loan, we work closely with financial institutions to arrange financing options for flexibility.
Rely on Latitude 33 Aviation for Jet Acquisition Services
The purchase of a private jet is a big step- one that requires you to know where you're going before putting your foot down. Trust Latitude 33 Aviation to help you navigate the aircraft acquisition process successfully. Latitude 33 Aviation provides expert jet acquisition services. Our experienced team handles the entire aircraft acquisition process. Call for more details at 
1-800-840-0310
. You can also 
fill out a form online
 to contact us today.
Learn More About Our Jet Acquisition Services