Meet the Latitude 33 Team
Our team consists of passionate and experienced people, who love what they do and always look forward to facing new challenges. Our focus is to make every client experience great; that happens when each department works together seamlessly behind the scenes and by expecting excellence from ourselves and our coworkers. If you are interested in joining our team please look for our open positions on our careers page.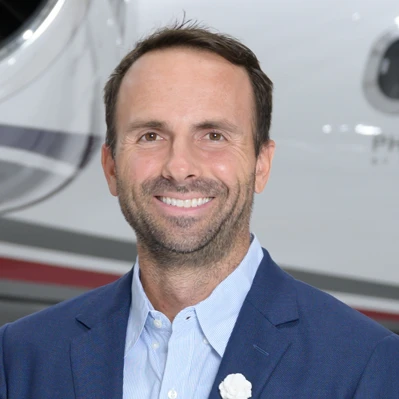 Casey started Latitude 33 in 2006 with one Cessna CJ1+ and quickly grew the company to become today's industry-recognized solution to private jet management. From acquisitions/sales, training, acceptance, and entry into service, Casey has become a recognized expert in all aspects of private aviation. Casey's passion for aviation started as a child, on the lap of his father flying in the family tail dragger.
Soloing at age 16, Casey quickly earned all of his ratings and certificates, becoming Captain on the Learjet at age 23 and then Captain on the Gulfstream at age 25 for a prominent aircraft charter company's worldwide operations. At age 26, Casey began his airline career with a major U.S. carrier as he simultaneously started building Latitude 33.
Casey has worked extensively with Cessna, Bombardier, Learjet, and Gulfstream and logged over 9,000 flight hours.
He holds type ratings in the Boeing 757/767, Challenger 300, CitationJet, Gulfstream, Learjet and Phenom 100/300.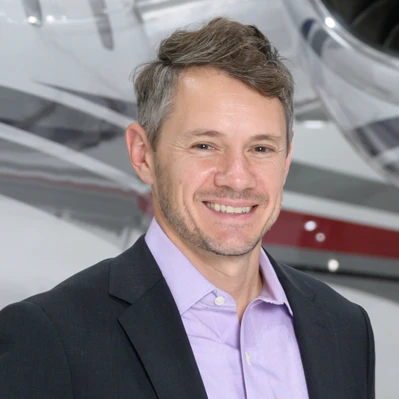 Director of Operations, Owner
Solomon joined the Latitude 33 team in 2011 as the Director of Operations and played a key role in the transition from a part 91 management company to a part 135 Air Carrier. Under his leadership, Latitude 33 Aviation received authorization to conduct revenue operations under part 135 in 2012. With previous experience as a Chief Pilot and Director of Operations, Solomon possesses valuable knowledge and insight regarding the operational and regulatory aspects associated with aircraft operations.
As the co-owner and Director of Operations, he helps oversee the day-to-day operating activities including client services, cost control, and company goal management. Solomon uses his combined knowledge of operations, compliance, and experience in the cockpit to provide a wholistic view of aircraft operations to prospective clients and new aircraft owners.
In addition to his various management positions, Solomon is also a highly-accomplished pilot with over 7,000 flight hours logged.
Michael brings over 17 years of experience as a business manager, marketer, entrepreneur and pilot to the Latitude 33 leadership team. Leveraging his background in technology and business development, Michael leads the company operations, sales, strategy and growth initiatives. Michael holds an MBA from the University of San Diego, a bachelor's degree from Metropolitan State University of Denver, and is the recipient of San Diego's Top Marketing Executive Award.
Dustin has been flying part 135/91 for the previous 15 years throughout North and South America as well as the Caribbean. He has accumulated well over 3000 turbine PIC hours with 7 jet type ratings. Dustin also has PIC type ratings in CE-680, HS-125, CE-560XL, CE-500, IA-Jet, RA-390S, and CE-525. Dustin holds a bachelor's degree from Point Loma Nazarene University.
Asst. Chief Pilot/Director of Safety
Scott has been flying transport aircraft for the past 10 years, 5 years with Latitude 33 Aviation. He has accumulated over 6,000 hours of 121 and 135 flying in primarily Citation and Embraer jets. He is a graduate of Utah Valley University with a Bachelor's degree in Aviation Science.
With over 10 years of sales experience and a commercial pilot certificate, Jesse combines his knowledge of the aviation industry with a strong background in sales to provide a well rounded experience for Latitude 33. Jesse holds a Bachelor of Science from Utah Valley University.
James grew up around aviation and has been a professional aircraft mechanic for over 10 years. He received his training from the National Aviation Academy. He has achieved the FAA AMT Award each year of his career and received the Gold Award three times. James was recognized as one of AMT's 40 under 40 award winners in 2018. His advanced training includes Challenger 300/350, Global Express and Embraer Phenom and Legacy maintenance training, along with Rockwell Collins and Honeywell avionics training. James has served in leadership roles for multiple MRO and charter operations.
Director of Human Resources
Caryn brings over 25 years of business experience to the Latitude 33 Aviation team. Her background includes service within both small and large scale businesses with a primary focus on human resources and cost management strategies. She is a graduate of Long Beach State University with a degree in Business Administration and Finance.
Micah has been deeply involved in aviation for nearly 10 years. He has specialized in ground operations and logistics associated with aircraft ranging from turboprops through heavy international jets. As Operations Manager, Micah ensures that each aircraft meets or exceeds the standards set by the Latitude 33 management team.
Aircraft Maintenance Manager
Juan Pablo brings over 27 years of aircraft maintenance experience to his role as Aircraft Maintenance Manager. Starting as an aircraft mechanic in a FAA Part 145 repair station, he performed B, C and D Checks on Airbus 319, Boeing 727, 737, Lockheed L-1011, and McDonnell Douglas DC-8. He progressed through the ranks and became a Director of Maintenance for a FAA Part 135 operation in 2013, working with diverse types of aircraft such as Cessna Citation X, Sovereign, CJs, Embraer Phenoms, and Pilatus PC-12. Juan Pablo earned a B.S in Aviation Maintenance from Pedro Paulet Mostajo Institute of Aerospace Technology in Lima and holds a FAA Inspection Authorization.
Brian has been a creative professional for over 17 years in the golf, resort, and hospitality industry. A graduate of The Advertising Arts College with a Bachelor of Advertising Arts. After several agency experiences, he opened his own creative agency and ran it for over ten years until selling it to gain even more experience in the digital and lead generation space. His experience and expertise helps drive conversations on and off-line, communicating the exceptional Latitude 33 Aviation brand experience to our clients, partners, and community.