Cleaning your private jet is an essential maintenance task, especially if your jet is on a charter. You need to provide your passengers with top-tier service, and your interior needs to be immaculate to do so.
Washing an aircraft is a delicate process, so it's important to take extra care at every step if you plan to do it yourself. We've compiled this list of our best private jet cleaning tips to help you save valuable time and money.
4 Tips for Detailing the Inside of Your Private Jet
Having a clean interior is critical for providing an excellent client experience. Passengers may not notice exterior flaws, but they're likely to notice stains on the seats or smudges on the windows.
While you should do a standard cleaning before every flight, you will also need to conduct a more thorough cleaning every few months. Use these private jet detailing tips to streamline the process.
1. Consult Your Maintenance Manual
If anyone knows how best to clean your aircraft, it's the original equipment manufacturer (OEM). Before you begin interior cleaning for your aircraft, check your maintenance manual for recommendations on which cleaning products and methods to use. The maintenance manual can also provide recommendations for how often you should clean specific components.
2. Use the Right Cleaning Products
Aviation-approved cleaning and disinfectant products are essential for cleaning your private jet. Using the right cleaning supplies helps protect everyone on board by eliminating viruses and other harmful germs. It also keeps your interior safe from fires, as many interior components can be flammable.
The wrong products could corrode sensitive aircraft components and damage the jet's overall structure, which can have disastrous consequences.
3. Clean and Sanitize High Touchpoints
The typical airliner can have as many as 700 high-touch surfaces. This is one of the biggest advantages of private jets — in contrast, the typical private aircraft might only have a few dozen high-touch surfaces. These touchpoints can include:
Armrests
Handrails
Air vents
Restroom Lavatory
Seatbelts
Window shades
Windows
Using an antimicrobial disinfectant will kill bacteria and remove viruses, protecting your passengers and crew. Electrostatic spraying is a fast, EPA-approved cleaning technology that disinfects aircraft surfaces and provides lasting protection against bacteria, mold, and viruses. In addition to thoroughly disinfecting surfaces, make sure you also wipe away all smudges and fingerprints as well.
4. Deep Clean Floors
Your jet's carpet is one of the first things passengers will notice, so it's important to make sure you remove all spots and stains. Here are some tips for deep cleaning your floors:
Vacuum floors: Before you vacuum, remove anything that could get in the way. This includes seats, carpeting, and any loose items. While vacuuming, pay special attention to hard-to-reach spots to make sure you get a thorough clean.
Pile lift floors: A weekly pile lifting routine can remove dry dirt that commercial vacuums can't reach, which can help you cut time when deep cleaning your jet's floors.
Shampoo carpets: Before you begin, conduct a quick spot test to make sure your product is suitable for use with your carpet. Then, use the method of your choice to apply shampoo to the carpet and rinse. Make sure to do this every six months for the best results.
Remove stains: Many common stains can be removed without using harsh chemicals. For more difficult stains, using special cleaning solutions or running the carpet through commercial machines will be more effective.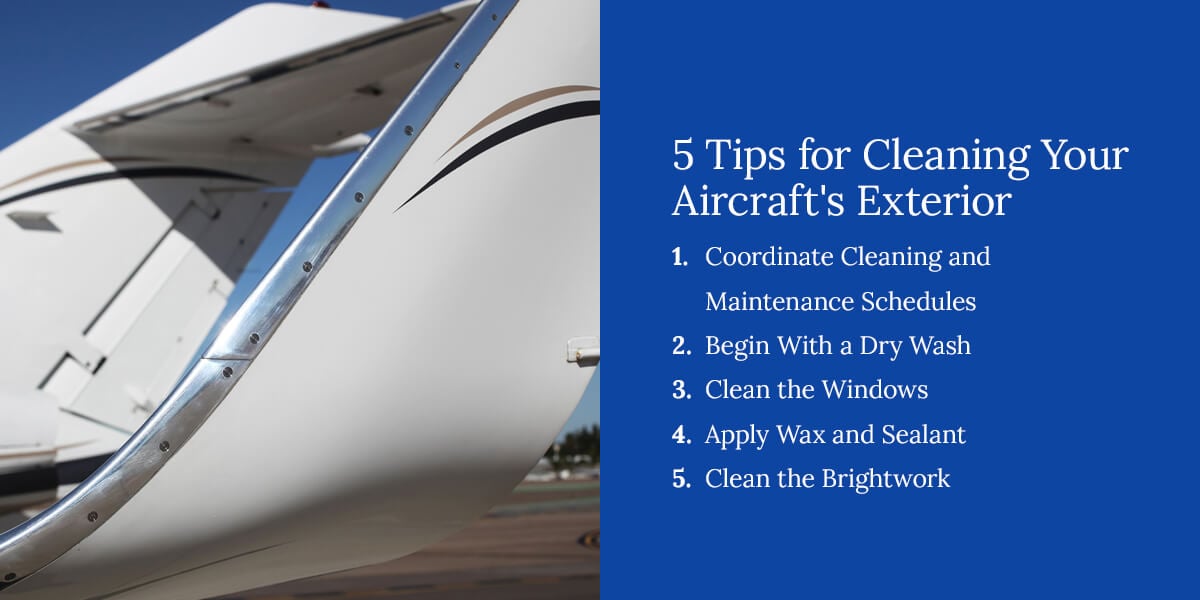 5 Tips for Cleaning Your Aircraft's Exterior
Your aircraft's exterior experiences significant stress while in the air, so cleaning it regularly is essential for preventing damage and maintaining its appearance. Here are some of the best tips for cleaning the exterior of your private jet.
1. Coordinate Cleaning and Maintenance Schedules
Scheduling an aircraft cleaning can result in an extended period of downtime. If your aircraft is on a charter, make sure the maintenance and service team coordinates with the charter time to ensure work completion.
A reliable Aircraft Management Services provider can take care of this step so you don't have to balance conflicting schedules.
2. Begin With a Dry Wash
The first step to a sparkling aircraft is a thorough dry wash. You can use water, but you'll need to be especially careful around openings like windows and fuel caps. If water gets inside, it can cause serious damage.
Instead, gently wipe dust and debris from the exterior using a non-abrasive rag or cloth. Then, spray a new cloth with a gentle water-based cleaning solution and run it along the exterior to remove caked-on dirt, insects, and soot. This process may take anywhere from 45 minutes to over an hour, depending on the size of your aircraft.
Try to do this step at least three times per year for the best results.
3. Clean the Windows
Your windows are one of the most sensitive parts of your aircraft's exterior, so take care when cleaning them. First, wipe away insects and other solid debris with a cloth and some water. Then follow this step with an aircraft-specific window polish.
Apply a spray polish that is intended for the type of windows you have. For example, acrylic windows and windshields are incredibly vulnerable to damage, so you should use a polish approved for use with acrylic windows. Using a glass window polish could cause unsightly scratches.
4. Apply Wax and Sealant
Once the surface of your aircraft is clear, it's time to apply wax and paint sealant. Follow your manufacturer's guidance on which products to use and how to apply them. While you should avoid using silicone-based waxes on new paint, it enhances older paint by adding shine and increasing water resistance. Additionally, a high-quality polymer sealant will provide a long-lasting barrier against caked-on dirt and debris.
5. Clean the Brightwork
Polishing your brightwork is a key part of cleaning your aircraft's exterior because it helps prevent degradation and pitting. However, it's important to be gentle — overly aggressive cleaning can cause scratches, which increase your risk of oxidation and corrosion.
Use an aircraft-approved metal polish and a microfiber cloth to remove imperfections, and aim to clean your brightwork at least once every six months. A regular brightwork polishing routine can help prevent deep scratches and pitting. It can also help you more closely monitor the condition of your chrome parts so you'll know if you need to replace or repair them soon.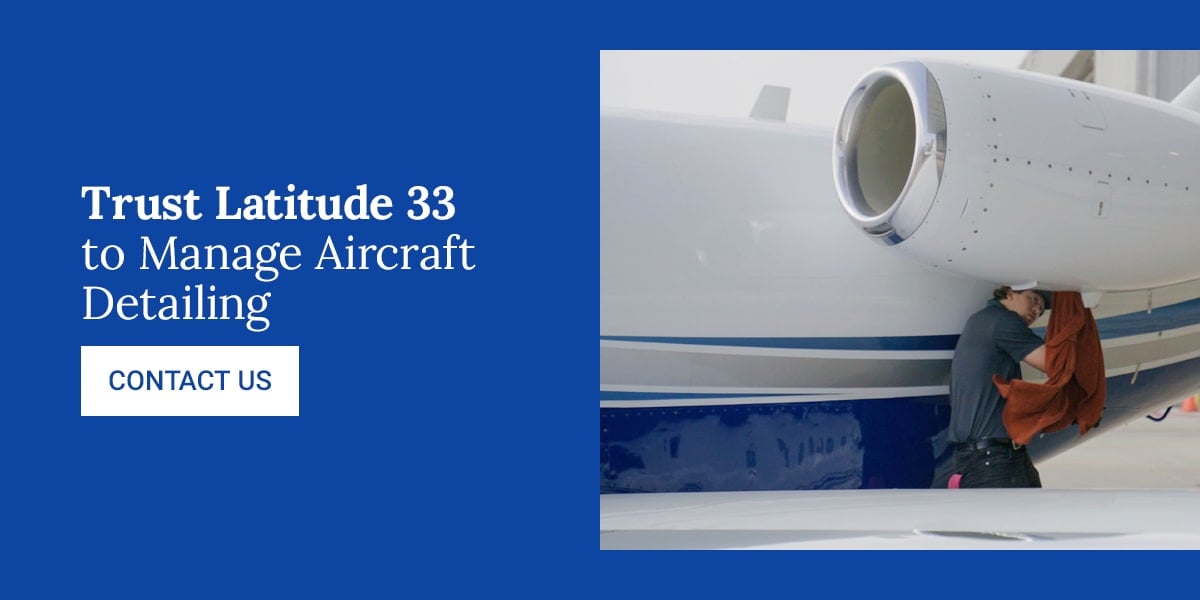 Trust Latitude 33 to Manage Aircraft Detailing
Thoroughly detailing your aircraft is a time-consuming and strenuous process, which is why you should consider taking advantage of Aircraft Management Services from Latitude 33 Aviation.
Our turnkey Aircraft Management Services include all the services you could need, including discounts on scheduled maintenance services. We leverage our relationships with maintenance providers and parts suppliers to provide excellent detailing services at a fraction of the cost. Plus, if you plan to charter your jet, we'll help you maximize revenue generation and reduce your ownership costs.
You can rely on our team to take excellent care of your aircraft. Contact us today to learn more about our services or request a quote for a private charter.