As you consider the specific ways you'll be utilizing your private jet, you must ensure you're following all necessary regulations. Will you be using your jet for private transportation? Will you be using your aircraft to earn revenue with charter flights? These are just two examples of how you can use your private aircraft, and the regulations you must follow in both instances differ.
The Federal Aviation Administration (FAA) has specific regulations in place you must follow depending on how you are using your private jet. These requirements are known as Federal Aviation Regulations (FARs). Understand the difference between Part 91 and Part 135 operations to ensure you fly lawfully and safely.
What Are Part 91 Operations?
In Part 91 operations, you can only provide flights in non-commercial situations. The FAR regulations governing Part 91 operations are all non-commercial in nature, so you are unable to receive compensation or reimbursement for flights. The moment you receive payment for the use of your aircraft in most instances, it becomes a commercial transaction.
When operating under Part 91 certifications, you will be subject to a set of specific conditions under which the aircraft must operate. These conditions include safe weather requirements, necessary landing distances, and proper pilot training. You will also need limited insurance to fly non-commercially under Part 91 guidelines to protect you from being liable in certain circumstances.
Since Part 91 operations govern non-commercial flight situations, you have more freedom in how you operate your private aircraft. This is to give private operators more flexibility in how they use their aircraft while still providing a framework for safe, consistent operations.
There are some situations under Part 91 operations when payment can be made to the operator for use of the private aircraft. This may happen only when the operator is paying an equal portion of the costs of the flight as the people who are being transported. For example, if there are three passengers receiving transportation services on your aircraft, you will have to pay one-fourth of the total cost of the flight.
What Are Part 135 Operations?
Part 135 operations are a set of FAR guidelines relevant to non-scheduled, commercial aircraft operations. These can include air taxi flights and private air charters, among other types of transactional private jet situations. The FAA outlines a much more strict and detailed legal and operational framework when flying under Part 135 operations, so it's important to understand it to ensure you're following all requirements and guidelines.
Due to the back-end support and structure of Part 135 operations, the process of achieving Part 135 certifications is quite involved. After achieving certification, you must completely follow all operating guidelines to stay safe and legal as you engage in using your private aircraft for commercial purposes. In addition to having a full management crew to oversee organizations, you will also need a flight-following system in place. This addition will ensure operational control of your aircraft during flight while also tracking the flight status.
Since Part 135 operations are commercial, you should also be aware of the tax implications of providing commercial flights with your aircraft. The Internal Revenue Service (IRS) has different definitions for what constitutes a commercial flight than the FAA. Anytime you surrender your private jet charter flight use, tax agencies may view the flight as commercial — even if you, the owner, are a passenger on the flight.
The Differences Between FAR Part 91 and 135
FAR Part 91 and 135 have several key differences in addition to Part 91 being non-commercial and Part 135 being commercial.
Personnel Requirements
There are some important personnel-related differences to understand, including:
Management personnel: In Part 91 operations, the commanding pilot is the final authority on all procedures. In Part 135 operations, you need a full management crew including a chief pilot, maintenance manager, and operation manager. This crew provides a clear chain of command before, during, and after flights.
Rest requirements: Part 91 operations have looser rest requirements than Part 135 operations. In Part 91 operations, a pilot can fly an aircraft for days without breaks. In Part 135 operations, pilots follow strict rest requirements between flight sessions as an added safety measure.
Pilot qualifications: Part 135 operations regulations impose higher standards for pilot qualifications than Part 91 operations. Part 135 operations may also subject the flight crew to alcohol and drug testing.
Flight Conditions
It's theoretically possible for pilots to take off in conditions of zero visibility when operating under Part 91. Part 135 operations are unable to take off under these conditions and require airports with on-site weather reporting.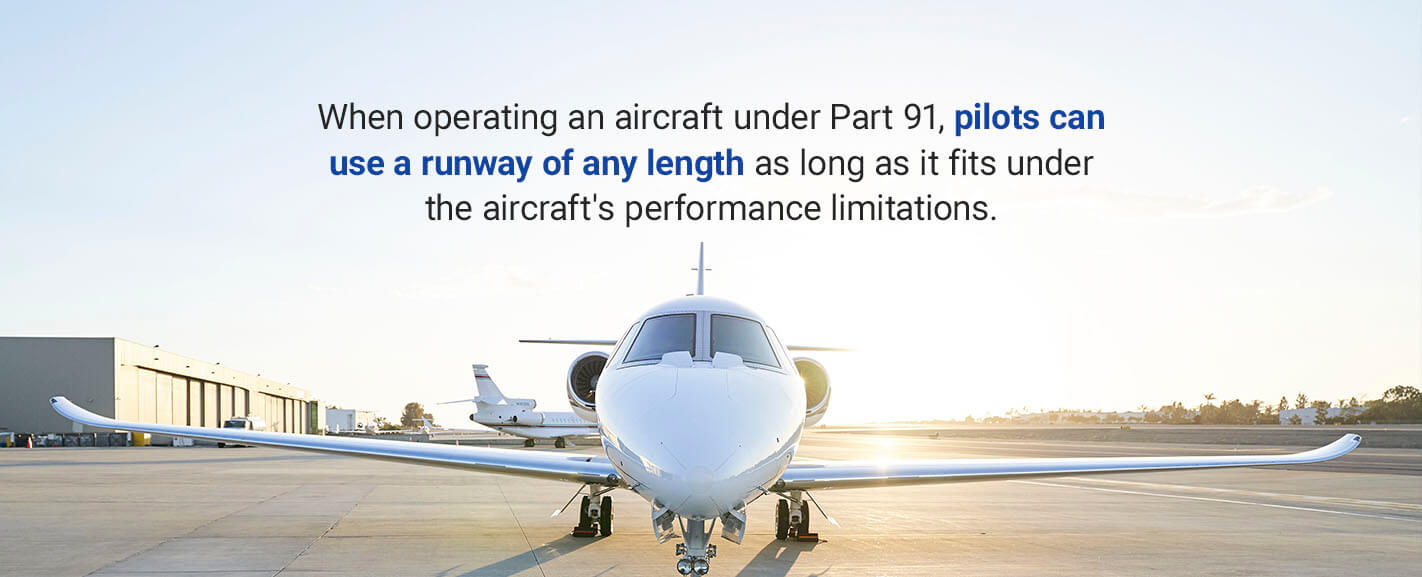 When operating an aircraft under Part 91, pilots can use a runway of any length as long as it fits under the aircraft's performance limitations. This differs from operating an aircraft under Part 135, which requires a set amount of runway length to ensure safe takeoff and landing.
Passenger Requirements
Passengers also have their share of requirements they must follow when flying under Part 91 or Part 135 operations regulations. Passengers can usually avoid identification for flights within the United States when flying non-commercial under Part 91 operations. This differs from flights under Part 135 operations, which require passengers 18 years and older to present government-issued identification as they would when flying on a commercial airline.
Why Is It Important to Know the Difference?
Knowing the difference between Part 91 operations and Part 135 operations enables you to properly plan for how you want to use your private jet and what you can expect under certain circumstances. Here are some primary benefits of understanding the differences:
Safety: Because of the tighter restrictions on Part 135 operations, you can argue that they have more safety nets in place. This can give you more peace of mind.
Regulations: You want to follow all regulations when using your private aircraft. Knowing the differences between Part 91 and Part 135 operations can help you achieve this and avoid penalties.
Intended use: Part of staying safe and following regulations is aligning your intended use of your private aircraft with the correct FAR operations. By knowing how you want to use your private jet, you can align your operations with either Part 91 or Part 135 for the safest and best outcomes.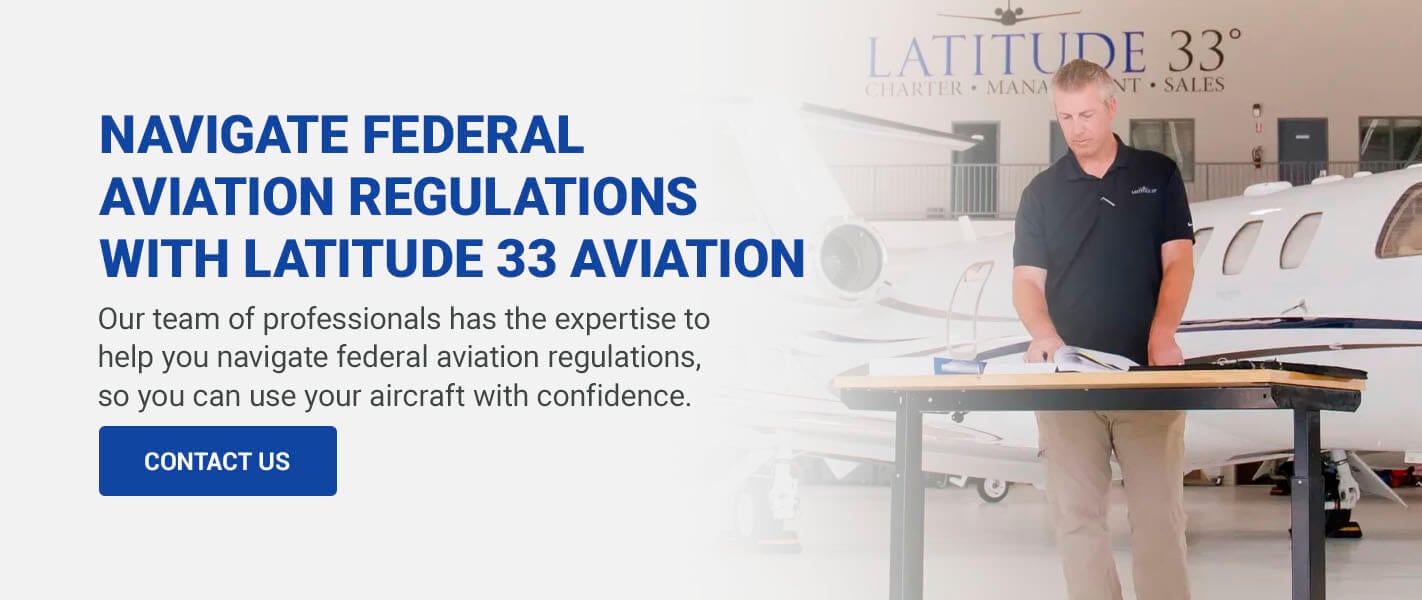 Navigate Federal Aviation Regulations With Latitude 33 Aviation
Latitude 33 Aviation can assist you in enhancing your private jet usage. Whether you need aircraft management services, want a private jet charter, or are looking to learn more about private aircraft sales, we can help you achieve your goals. Our team of professionals has the expertise to help you navigate federal aviation regulations, so you can use your aircraft with confidence. We are part of the top 5% of United States private jet charter operators to earn the ARGUS Platinum safety rating, solidifying our standing as a reliable charter operator.
Contact us online today with any questions.