When you want an excellent flying experience, you might instinctively buy a first-class ticket with a commercial airline. You may be surprised to learn that conventional first-class travel has declined in recent years. Conversely, flying private has never been more popular — in 2022 alone, the number of private flights increased by 11% compared to the previous year. Part of this shift is due to safety-related concerns that arose during the COVID-19 pandemic. Other contributing factors include better amenities, time savings, and reduced travel stress.
If you're familiar with traveling via commercial aircraft, you may be unsure of what to expect on your first charter flight. It's beneficial to prepare yourself before you board. This first-time flyers guide will help you make your experience as smooth as possible — and prepare you for your next journey.
What to Expect When Flying on a Private Jet
Various differences exist between private jets and commercial airlines. Private flights offer a degree of luxury and comfort that traditional first-class cabins simply lack. Some differences you should expect when making your first private flight include:
Flexibility and Convenience
Unlike commercial airlines, private jets do not require you to wait in long lines or go through invasive security checks only to get in another line to board the aircraft. While you'd have to arrive at a commercial airport hours before your departure, you can check in to your private flight and begin your journey within an hour of departure. Because private jets are much smaller than commercial aircraft, you can avoid dealing with the chaos of a large commercial airport.
Additionally, most private flights allow you to bring your pets into the cabin with you rather than storing them in the cargo hold as you would have to on many commercial flights. Wherever you are flying, you can be sure your cherished companion is as comfortable as you.
Once you land, you also avoid the wait of visiting baggage claim or dealing with lost luggage. When you fly private, you can receive your bags immediately upon landing.
Onboard Luxuries
Flying first class was once the peak of aviation luxury, but these days are no more. Today, private aircraft have surpassed their commercial rivals in comfort, convenience, and style.
While private jets are smaller than commercial aircraft, they're far more spacious inside. You and your traveling companions have the entire cabin to yourselves, with ample legroom and space between seats. Additionally, charter jets can feature high-quality leather recliners, perfect for lying back and unwinding.
Other advantages of flying private include:
Wi-Fi: Complimentary Wi-Fi is available on most private jets, so you can use your devices for work or entertainment as you please.
Refreshments: Enjoy your favorite snacks, beverages, and meals on a charter jet. Simply ask, and your crew will do their utmost to grant your wish.
Catering: Speak to your Charter Sales Concierge to arrange catering for your flight. They'll provide delicious menu options based on your food preferences and dietary restrictions.
Entertainment: If you would like entertainment during the flight, your crew can certainly accommodate your request. Whether you enjoy music, specific shows, games, or even live entertainment, you have the freedom to make your private flight your unique experience.
Safety: In addition to holding the proper licensure required to fly, your pilot and crew are familiar with their specific aircraft. You can trust that your traveling party is in capable, reliable hands.
Of course, many of these benefits are specific to the charter operator you choose to fly with. Before booking a flight, conduct thorough research on each operator in your area and speak to a representative about any questions you have.
Jet Etiquette Tips for Your First Private Flight
Once you've finished chartering your flight, you're well on your way to a travel experience unlike any other. However, there are actions you can take to maximize your trip. Here are some private jet etiquette tips to help you ensure your first charter flight is as smooth as possible.
Before Boarding
While flying private is quite different from flying via commercial airlines, you should still make sure you have everything you need in advance. Preparations to make before your flight include: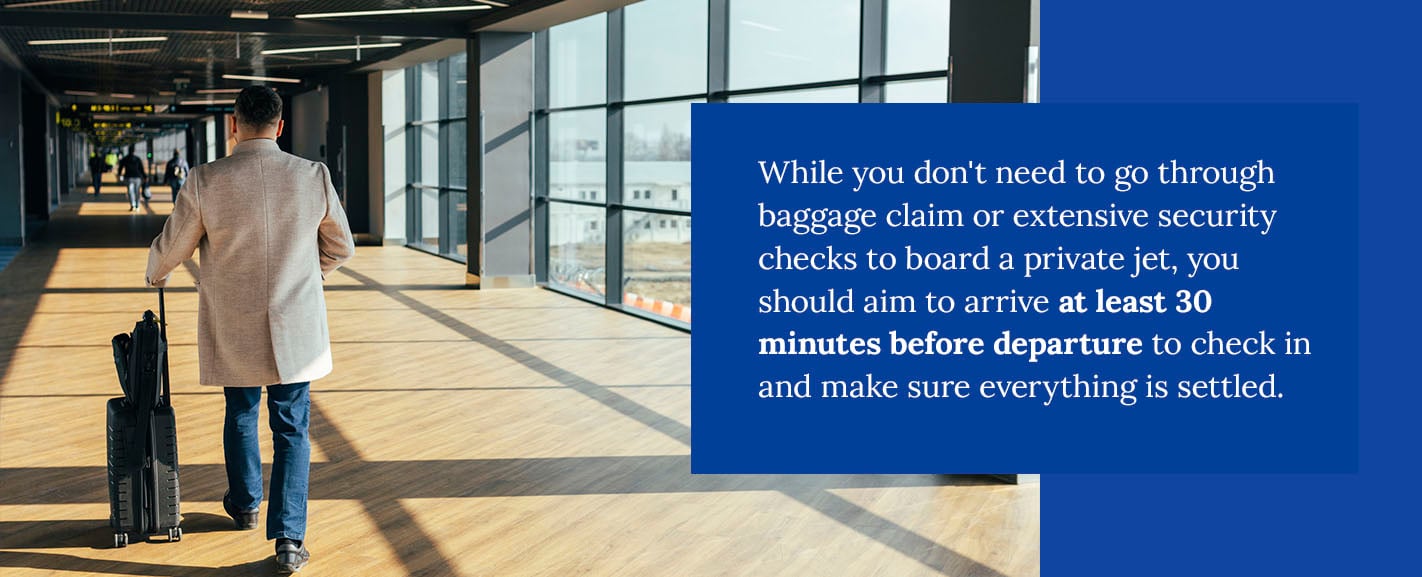 Arrival: While you don't need to go through baggage claim or extensive security checks to board a private jet, you should aim to arrive at least 30 minutes before departure to check in and make sure everything is settled. If you need to arrive earlier, you may relax in the airport's private terminals or VIP lounges.
Documents: Be prepared to show your government-issued ID as well as any other forms of personal identification you used when you booked the flight.
Luggage: You can usually bring more on a private jet than you can on most commercial flights, but you should confirm with your charter operator first. If needed, they can arrange a larger aircraft for you.
Pets: If you're traveling with pets, you must bring their vet records with you and ensure they meet the requirements for your destination.
Catering: If you have any dietary restrictions or you would like to make a special request, make sure to communicate all catering needs at least 48 hours in advance.
During Your Flight
On a private flight, you get total control over who flies with you. Whether you are flying by yourself or you're with a group, you're free to spend your flight as you please — chatting with your traveling companions, getting some work done, or resting your eyes in peace and quiet.
Some tips for a great flight experience include:
Safety: After boarding, you should expect the crew to provide a pre-flight safety briefing that walks you through everything you'll need to know for a safe flight, including emergency protocols. Be sure to pay attention and thank the crew after this message.
Dress code: While charter operators do not require you to dress any certain way, it is a good idea to dress for the occasion you are traveling for. For example, if you are on a business trip, you should dress accordingly.
Behavior: Your crew takes special care to meet your needs and expectations, so it is only fitting that you respect their efforts during your flight. Follow the rules and be courteous to your crew, and you should have a wonderful journey.
Entertainment: While Wi-Fi is available on most private jets, it's always a good idea to pre-download any games, movies or other entertainment before your flight. That way you are ready if there is a poor connection, weather, or other interference with the Wi-Fi.
Finally, if you would like to tip the crew, you may — while tips are never expected, they are appreciated, especially if you feel you received exceptional service. You may find yourself flying with the same crew again in the future.
Thanks to such attentive service, you'll disembark at your destination feeling refreshed, relaxed, and ready for your activities on the ground.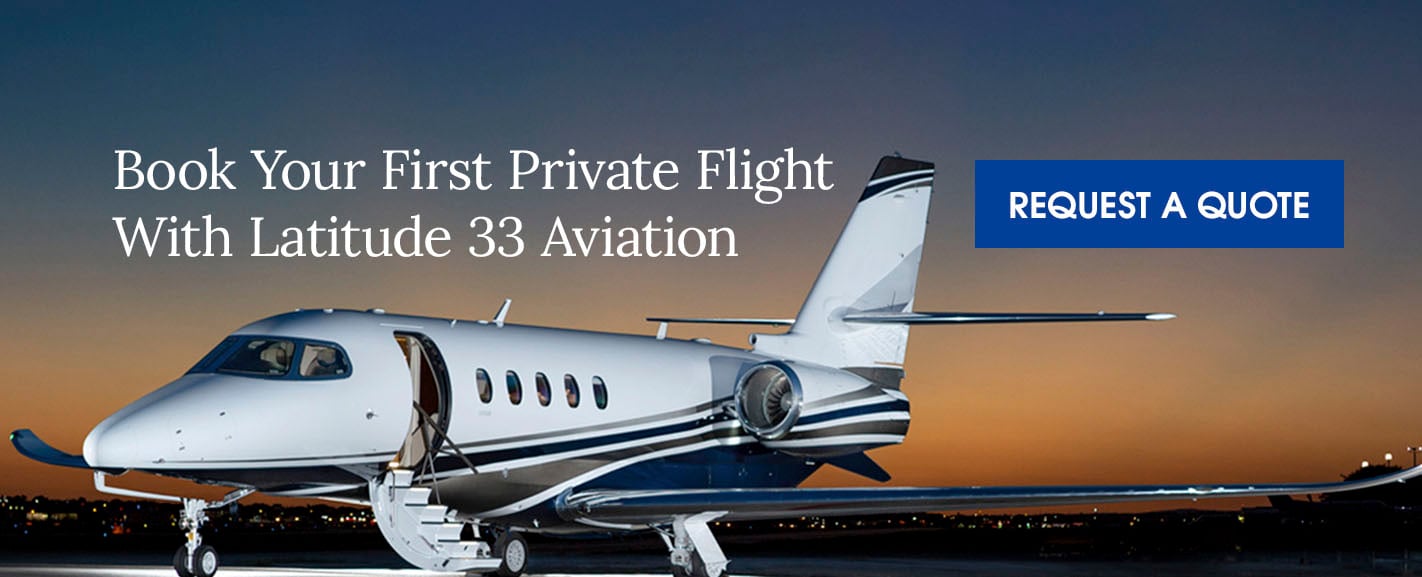 Book Your First Private Flight With Latitude 33 Aviation
At Latitude 33 Aviation, we are honored to welcome new travelers. Whether you're taking a well-deserved vacation or flying to a major business summit, rely on us to get you there.
Our experienced crews will make your first time flying on a private jet an enjoyable experience, wherever you are traveling. Request a quote today, or contact us for more information.