Comfort, convenience, and privacy are just three of the reasons more people are opting for private jet charters. If you've never traveled this way, you likely have questions about how to book a charter jet and how to save money flying privately instead of commercially. We've compiled five tips for booking private jet charters that can help you join this growing trend.
Top Tips for Booking a Charter Jet
There is mixed information online regarding how to save money by flying on a private jet and how to find charter jet deals. What many of these sources fail to express is that charter jets aren't an option if you are looking to save on your travel needs. Private jets are a resource for people willing to pay for the luxury and comfort not afforded by commercial air travel.
For example, even if you buy a first-class seat on a commercial flight, you are still bound to the airline's schedule. Meanwhile, by booking a charter jet, you can avoid waiting and fly on your schedule. Flying privately comes with the privilege of privacy, comfort, and flexibility. These luxuries are directly related to what you're willing to pay for, but they can all be extremely rewarding. The following tips and tricks can help you get the private charter jet experience you seek.
1. Choose Wisely
Not all charter companies are the same, and it is a good idea to do some research before choosing a company. A good practice is to call a handful of charter operators and spend some time speaking with a charter representative. Ask them about:
Their aircraft maintenance
Their pilots' qualifications
Their safety rating
Aircraft on their fleet
A reliable company will ensure its staff is able to answer questions about the business accurately and has knowledge about the industry in general. Inexperienced or unreliable companies may be more concerned with getting clients to choose them rather than providing top-tier services.
Choosing wisely doesn't always mean choosing the cheapest option. Charter jet deals are meant to be exclusive and, as with most things, if you want high-quality service, you can expect to pay for it.
2. Educate Yourself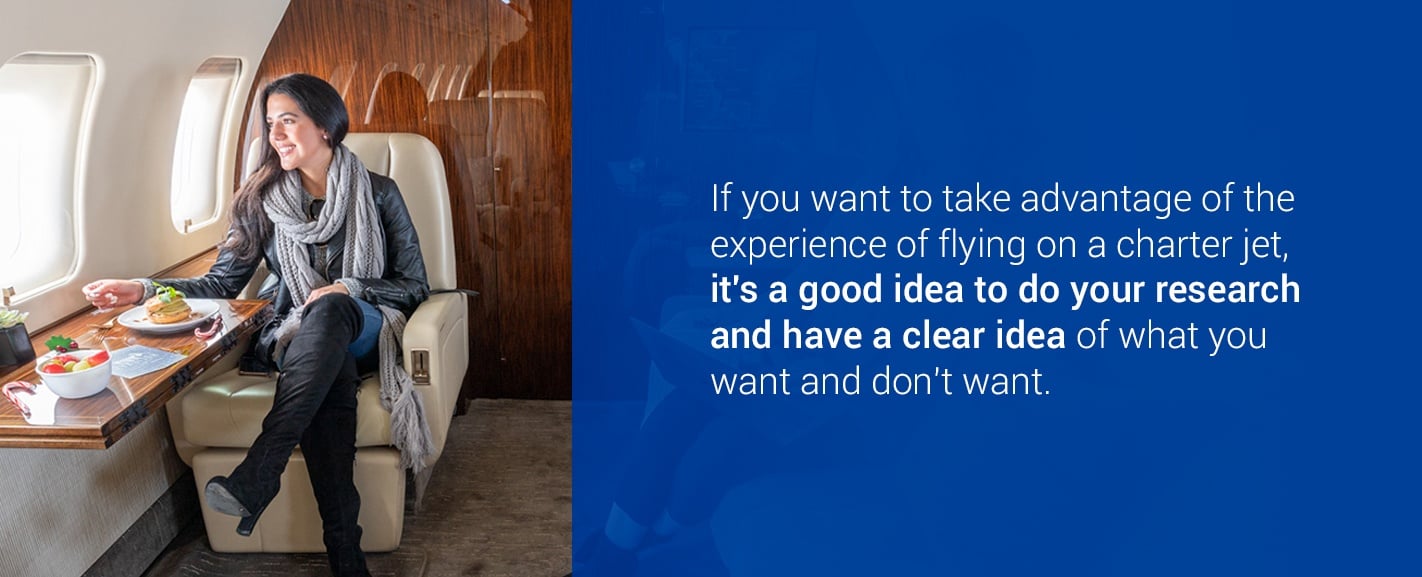 A common mistake novice air charter clients make is not familiarizing themselves with the aircraft. It's beneficial to find out the specifications of different aircraft, including how spacious they are, what amenities are on board, and what the aircraft looks like.
If saving money is your primary goal, you may have to sacrifice in other areas, such as the charter jet's space or your time flexibility. But if you want to take advantage of the experience of flying on a charter jet, it's a good idea to do your research and have a clear idea of what you want and need.
3. Pick the Right Airport
The airport from which you fly can end up saving you a fair amount of money. Unlike with commercial flights, booking a charter jet offers flexibility regarding where you fly from and to. Most major cities have a main airport as well as one or two smaller airports and flying out of a smaller airport could be more cost-effective.
For example, flying out of San Francisco International Airport (SFO) or Oakland International Airport (OAK) may cost more than flying out of Hayward Executive Airport (HWD). The smaller airports may even be closer to your departure city or destination, which means you do not need to worry about leaving early to beat traffic or deal with major crowds.
It's a good idea to ask your charter professional for their opinion on your departure or arrival airport. They will be able to provide options that may end up costing less while also being more convenient for you.
4. Book a One-Way Trip
Depending on the reason for your trip, you may decide to book a round trip if you plan to spend one or two nights at your destination. However, if you plan an extended stay, it will likely be most cost-efficient to book a one-way private jet flight instead.
A round trip requires the charter jet and its crew to remain grounded until you're ready to fly again, and the wait can add up to a hefty additional sum. Staff salaries, ramp fees, and loss of revenue from declining other flights mean you may be the one making up the difference.
If you choose an experienced air charter company, your broker should be able to find you one-way deals or other private jet flights to help accommodate your needs.

5. Know the Truth About "Empty-Leg" Flights
There is a lot of misinformation regarding "empty-leg" flights, which are flights that are empty for one leg of the trip. The aircraft will fly to a location to either pick up or drop off passengers, and the return or outgoing flight will be empty, with no passengers. Since these flights are sometimes necessary to reposition the aircraft for the next trip, some private jet charter companies offer access to empty-leg flights as a low-cost alternative to private jet charters.
Aside from the affordability, top-tier treatment is another benefit of empty-leg flights. For a fraction of the cost, you can experience the same level of luxury and convenience as you would if you booked a charter jet of your very own. Long security lines, cramped seating, and the distractions that come with commercial flights are things of the past as well, allowing you to enjoy the comfort of a private plane at a fantastic price.
If you're in need of a one-way flight, consider taking advantage of the incredible deal provided by empty-leg flights.
Book a Private Jet Flight With Latitude 33 Aviation
Conveniently based in various locations throughout the nation, Latitude 33 Aviation operates one of the newest and largest fleets of light, mid-sized, and super mid-sized jets in North America. As one of the top U.S. private jet charter operators — and the only one in San Diego to achieve the stringent ARGUS Platinum rating — Latitude 33 Aviation offers charter services as well as private jet purchase/acquisition and aircraft management.
With full service and assistance from experienced and knowledgeable staff, Latitude 33 Aviation is available 24/7 to answer your questions and inquiries. Contact our concierge charter department or request a quote for your next charter.