Air travel is the quickest method of getting from point-A to point-B, but it doesn't have to be a purely functional experience. Choosing to travel by private jet offers a wide spectrum of benefits. In short, a trip taken with a private jet can be enjoyable, relaxing, comfortable, and efficient. By flying on a private jet, you are ensuring your travel needs will be met at every turn. You will not need to navigate commercial airport traffic or hassle with security, and private jet services can also be personalized for your individual requirements.
The option of owning your own plane is certainly appealing and there are a few different ways you can pursue ownership. Fractional ownership, for example, is buying a share of a plane and does not require as much of a commitment as full ownership.
Chartering a plane is a great alternative to purchasing; it is simply making a reservation to use a jet for your private use. All of the same benefits of flying privately apply to private chartered flights and are quite attractive, but if you have never chartered your own jet before, it can seem a bit daunting. We will review here, in three steps, how to charter a private jet, hopefully simplifying the process for you.
01. DETERMINE YOUR NEEDS FOR FLYING
Determining your needs for flying is the first step. This will help to determine what type of company to reach out to, what type of plane you need, and the way you will want to charter (this is addressed in Step 03). Clarifying your private jet needs is easily accomplished by asking yourself a series of questions. You can then relay your specific travel needs to the charter company.
Are you going to be traveling frequently for business, and will your destinations often change, or will you be consistently flying to the same few places?
Are you looking for a last-minute flight?
Are you looking for an international flight?
How many people are you flying with?
How much luggage will you be bringing and will you have specialty luggage such as skis or golf clubs? (Keep in mind that the range is shortened with more weight, so it may be advantageous to ship larger luggage items to your destination ahead of time.)
Do you need a bed to rest in, Wi-Fi, or a larger cabin to fully stand up in?
After you have determined your needs for flying, ask for a detailed quote that includes additional fees (cancellation, overnight, de-icing, taxes, etc.).
02. UNDERSTAND THE LINGO
If you have never flown private before, it helps to know the lingo/keywords the industry frequently uses. Some general keywords to become familiar with are "prop planes," "turboprop planes," and "light jets." Turboprop planes are roomy with seats arranged like commercial business class, while turbojets will be six to eight seaters, fly faster than prop planes, and feel more like a jet. Light jets are sleeker, more streamlined, and better for slightly longer trips.
Some more details to be aware of as you search for the charter jet that meets your needs will be the number of seats and the travel range. Now, instead of learning every single manufacturer and aircraft type out there, you can simply learn the different sizes of aircraft to get a good idea of what you'll need. Important terms to learn are the frequently used aircraft categories:
Latitude 33 Aviation offers a wide variety of aircraft located throughout the nation. It is important to remember, though, that each jet can be decorated and set up to its owner's specifications, so you should expect some variety as you do your research.
SAFETY RATINGS
Based on the type of aircraft that fits the needs of your trip, safety becomes your next determining factor. Private jet travel is extremely safe, but not all companies invest in the same level of standards. A key differentiator between charter companies is their safety rating. Wyvern Consulting and Aviation Research Group International, Inc. (ARGUS) are two independent aviation safety organizations. The more reliable charter operators hold the Wyvern Wingman and ARGUS Platinum certifications. Latitude 33 Aviation is part of the top five percent of U.S. private jet charter operators, and the only one in San Diego, to achieve the stringent ARGUS Platinum safety rating. To view the operator registry and their safety ratings, please visit the ARGUS website.
All private jets are regulated by the FAA, which sets minimum standards for maintenance as well as pilots' experience and training. The best charter operators go above and beyond to exceed those minimum standards. As you are narrowing your search, ask for the operator's FAA Air Carrier Certificate and D085. A current Air Carrier Certificate proves the company is authorized by the FAA to offer private jets for charter to the public. If they cannot provide this certificate, they are either an illegal charter company or a broker working as a middleman – as a travel agent does with an airline. The D085 is a page from the company's FAA-approved scope of operations. It lists each aircraft the company operates, with registration (tail) number and serial number. If they quote an aircraft not listed on their D085, they are acting as a broker and another company operates that aircraft. This is normal within industry practice but should be disclosed with the client so the client is able to view the certificate holder.
03. CHOOSE YOUR COMPANY
Once you've determined your needs for flying and understand a little more about the industry, you can start looking into different companies that specialize in various types of private jet charters. Here are five different ways you can charter a private jet: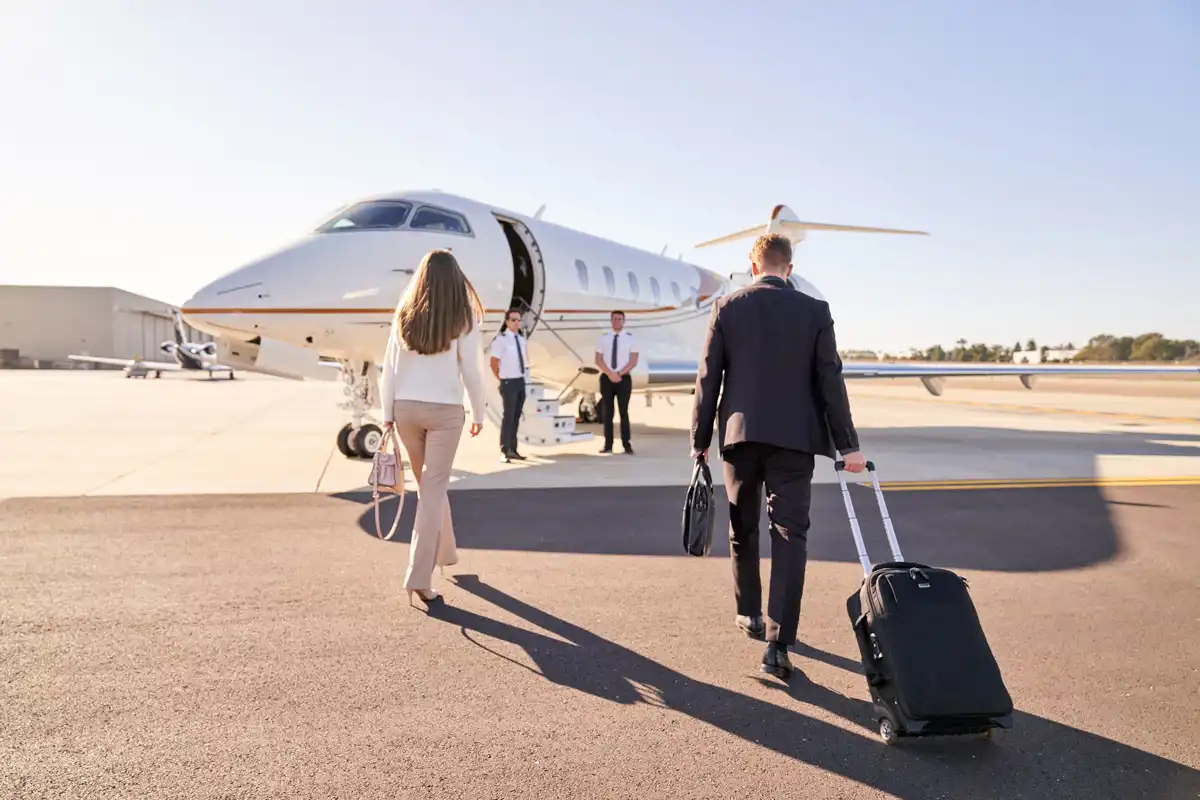 CHARTER A PRIVATE JET WITH LATITUDE 33 AVIATION
Overall, chartering a private jet for pleasure or corporate travel can be a gratifying experience! Your enjoyment of air travel will certainly increase and through chartering a jet you have the opportunity to try various aircraft models, increasing both your familiarity with your preferences, as well as your confidence for future charter bookings. Latitude 33 Aviation's charter department is available 24/7 for your custom flights and trips. Contact our concierge charter department at 1-800-840-0310 or email Charter@L33Jets.com.
Request a quote for a flight with Latitude 33 Aviation.
Keep up-to-date with Latitude 33 Aviation news, fleet additions, and one-way empty leg flights.
Read our latest blog posts ranging from private aviation trends to tips on how to reduce your jet ownership costs.