While large companies with several aircraft tend to employ corporate flight departments that manage aircraft operations, these departments may not be practical for small- to medium-sized businesses or individuals. This is where an aircraft management company comes in. At Latitude 33 Aviation, we offer private jet management services that give you the benefits of a flight department without the exorbitant cost.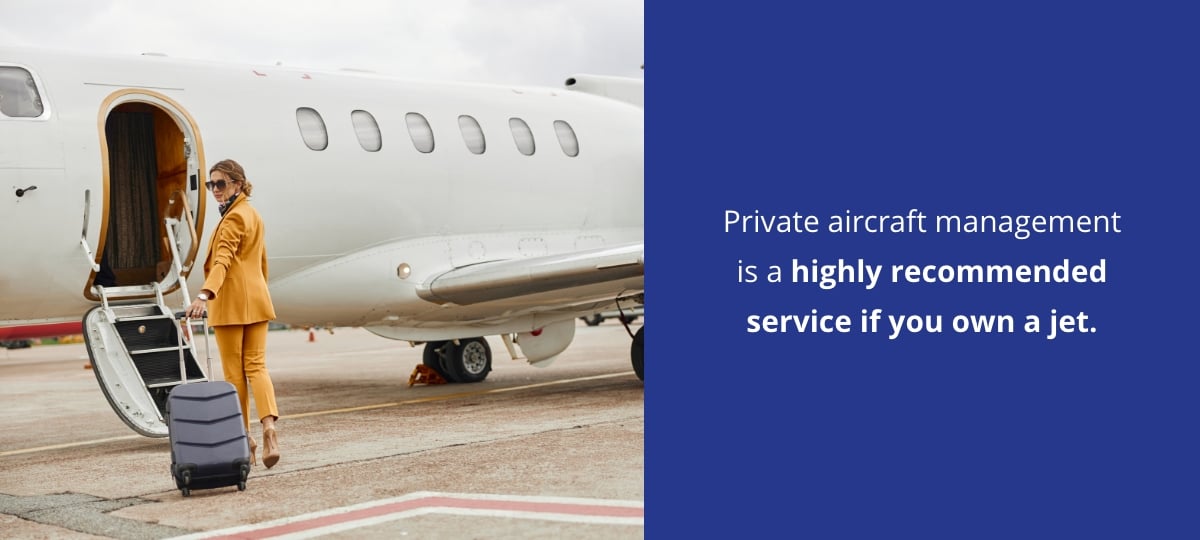 What Is Aircraft Management?
Private aircraft management is a highly recommended service if you own a jet. With aircraft management services, the company you work with handles the details of aircraft ownership and operation. They ensure your trips are organized, your aircraft is properly maintained, pilots are staffed for your flights, and any special requests are accommodated.
Latitude 33 aircraft management services include:
Offering fleet insurance
Supplying aircraft detailing
Handling hangar negotiations
Providing accounting services
Ensuring International Civil Aviation Organization( ICAO) and Federal Aviation Administration (FAA) compliance
Scheduling flight and aircraft crews
Offering parts, labor, and fuel discounts
Outfitting aircraft with concierge services
Offsetting costs of ownership with charter revenue
Meeting with clients for property and sales tax information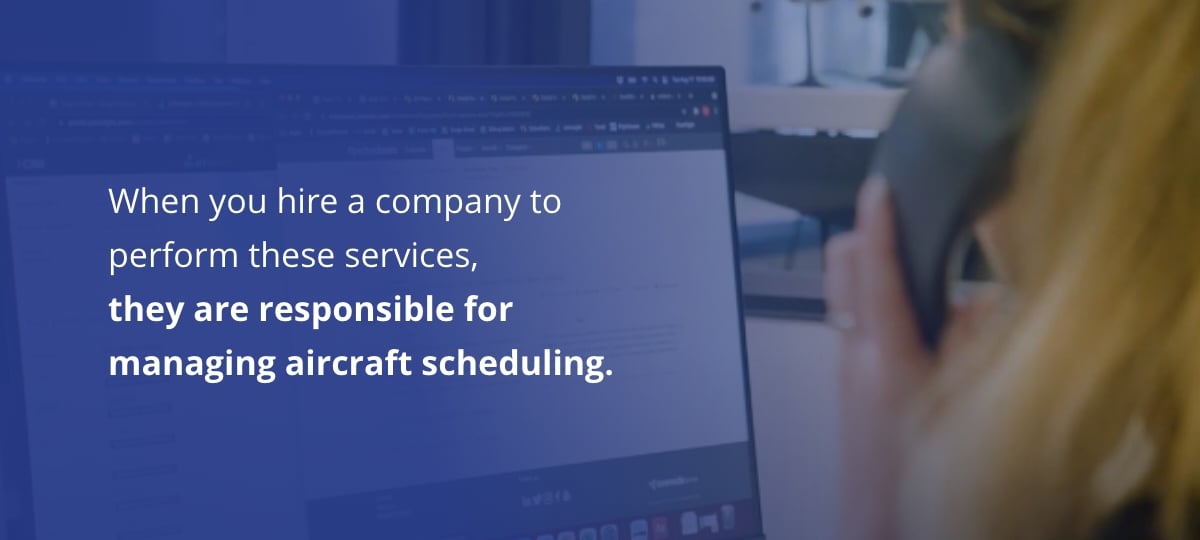 Elements of an Aircraft Management Company
When you hire a company to perform these services, they are responsible for managing aircraft scheduling. Companies vary in the exact services they offer. While some offer a full-service program, others provide the option for the aircraft owner to earn revenue by having the aircraft chartered when not in use. These are known as turnkey aircraft management and charter aircraft management.

Turnkey Aircraft Management
You receive all the services you need as a private jet owner with turnkey aircraft management. An aircraft management company takes over all of the operational responsibilities related to jet ownership, so you're not responsible for the everyday requirements and tasks associated with owning an aircraft. The services offered via a turnkey aircraft management program include:
Providing security
Conducting training
Meeting FAA guidelines
Scheduling for each flight
Training for crew members
Conducting accounting tasks
Handling maintenance and repairs
Managing crew hiring and payment
You can simplify your responsibilities as a jet owner by working with an aircraft management company that offers comprehensive aircraft management services.
Charter Aircraft Management
When you work with an aircraft management company, you may want to ensure they offer charter management services. You can reduce your cost of aircraft ownership and generate revenue by allowing a trusted company to charter your jet when you aren't using it. The aircraft management company can manage all scheduling and arrange for the proper charter certifications. By working with an aircraft management company with charter aircraft management services, many jet owners find aircraft ownership is more affordable than expected.
Why Use an Aircraft Management Company?
Maintaining a private jet can be complex and time-consuming. Safety is the number one concern with aviation, and only the experts are sufficiently experienced to keep you and the passengers safe. A wide range of tasks are involved in maintaining a private jet, and multiple parties — including mechanics, crew networks, and Fixed Based Operators (FBOs) — must collaborate on tasks. This is why so many private jet owners choose to utilize an aircraft management company's experience and contacts.
Still, some private jet owners consider self-management, believing the crew can handle every aspect of maintaining and managing the aircraft. Some owners theorize that the aircraft is only flying for a small number of hours each year and the crew should have enough time to manage every aspect of the aircraft, reducing the annual ownership cost. There are some notable disadvantages, like working with a crew with less experience managing an aircraft or failing to benefit from the bulk discounts aircraft management companies offer on commodities like maintenance and fuel.
Partnering with an aircraft management company makes your life as a jet owner easier. The company can simplify the process and make sure you don't miss an inspection. Fuel is a significant cost of jet ownership, so the access to discounted fuel that an aircraft management company can offer will substantially lower your operating costs.
Benefits of Using an Aircraft Management Company
Partnering with an aircraft management company offers several benefits over self-management.
1. Reduce Operational Costs
The more you buy, the more affordable the price. When it comes to owning a jet, the outgoing costs like spare parts and fuel can be substantially reduced by aircraft management companies that make purchases in bigger quantities than individuals who operate their own private jet.

2. Save Time
Owning a jet can be time-consuming. Every step involved, including hiring the pilot, buying fuel, and coordinating maintenance, can take up a significant amount of your valuable time. Most people buy an airplane to simplify their lives, not to get into the business of managing an aircraft. When you work with an aircraft management company, the whole process is taken care of for you. You can also turn over the task of interviewing and hiring crew and negotiating contracts to the aircraft management company.
3. Enjoy Simplicity
By partnering with an aircraft management company, you can simply make one phone call to handle any of your needs. At the end of each month, you'll receive the total costs of aircraft operation in a single, itemized statement so you don't have to manage and review each individual expense.
4. Increase Safety
Your aircraft management partner can also take over the responsibility of safety. Since the company is experienced and trained, they can help increase the safety of your flights by maintaining your jet and supporting your pilots with additional industry expertise.

5. Improve Scheduling Flexibility
Your aircraft may not always be available when you want to take a flight due to regular and unscheduled maintenance. When you work with an aircraft management company, you can easily receive a replacement. The company's job is to remove the hassle and ensure you can keep flying, even when your aircraft is being repaired or your pilots are unable to fly. This enhanced flexibility makes jet ownership more convenient for you.
6. Reduce Maintenance Costs
An aircraft management company can also use its expertise to help reduce expenses associated with maintenance and inspection, especially when it comes to warranties on new jets. For example, the company can contact the manufacturer on your behalf regarding your maintenance needs to determine whether they are covered by your warranty. An experienced aircraft management company ensures you are receiving the most cost-effective options available — and not paying for unnecessary expenses.
7. Access More Insurance Coverage Options
Aircraft managers typically add you to their existing insurance policy. This ensures you have the coverage you need at a cost you can afford. Since the company insures an entire fleet of aircraft, they tend to get price discounts and more comprehensive coverage.
Insurance companies often prefer to deal with aircraft management companies with strong safety systems and those who have established good relationships with underwriters, all of which can help you get better overall coverage and prices.
8. Enjoy Tax Advantages
Purchasing an aircraft may provide significant tax benefits. A knowledgeable aircraft management company can help you maximize all available options, including potentially mitigating sales tax on the purchase of the aircraft, initial property tax, or federal excise tax on fuel. These could amount to significant savings.
9. Earn Charter Income
Chartering your jet when you aren't using it can be an excellent way to recoup some of the costs associated with operating and maintaining aircraft. Depending on how frequently you charter your aircraft and the type of aircraft you own, you can significantly reduce your operational costs. Many people considering purchasing an aircraft with a partner ultimately end up finding that leveraging charter income can be a more flexible and effective option.
In the charter market, newer aircraft can command a higher price and benefit from lower operating costs.
10. Leverage Expertise and Knowledge
Aircraft managers can provide resources, insight, and experience that individual jet owners usually don't have. An aircraft management company has performed numerous flights and aircraft transactions. If a problem arises, chances are that the company has dealt with a similar issue before. When you work with an aircraft management company, you can leverage their knowledge and expertise from years of experience.

11. Receive Guidance on Acquisitions and Sales
An aircraft management company can also offer you advice on acquisitions and sales. No company wants to deal with unreliable aircraft or jets that don't suit their clients' needs, so they'll be happy to help you find the best possible aircraft for your particular needs.

12. Enjoy Peace of Mind
Perhaps one of the greatest benefits of working with an aircraft management company is the peace of mind you'll feel. The company takes on the risks associated with aviation, and you can trust that your jet is in experienced, dependable hands.
How to Choose an Aircraft Management Company
If you own a private jet and want to hand the reins over to a third party, partner with an aircraft management company you can trust. Due diligence is a necessity for this complex process, and the right aircraft manager will provide the services, capabilities, and client experience you require.
Be sure to find a manager that offers the services that fit your specific needs. Take your preferred operating base, typical mission profile, aircraft model, and your maintenance and crewing requirements. Most importantly, you want to work with an operator you trust and a company willing to explain the details of their operations and be transparent in their communications with you. To determine which aircraft management company is right for you, consider your goals and the company's capabilities, facilities, experience, and commitment to safety.
Consider Their Capabilities
Private aircraft management companies have different operational capabilities depending on their size and services. While some cater only to certain types of aircraft, others offer more comprehensive service. There is a wide range of services offered by these companies, including maintenance, management, and pilot training programs. While some managers hire pilots on contract, others hire full-time pilots. The differing capabilities can influence whether a manager is the right fit for you.
Consider whether you want your private jet used for commercial charters as a way to earn revenue or if you want to limit your aircraft to personal use only. To determine whether a company's capabilities align with your goals and needs, ask whether they manage a diverse fleet and if they have experience managing your type of aircraft. At Latitude 33 Aviation, we manage one of the country's largest private aircraft fleets, meaning our experience allows us to handle a wider range of jet types and manufacturers.
Consider Their Facilities
You may also want to consider the aircraft management company's facilities, as it's important to partner with a manager that has a presence at your local airport. At Latitude 33 Aviation, we operate out of fixed-base operators (FBOs) in international airports across the country. In airline travel, FBOs are the gold standard, allowing travelers to charter aircraft and fly with maximum comfort and privacy.
An FBO has the right to operate out of an airport and offer aeronautical services. These services ensure pilots and passengers experience flying as stress-free and seamlessly as possible and may include:
Private passenger lounges
Refreshments
Aircraft rental
Flight instruction
Aircraft maintenance
Fueling
Tie-down hangar
Parking services
FBOs essentially function like private jet terminals, and there are several nationwide. You'll typically find FBOs at public-use airports offering support services to aviation operators. Many FBOs offer flight and weather planning assistance and passenger or crew lounges, and some offer maintenance services, charter services, aircraft owner management, and hangar and office space. FBOs may even include private sleeping rooms and showers at major airports.
An FBO may be owned by a chain or an independent owner, which means many options are available if you're interested in utilizing an FBO. At Latitude 33, we make your flying experience luxurious with our personal services. We serve various bustling transportation hubs nationwide. Some of our popular airports include:
Carlsbad Airport (CRQ/CLD)
San Diego International Airport (SAN)
Long Beach Airport (LGB)
San Francisco International Airport (SFO)
Oakland International Airport (OAK)
Los Angeles International Airport (LAX)
Van Nuys Airport (VNY)
Seattle-Tacoma International Airport (SEA)
John F. Kennedy International Airport (JFK)
Honolulu International Airport (HNL)
McCarran International Airport (LAS)
Teterboro Airport (TEB)
Our aircraft fly to numerous popular private jet destinations throughout the United States, including:
Consider Their Experience
Consider the aircraft management company's industry experience. The more experience and time the company has in the industry, the better the choice. Large companies are also less likely to experience financial limitations, so you should review the company's size, experience, and financials when choosing an aircraft manager. Owning a private jet can be expensive, so it's essential to know the company can cover these expenses while preparing your invoice.
Additionally, you want to know that the company has experience with your specific type of aircraft and has national or international operational experience.

Consider Their Commitment to Safety
Safety should be a top concern for an aircraft management company. Access the company's safety compliance information and ratings to assess their commitment to safety. The WYVERN, International Business Aviation Council (IBAC), and Aviation Research Group United States (ARGUS) rating systems set the highest safety standards in the charter aviation industry. Each organization holds companies to different safety standards and offers unique designations, so it's crucial to know how to interpret this information:
ARGUS: As an independent rating system for safety, ARGUS produces safety grades and maintains records for pilots and aircraft. Included in the ARGUS reports are pilot background checks, historical safety ratings, and on-site safety audits. ARGUS ratings include Gold, Gold Plus, and Platinum. Latitude 33 is one of just 5% of charter companies that have reached ARGUS Platinum status, demonstrating our commitment to safety.
WYVERN: WYVERN is an independent company that supplies certifications and ratings, conducts regular audits, creates safety criteria, and provides leader training, software solutions, and safety intelligence data. Charter operators can achieve certification through the WYVERN Wingman program.
IBAC: IBAC created the International Standard for Business Aircraft Operations (IS-BAO) for charter safety ratings and is considered a benchmark for aircraft safety worldwide. Companies can be awarded certification at either Stage One, Stage Two, or Stage Three.
Few aircraft management companies achieve the highest certifications. Due to our high commitment to safety and impeccable record, you can trust Latitude 33 with your aircraft.
Should You Charter Your Aircraft?
Many private jet owners wonder whether they should charter their aircraft. There are a few factors to consider when making your decision. The major advantage of chartering out your jet is that you generate revenue that offsets ownership expenses. However, this doesn't necessarily mean you'll earn a profit from chartering your aircraft. The revenue from chartering rarely exceeds all of the costs associated with jet ownership, so aircraft ownership will still cost you if you make money from chartering. That said, income generated from chartering your aircraft could help cover a significant portion of your ownership costs.
Chartering your aircraft means your jet will experience more wear and tear and will need to be inspected and maintained more often due to the increased flying hours. This also means your aircraft will depreciate at a faster rate and you cannot fly your jet when it's being chartered for others to use. It is ultimately up to the owner to determine how much they want the aircraft to charter. For many jet owners, chartering out the aircraft is worth it for the costs it offsets.
If you're unsure whether chartering your aircraft is right for you, discuss this option with your aircraft management company. The company can help you forecast more accurate figures regarding chartering your aircraft and determine whether chartering could be beneficial in your specific circumstances.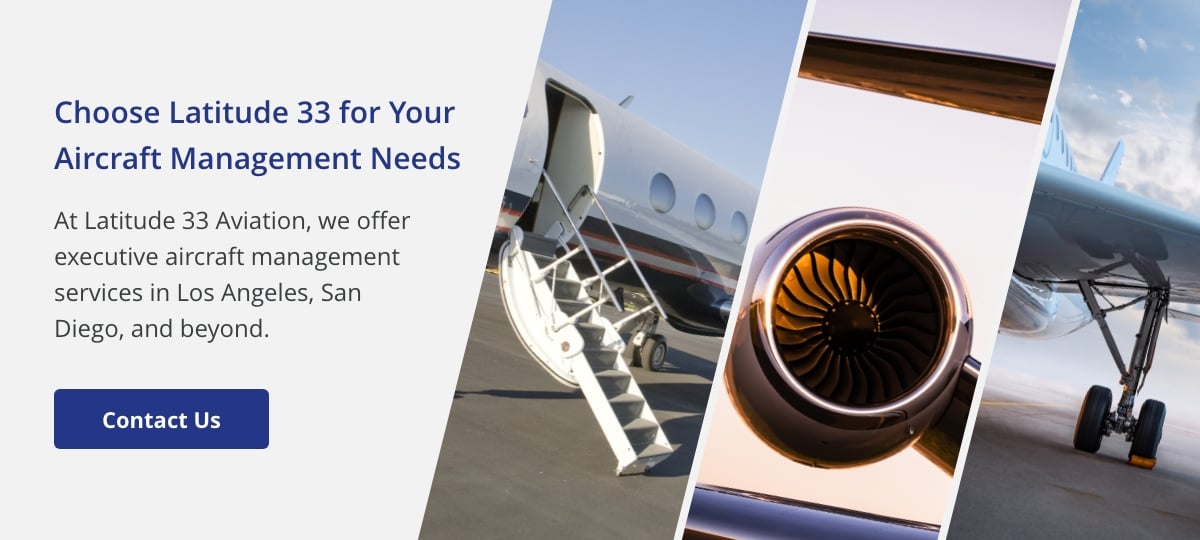 Choose Latitude 33 for Your Aircraft Management Needs
At Latitude 33 Aviation, we offer executive aircraft management services in Los Angeles, San Diego, Nashville, Seattle, Scottsdale, Salt Lake City, and beyond. Jet owners depend on these services for operational support and to generate charter revenue that can offset aircraft ownership costs. The following are the benefits of partnering with Latitude 33:
Cost-saving discounts: We provide cost-saving discounts for fuel, services, and insurance rates due to our relationships with companies in the industry.
Detailed reports: We provide detailed accounting reports that give you an overview of your income and expenses. We also included a detailed breakdown if you want a more comprehensive review.
World-class crews: We provide world-class training to our crews to ensure you fly safely. Our crews attend annual training at world-class facilities at which they go through simulator training, complete a rigorous background check, and learn about FAA-approved procedures.
Revenue generation: With our charter services, you can generate revenue from your jet when you aren't using it for a consistent revenue stream from your aircraft.
We make aircraft ownership easier and optimize aircraft logistics to allow you to enjoy the safety, convenience, and efficiency of private jets. Along with our aircraft management services, we also offer aviation services for clients in multiple locations, including Los Angeles, San Diego, Seattle, and beyond:
Jet acquisition services: With our jet acquisition services, you can invest in aircraft without worrying about the little details. We can determine your needs and show you models from reputable manufacturers available in our network.
Private jet charter services: We provide private charter services to maximize efficiency, convenience, privacy, and flexibility.
Private jet broker services: With our private jet broker services, we guide you through the process of a private jet sale, including identifying a prospective buyer and closing on the sale.
Contact us to learn more about our aircraft management services or request a quote today.