CHALLENGER 350 FUELED WITH SUSTAINABLE AVIATION FUEL (SAF)
Latitude 33 Aviation is proud to announce the acceptance of the first Bombardier customer aircraft to be delivered with sustainable aviation fuel (SAF). This award-winning 2019 Challenger 350 will also be the first on Latitude 33 Aviation's fleet to be based in Seattle, Washington. The Challenger 350 is already one of the most fuel-efficient business aircraft in the world with its redesigned canted winglets that reduce drag and fuel burn, while the engines deliver increased thrust. Available for charter, this factory-new aircraft is leading the way towards a sustainable future for business aviation by mainstreaming the use of an alternative to traditional jet fuel.
THE BENEFITS OF SUSTAINABLE AVIATION FUEL (SAF)
What is Sustainable Aviation Fuel?
Sustainable Aviation Fuel (SAF) is an alternative to traditional jet fuel. SAF is made by blending conventional kerosene with renewable hydrocarbon. Because it is certified as "Jet-A1" fuel, no modifications are required for the aircraft to use SAF.
Environmental Benefits
The use of SAF has been shown to provide great environmental benefits. Sustainable aviation fuel is nearly carbon-neutral over its life cycle because the burning fuel emits an equivalent amount of carbon dioxide into the atmosphere as do plants during the growth of biomass. SAF also contains fewer impurities, which results in a greater reduction of particulate matter emissions.
SAF can be produced from municipal waste that would otherwise be left to decompose in landfill sites. This avoids the use of petroleum and instead reuses the waste to power additional flights.
Economic & Social Benefits 
SAF is mainly produced from feedstocks and therefore can be spread worldwide across several different feedstocks that have large amounts of unviable land for food crops. This can simultaneously reduce the exposure to the fuel cost volatility that comes with having a single energy source and introduce a new industry such as sustainable aviation fuel production to developing nations.
For further information about Sustainable Aviation Fuel visit: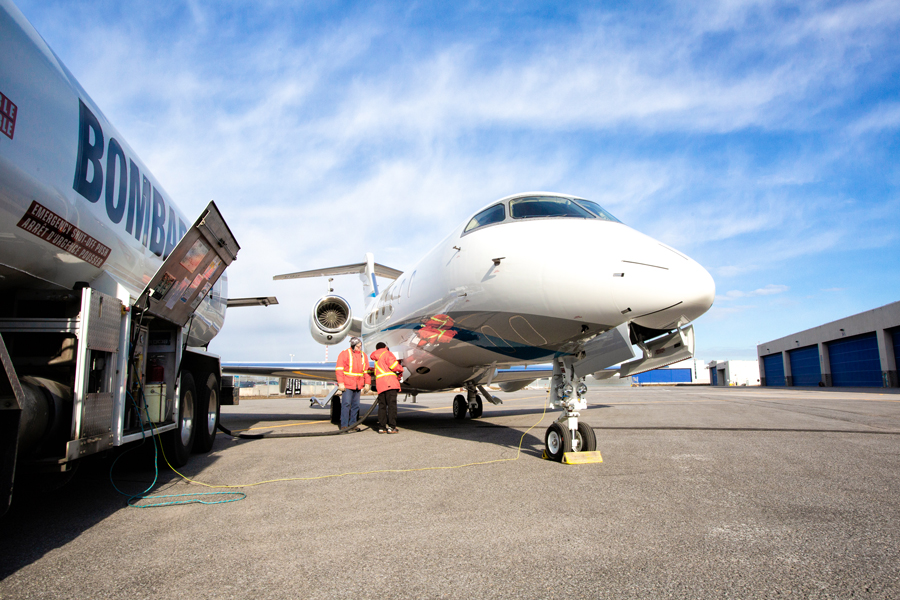 THE BOMBARDIER CHALLENGER 350
The Bombardier Challenger 350 is the best-selling business jet platform over the last decade. The wide flat-floor cabin, exceptionally smooth ride, and intuitive cabin management system make it an industry leader delivering an unrivaled private jet charter experience. The Challenger 350 aircraft recently demonstrated its outstanding performance capabilities and superior reliability by setting speed records for 10 key American city pairings in 20.5 hours. With half a dozen Challenger series aircraft on its fleet, Latitude 33 Aviation is proud to announce the factory acceptance of two 2019 Bombardier Challenger 350s – one of which has made its first flight from the factory using SAF.
Interior
The best flat cabin in its category, the Challenger 350 offers both a flat floor and in-flight access to the 106 ft3 baggage compartment. There are a variety of interior configurations to choose from that all comfortably seat up to 10 passengers. The open cabin is available for you to lie down, stretch out, and safely move about the cabin. Elegance at every seam, the world-class design of the interior features Bombardier's signature metal trim, foldout tables, and class-leading comfort. The spacious galley features a microwave, sink and faucet, and a generous amount of workspace. The private lavatory features a large backlit mirror, vanity, sink, and faucet.
Technology & Amenities
Whether you are traveling for business or pleasure, the Challenger 350 features the most intuitive cabin technology in the industry. Have control at your fingertips with the Challenger 350's wireless cabin management system. Stay connected with the world below through the available high-speed connectivity. Screen a movie on the large monitors, listen to audio on the crystal-clear entertainment system, or just sit back and relax in the spacious seats. With exceptional performance and comfort, the Challenger 350 creates peace of mind for all travelers.
Capabilities
The Bombardier Challenger 350 is capable of flying full range with full fuel and full seating capacity. With a maximum range of 3,200 nautical miles, you and your passengers are able to travel coast-to-coast and beyond, nonstop. The Challenger 350 is optimally balanced, which provides a smooth ride from takeoff to touchdown. This year, Bombardier announced a series of enhancements to the Challenger 350, including compact Head-up Display (HUD) and Enhanced Vision System (EVS), class-leading cabin sound-proofing technology, and refined cockpit aesthetics. A performance improvement package also allows the aircraft to fly up to 1,500 NM farther out of short runways, complementing its steep approach certifications awarded by international regulatory bodies including EASA, FAA, and TC. With this set of enhancements, the Challenger 350 aircraft continues to take center stage in the super mid-size segment and to be the preferred choice for Latitude 33 Aviation's luxury travel experiences, such as the West Coast Safari.
To learn more about the Challenger 350 visit: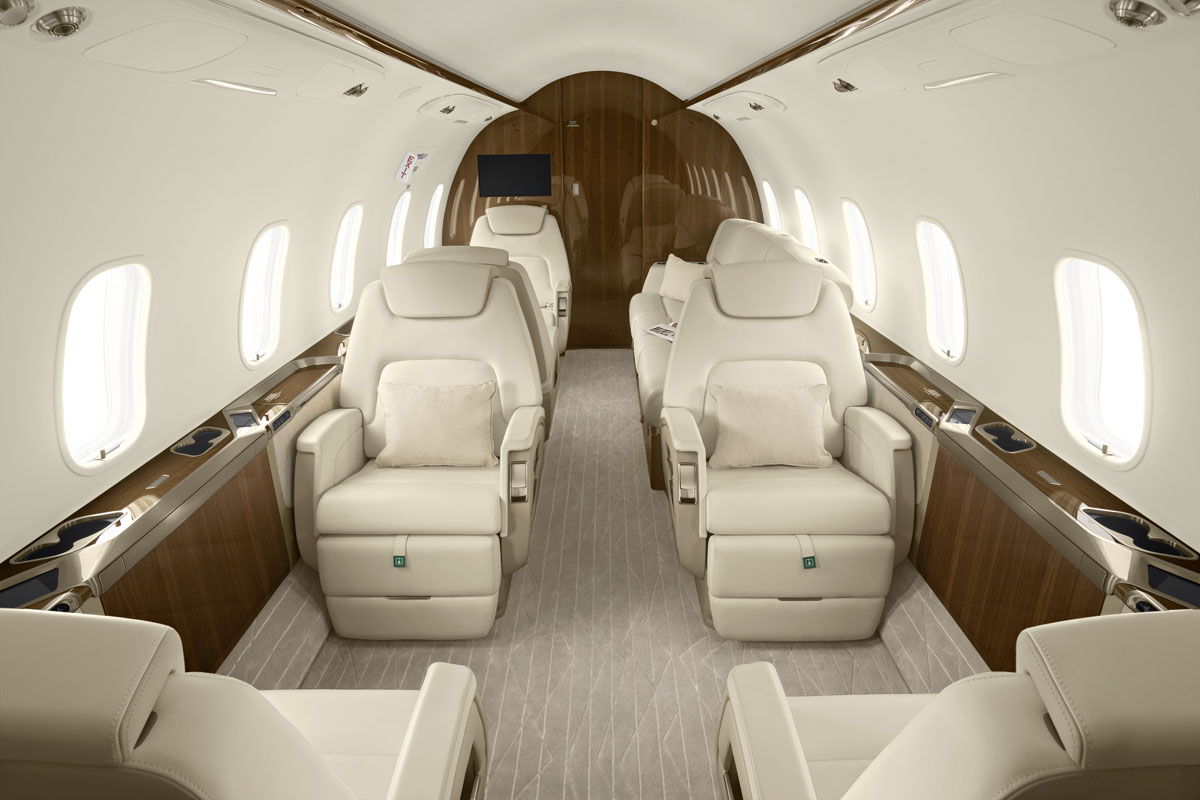 JET FACTORY ACCEPTANCE PROGRAM
Latitude 33 Aviation has thoroughly designed and adapted a three-phase private jet factory acceptance program that ensures clients receive the most perfect aircraft possible. Clients are represented and protected every step of the way, well before delivery day and continuing well after. Our experienced professionals provide transportation, testing, and inspection services that give clients peace of mind when buying a private jet.
During the first phase of the jet acquisition process, the pre-delivery, Latitude 33 Aviation sets up the RVSM application, completes the warranty documentation, and post-delivery support.
During the second phase, delivery day, Latitude 33 Aviation's representative is onsite for the On the Ground Aircraft Technical Inspection. During this inspection, the representative completes a comprehensive nose to tail inspection, looking for cosmetic, manufacturing or installation defects. Latitude 33 Aviation's representatives and pilots complete the In the Air Flight Test, which is designed to evaluate handling qualities, test all systems, and validate performance parameters.
The final phase of the acquisition process is the post delivery support. During this phase, Latitude 33 Aviation's team works with the manufacturer to facilitate warranty claims and ensure they deliver on post-delivery factory remediation for outstanding issues found at delivery.
Latitude 33 Aviation's extensive expertise can help you with the process of purchasing and accepting your desired aircraft. Our private jet acceptance program can take the uncertainty out of the acquisition process.
Subscribe to Newsletter
Keep up to date with Latitude 33 Aviation news, fleet additions, and one-way empty leg flights.
Learn more about Latitude 33 Aviation's three-phase private jet factory acceptance program designed and adapted by our experienced team of professionals.
View Fleet
View Latitude 33 Aviation's entire fleet of over 30 light, midsize, super-midsize, and heavy jets.