California is an ideal place to spend your Christmas. You may even prefer visiting the popular state in December — with the summer crowds gone, the beaches are pristine, and the gleaming cities are yours to wander. Wintertime in California offers a range of climates to meet anyone's preferences, from snowy mountains to warm and sunny desert regions, as well as beautiful beaches dotted with palm trees.
December offers cooler temperatures and occasional scattered rains, but many visitors find the weather tranquil and inviting. If you want to spend your Christmas in California this year, you'll have to choose the best place to plan your holiday getaway. Learn all about the top 10 places to spend Christmas in the Golden State.
Travel Tip: Book Early for Christmas Trips
Anytime you're interested in private travel during the holiday season, it's always a good idea to book early. December and January are popular months for private travel, and booking windows have grown longer in recent years. To secure the destination and aircraft type you prefer, be sure to book a chartered flight at least five to 10 days in advance. For some of the most popular Christmas towns in California, you may want to book even earlier.
Where to Go for Christmas in California
California offers plenty of ideal destinations for a holiday getaway. Whether you'd rather explore a twinkling city, experience some unique excitement, or escape into a secluded natural landscape, you can find the right Christmas vacation spot in the state. Here are some of the best places to visit in December in California.
Best Coastal City Destinations
Is anything better than a Christmas filled with palm trees and ocean breezes? California offers picturesque beachside towns, with smaller crowds and special Christmas-themed events. When you visit California in December, you'll get to experience one-of-a-kind holiday excursions, like ice skating on the beach or lighted boat parades. Among the most popular oceanfront places to go for Christmas in California are the following cities:
1. San Diego
If you're looking for a fun, activity-filled coastal city, San Diego is an excellent choice. San Diego is home to the December Nights festivities, a gathering of vendors and entertainers, including Santa. The event features an array of stands offering foods and drinks from around the world. If you prefer an oceanfront Christmas celebration, you can watch Santa catch some waves in Seaport Village or try ice skating on the beach.
San Diego offers the best of both worlds — beautiful, sunset beaches with winter holiday events. And it's easy enough to get there — you can fly right into San Diego International Airport (SAN). Once you arrive, you can stay in a bayfront Marriott or Hilton, or choose from dozens of luxury resorts. While you're there, you can also enjoy the city's year-round activities, including art museums, walking tours, and pedal boat rides.
2. San Francisco
Another beautiful coastal city, a bit further north than San Diego, is the famous San Francisco. The city offers some of the best Christmas events in California. For some holiday spirit, walk through Union Square, which offers extravagant displays and holiday shopping at Macy's. The square also hosts an annual Santa convention, which is open for participation. As you drive through the downtown area, you can listen to "A Christmas Carol: On Air," a radio performance of the classic Charles Dickens play. San Francisco also provides beachy Christmas events, like lighted boat parades.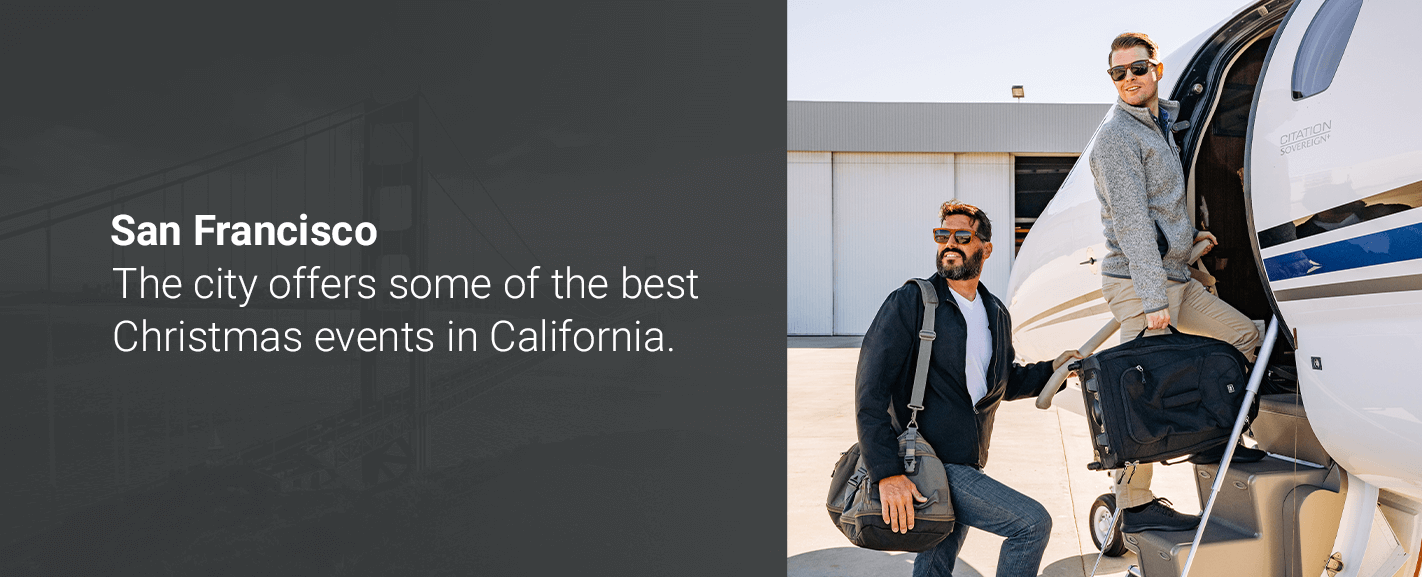 If you want to spend Christmas in San Francisco, you should fly into the San Francisco International Airport (SFO). To experience all of the city's Christmas events, choose a hotel somewhere downtown. You'll get a beautiful view of the colorful, twinkling city lights if you stay in the Four Seasons Hotel at Embarcadero, but you'll be closer to all of the action if you stay in the Chancellor Hotel on Union Square.
3. Morro Bay
For the most nautical holiday possible, Morro Bay is the place to be. Every December, locals build a giant crab pot tree made from commercial crab pots. The unique take on a Christmas tree is always on display in Anchor Park, which offers unmatched waterfront views.
You can also enjoy the lighted boat parade in the bay or explore the fanciful Santa House, both offering free admission. Be sure to plan your trip early, as these events take place the first week in December. With a short drive up the coast, you can also participate in the Cambria Christmas Market, with its beautiful lights and local artisan shops.
The closest airport to fly into Morro Bay is the San Luis Obispo County Airport (SBP). Once you arrive, you could stay in a charming hotel right on the bay. A great choice is the 456 Embarcadero Inn and Suites, offering beautiful views, a hot tub, and plenty of room to unwind. For the best seafood, check out the Bayside Cafe and Tognazzini's Dockside Restaurant.

Best Destinations for Families
If your whole family is visiting California for the holiday season, you can enjoy kid-friendly fun at plenty of popular destinations. Whether you want to ride rollercoasters, explore transformed cities or celebrate the holidays celebrity-style, California offers fantastic Christmas destinations perfect for the whole family. Book a family trip to one of these cities:
4. Anaheim With Disneyland
One of the best places to take the kids in California is Anaheim. This Southern California city hosts Disneyland and the Downtown Disney District, full of themed rides, shops, and attractions. The park is truly special since it was designed and built with Walt Disney's direct supervision. Parents looking for the best places in California at Christmas will likely choose Anaheim. Kids will love a Disney-themed Christmas extravaganza.
The park and neighboring district offer tons of magical holiday events, including parades, fireworks, lighting ceremonies, and a festival that runs from November 12 to January 9. In addition, the park's year-round rides get a fantastic Christmas makeover for a special experience.
During your stay in Anaheim, you can also watch the Anaheim Ducks compete in the Honda Center Hockey Arena, taste different cuisines at the Packing District Food Hall, or get a thrill on a Knott's Berry Farm roller coaster. The best place to fly in is the John Wayne Orange County Airport (SNA). If you want to stay close to the fun, choose a Disneyland Resort hotel. The Paradise Pier or the Grand Californian Hotel and Spa are both good options.
5. Palm Springs
Palm Springs is always an oasis in the desert — come Christmastime, it's also the perfect place for holiday cheer. Each December, the town transforms with twinkling lights and carolers' voices. Palm Springs is home to Mt. San Jacinto, which means a white Christmas is a possibility, along with sledding and snow-shoeing. Snow or shine, you can enjoy Christmas activities like roasting chestnuts, decorating cookies, making crafts, and writing letters to Santa. Afterward, be sure to watch the grand Festival of Lights Parade, full of performers and locals.
If you want Palm Springs to be your family's California Christmas getaway, you can fly into the Palm Springs Regional Airport (PSP). A great place to stay is the Miramonte Resort and Spa, located in the heart of the Palm Springs Valley. The hotel coordinates all kinds of fun excursions, like zoo and garden passes and big wheel Jeep tours, which could make your Christmas trip even more special.
6. Los Angeles
The best spot for a fun-filled green Christmas is Los Angeles. The city is an exciting place to visit year-round. It's home to the iconic Hollywood sign as well as some of the world's most famous television and movie studios, including Universal. It also features the Hollywood Boulevard and the Walk of Fame, where you can find handprints from your favorite celebrities. At Christmastime, families enjoy the Enchanted Forest of Light display and special themed performances. Since Los Angeles is only about 45 minutes away from Anaheim, you could easily take a day trip to Disneyland during your stay.
The closest place to fly into Los Angeles is the famous Los Angeles International Airport (LAX), but if you want to avoid the hustle and bustle, you might prefer to fly into Ontario International Airport (ONT). The area boasts plenty of top-rated, family-friendly hotels to choose from. An excellent choice is the Dream Hollywood, a pets-allowed hotel with beautiful views of the Hollywood Hills. Wherever you stay, Los Angeles is an ideal spot for family fun during the winter holidays.

Best Destinations for Outdoor Enthusiasts
Those who are drawn to unique flora and fauna love California, which has a climate and wildlife array unlike anywhere else in the United States. The massive state offers plenty of tucked-away places where you can unwind and explore, including national parks and lakes. With smaller crowds and comfortable temperatures, December is a great time to check out these locations:
7. Joshua Tree National Park
Southern California's Joshua Tree National Park features impressive rock formations, a green-spotted desert landscape, and its namesake Joshua trees with twisted trunks. You'll find plenty of trails to hike throughout the protected areas of the Colorado Desert, the Mojave Desert, and Coachella Valley.
The nights can get chilly, as low as 35.8 degrees Fahrenheit, so you may want to stay in a local house or homestead if you come in December. Most of the park's visitors fly in through PSP. You might plan to stay in Palm Springs and set aside a day to explore Joshua Tree National Park, as Palm Springs is the closest major city. That way, you can also enjoy the Christmas events and decorations the city has to offer.
8. Yosemite National Park
Yosemite National Park, in the Sierra Nevada Mountains, is gorgeous in the winter. Light snow often dusts the mountaintops as the Yosemite Falls continue to flow. The park offers stunning views of giant, ancient Sequoia trees and granite cliffs. For a unique and breathtaking holiday, Yosemite National Park is an obvious choice.
If you stay in Yosemite Village, you can feast on an Old-English-inspired Christmas dinner at the Ahwahnee Dining Room. The fine-dining restaurant is a great place to get dressed up for a holiday meal. Make sure you're ready for a bit of travel — the closest airport is the Fresno-Yosemite International Airport (FAT), and it'll take a couple of hours on the road to get to the park.
9.  Lake Tahoe
Also found in the Sierra Nevada Mountains, Lake Tahoe sits on the border between California and Nevada. The large lake boasts beautiful freshwater beaches, with nearby mountains perfect for skiing. Lake Tahoe is one of the few places in California where you can enjoy a white Christmas, thanks to the high elevation. You'll also be able to experience relaxing cruise tours, sunset sleigh rides, and hikes through the snow.
The closest place to fly in is the Reno-Tahoe International Airport (RNO), from which you can rent a car or hail a ride. You'll find plenty of options for places to stay, from flashy casinos to quiet lakeside lodges. Keep in mind, the south end of the lake tends to be a bit busier and better for nightlife, while the north end of the lake tends to be more peaceful.
10. Mammoth Lakes
The smaller and further south Mammoth Lakes offer another ideal Christmastime escape. The Mammoth Lakes provide breathtaking winter scenery, with plenty of snow and winter sports. After you're finished skiing, snowboarding, and sledding, you'll want to slow down and appreciate the picture-perfect evergreen forests. Your sightseeing should also include the Devil's Postpile National Monument, a formation of basalt columns, and the famous Rainbow Falls.
The Mammoth Lakes offer the most classic Christmas experience you'll find in sunny California. It's a perfect spot for a couple's or family vacation. The quickest way to get to the lakes is to fly into the Mammoth Yosemite Airport (MMH). For a cozy and secluded Christmas experience, stay in a small lodge or cabin, like the Mammoth Mountain Chalets. These cabins let you ski or sled right up to your front door.
Charter a Flight to Your California Christmas Destination With Latitude 33
California's cities and parks are perfect destinations for a Christmas season getaway. With smaller crowds and cooler temperatures, many find December to be the best time to visit the popular vacation state. Whether you prefer a beachy, saltwater Christmas, a festive holiday trip for the family, or a quaint natural escape, California has something to offer everyone. Consider seaside cities for some of the world's most unique and exciting Christmas traditions. Surprise your kids with a trip to Disneyland or Hollywood. Or, unwind with some snowshoes and hot cocoa at one of the state's inland nature reserves.
However you decide to spend your holiday in the Golden State, you can fly to your destination in luxury with Latitude 33 Aviation. We offer private charter flights, allowing you to access more destinations. Our Platinum ARGUS rating demonstrates our commitment to professionalism and safety. Be sure to book your flight early to ensure access to the aircraft and destination of your choice. Start planning your Christmas trip to California — request a quote for a private flight today.