Private Aviation Trends for 2022
The worldwide spread of COVID-19 has caused many private jet owners and flyers to adjust their practices. The initial fallout of COVID-19 in early 2020 saw many regular commercial and private flyers decide to forego flying and traveling in general. Now, as more businesses and areas slowly reopen, aircraft owners have had to readjust to the new safety demands and concerns of their customer base. As companies react to new concerns, the private jet industry is likely to evolve.
If you're interested in booking private jets, you may want to know more about COVID-19's impact on private aviation in 2020 and the private aviation trends for the rest of 2022 that could affect your flying experience. Learn how air travel trends have changed since the pandemic and how these shifts could affect the private jet market.

COVID-19's Impact on Private Aviation: What 2020 Taught Us
As people all around the world guard themselves against COVID-19, worries about sitting close to others in an enclosed area for an extended period led many to forgo commercial airline travel. As major airlines adjusted to the lack of travelers, some routes and smaller legs were canceled, and connections were added or changed, which reduced the overall number of commercial flights available.
Besides their fear of sitting in an enclosed plane with people they didn't know, people also avoided flying commercially because of concerns about the airport. Many potential flyers didn't want to wait in long security lines and use public restrooms, where their risk of contracting COVID-19 may increase. Since commercial airports facilitate the flights of thousands of flyers each day, people were wary of flying, as there weren't any guarantees every flyer had been tested or wasn't carrying the virus.
Besides safety at the airport and in airplanes, both the private aviation and commercial aviation sectors were affected by businesses going remote and a lack of open getaway destinations. For example, many companies had their employees work remotely, with teleconferencing taking the place of in-person meetings. As a result of this change to remote work, many business professionals didn't need to fly via commercial or private aircraft.
Leisure travel also decreased, as many resorts and other prime destinations weren't open or didn't offer the same experience. With so many businesses closed, many people chose to stay home. For commercial flyers, the risk of flying to take a vacation was often too great to justify the risk. While private aviation was a much safer option, flyers often stayed home due to the closure of recreational businesses and other key services. Additionally, international restrictions barred many flyers from entering other countries.
Toward the end of 2020, more people were flying, though the numbers were still low. For example, the Bureau of Transportation Statistics found that compared to April 2019, April 2020 saw a 96% decrease in airline passengers. This trend continued throughout the year, as they state that compared to October 2019, the number of U.S. airline passengers in October 2020 was down by 62% in total. Additionally, domestic travel was down by 60%, while international travel was down by 77%.
This sharp decrease in passengers caused the number of aircraft in the U.S. commercial fleet to shrink by nearly 23% in 2020, according to the Federal Aviation Administration (FAA). News outlets have been quick to spotlight the troubles airlines are facing, including reduced flights, lower rates from summer highs, and needing to switch to smaller aircraft. These issues have left many passengers feeling disgruntled, occasionally leading to outbursts of anger, discord, and even attacks directed toward flight agents.
The 20th anniversary of 9/11 has also brought air travel into the headlines more recently. The impact of 9/11 was felt immediately by travelers, as boarding a flight became a much slower process and more of a hassle overall. As security measures increased, passengers experienced a distinct loss of privacy and decreased confidence in the safety of flying. In fact, between 2001 and 2006, revenues from U.S. flights fell by $10 billion per year. Now, commercial airlines seem to be suffering a similar decline in passenger trust and comfort due to COVID-19.

An Increase in Private Jet and Aircraft Use
While business travel has been slow to recover, leisure travel started to become more popular again in late 2020, with additional travel in 2022. Even with vaccine distribution and reduced restrictions, many people still don't trust commercial airlines for their personal and leisure travel needs. With a decrease in commercial airline travel trust, many flyers turned to private jets and aircraft in 2020 and have not returned to the airlines.
This trend of flyers utilizing private jets for personal and leisure travel rather than business travel picked up steam in 2021 and continues into 2022. In fact, July 2021 had the most private flights – 12,345 flights – since March 20, 2008. Many anticipate that business travel will become less important in the age of teleconferencing even when the threat of COVID-19 subsides. However, after extended times in lockdowns, the desire to travel in luxury and visit must-see destinations will likely only continue to increase as more and more locations open up.
In 2020, many travelers prized private jets for their privacy and ability to reduce contact with other flyers. In 2022, this trend is continuing, as the nature of private aviation keeps the volume of people aboard charter flights small. In addition to privacy, there are many evergreen benefits that private jet travel customers can harness. For example, in 2020, private and corporate aviation companies provided a diverse set of clients, from corporate workers to families, with faster travel and a more luxurious experience.
Overall, COVID-19 had a major impact on commercial and private flying in 2020. Though there was a decrease in flying commercially, the year represented a huge opportunity for private charter jets, as they could offer greater safety for flyers. All of the ways flying changed in 2020 is playing a huge role in 2022, with the industry poised to evolve significantly and set to grow as much as 10% post-pandemic.
The Future of Private Jet Travel in 2022
The attractiveness of private jet travel to many flyers has led to many private jet charter industry changes. These changes have affected both private jet owners and charter clients. For instance, many have seen private jet owners invest more in greater sanitation efforts and upgraded digital technology. Those in the private aviation industry also have seen more first-time flyers and clients traveling with their pets and children.
If you are interested in the private aviation market, here are some of the top private jet trends expected for the rest of 2022.
1. Additional Sanitation Efforts
Since flyers are increasingly concerned with sanitation, and private aviation companies want to keep their passengers safe, companies across the private jet charter industry have placed a greater focus on sanitation. By nature, private jets are much easier to keep clean, with fewer passengers to account for and more space to maintain social distancing while on board. Expect to see corporate aviation companies highlighting the ease of social distancing while on their flights.
Besides social distancing, private jet charter companies are likely to continue prioritizing increased cleanliness standards inside the private aircraft and at private terminals and FBO (fixed-base operator) facilities to draw in customers seeking sanitary environments. For example, many private aviation companies prioritize safety by providing staff and flight crews with face masks. These masks meet current COVID-19 guidelines for reducing the spread of the virus. By providing high-quality masks to their staff and flight crews, companies can better protect their passengers and employees.
Another one of the major private jet trends is increased COVID-19 testing for crews and staff, especially for those who haven't been vaccinated. Additionally, multiple temperature checks a day will likely continue to be a popular preventive measure, as these checks can identify crew members or staff with fevers, sending them home before they spread an illness.
Along with testing and temperature checks, private jet operators will continue to prioritize cleanliness in their aircraft interiors and facilities. Intensive cleaning practices utilizing heavy-duty sanitizers were already in full swing in 2020 and will continue for the rest of 2022. Many expect to see companies following other safety practices, like removing newspapers and magazines from planes and terminals. Additionally, private operators are vetting their ground transportation partners to ensure they're following safety practices.

2. More First-Time Flyers
COVID-19 presents an opportunity for the private aviation market, as consumers are looking for safer ways to fly. Due to the desire for a safer flying experience, the market is expanding its customer base, with more first-time private jet passengers expected for the rest of the year. While some flyers may have previously avoided private airfare due to cost, the increased cleanliness and easier social distancing may make jet charters well-worth the money in these potential customers' minds.
Since there's a chance to bring in flyers who aren't used to flying private, the private jet charter industry will continue to see greater marketing efforts geared toward these potential customers. This new customer base comes from those who regularly fly first-class or business class. While previous marketing efforts focused on the luxurious experience and faster flight, operators are now appealing to potential flyers by highlighting the increased safety and hygiene of private jets.
In addition to safety, the private jet industry can also focus on the greater safety of their facilities and the boarding process. Instead of waiting in lines, many flyers can drive right up to a private jet and enter it with minimal contact with other people. Additionally, flyers can wait at private facilities where companies keep contact with staff and other flyers to a minimum.
3. Use of Digital Technology
Corporate aviation has been implementing more advanced digital technology in their facilities and private jets for a while now to improve the experience of flyers. For example, digital tech like in-flight Wi-Fi is quite popular as it allows passengers to do work or unwind during the flight. With the spread of COVID-19, more digitization is expected to reduce the number of touchpoints and enhance passengers' convenience throughout key steps, like placing a charter flight, checking in, paying, boarding, and disembarking.
To attract flyers and give them more peace of mind while flying, it's likely the private jet industry will see an increase in a few key pieces of digital technology. To provide passengers with critical information for their safety, companies can implement technology that sends real-time information, news about the current COVID-19 restrictions at destinations, and status alerts if anything changes. Additionally, companies can make the buying process easier and safer in their facilities and on jets through the use of technology with contactless payment options.

4. More Routes to Eliminate Connecting Flights
Connecting flights put passengers at greater risk of contracting COVID-19, as they're more likely to come in contact with other flyers or people while switching to another plane. These dangers of connecting flights are especially worrying for commercial flyers since their exposure to other people will significantly increase while passing through terminals. Private operators have greater flexibility in their ability to reduce connecting flights.
While commercial flights often need connecting flights to facilitate the needs of thousands of passengers, private aircraft can fly into smaller and more remote airports that commercial airlines can't access. This allows private aircraft to fly direct routes to a passenger's destination of choice.
Private jet operators will continue to maximize their operations to increase flights to remote destinations. Operators can change their routes to reduce any need for stops or connecting flights. All of these offerings can appeal to people who regularly fly commercial but want to reduce their need for connecting flights and the risks that come with them.
5. Sustainable Aviation Fuels
In the midst of COVID-19, many passengers are becoming more interested in aircraft running on sustainable aviation fuels (SAFs). With the increased demand for socially responsible practices, such as wearing a mask and staying socially distant, many people's priorities have shifted to greater social responsibility across other aspects of their lives as well.
A recent GobalData survey found that for 43% of respondents, a service or product's ethical, environmental, and social responsibility influences their buying decisions. Private jet owners employing SAFs can appeal to these greater demands for ethical and environmentally responsible products or services.
When compared to fossil jet fuels, experts see SAFs as a clean substitute. Unlike fossil fuels made from petroleum, SAFs come from sustainable sources, like non-fossil CO2, agricultural residues, and waste oils. Since these fuels offer a more environmentally-friendly option than petroleum-based ones, airlines can use them to attract customers interested in sustainability and social responsibility. Customers with personal sustainability goals will be much more attracted to taking private jets running on SAFs rather than commercial flights fueled by petroleum.
Besides attracting flyers with sustainability concerns, operators that switch to SAF fuels in 2022 can stay ahead of potential regulations. As fossil-fuels fall out of favor, commercial and private aircraft will face public pressure, and possibly regulation, concerning the use of fossil fuels. If an operator gets ahead of the curve now, they can set up the needed relationships with SAF companies to supply their fleet and avoid falling behind other forward-thinking businesses.

6. Increasing Private Jet Ownership
Private aviation has become one of the most popular air travel trends since the start of the pandemic. The private jet market will see new private jet owners who want to travel for business or personal reasons on their own terms. Sellers of small aircraft and private jets have seen a spike in sales, with buyers wanting greater safety and convenience in their flying experience.
Additionally, many FBOs have seen more private jet owners looking to use their facilities and services. An increase in aircraft maintenance, hangaring, fueling, tie-downs, and other relevant services has all seen much more demand in 2022.
Naturally, travelers prefer private aviation as the safer way to fly with less exposure the health threats. Specifically, passengers encounter about 700 touchpoints on a commercial flight, compared with only 20 touchpoints on a private flight. Travelers are also gravitating toward private aviation as commercial airlines continue to reduce their scheduled flights and raise personal safety concerns. Instead of staking their trip on an unreliable commercial airline, consumers are choosing private jet travel as a more dependable alternative.
While only 10% of those who could afford to fly privately actually did so before the pandemic, research estimates that now 79% of people who can afford a private jet are inclined to fly privately. Considering more than half — 53% — of new flyers say they plan to fly privately on a regular basis post-pandemic, it doesn't look like the private aviation trend will be slowing down soon.

7. Increased Business Aviation
Compared with the commercial sector, the business aviation market has experienced a relatively low decrease in demand throughout the pandemic. Although business aviation did see a dip in travelers, the industry's rebound began much sooner than the commercial market's recovery did. Because business aviation provides flyers with more flexibility, time efficiency, and a larger possible reach, the demand for business air travel is expected to continue growing for the rest of 2022.
On a global scale, business aviation trends in 2022 have been more promising than commercial aviation patterns, with private jet operations for the first week-and-a-half of 2022 rose by 38% over 2021.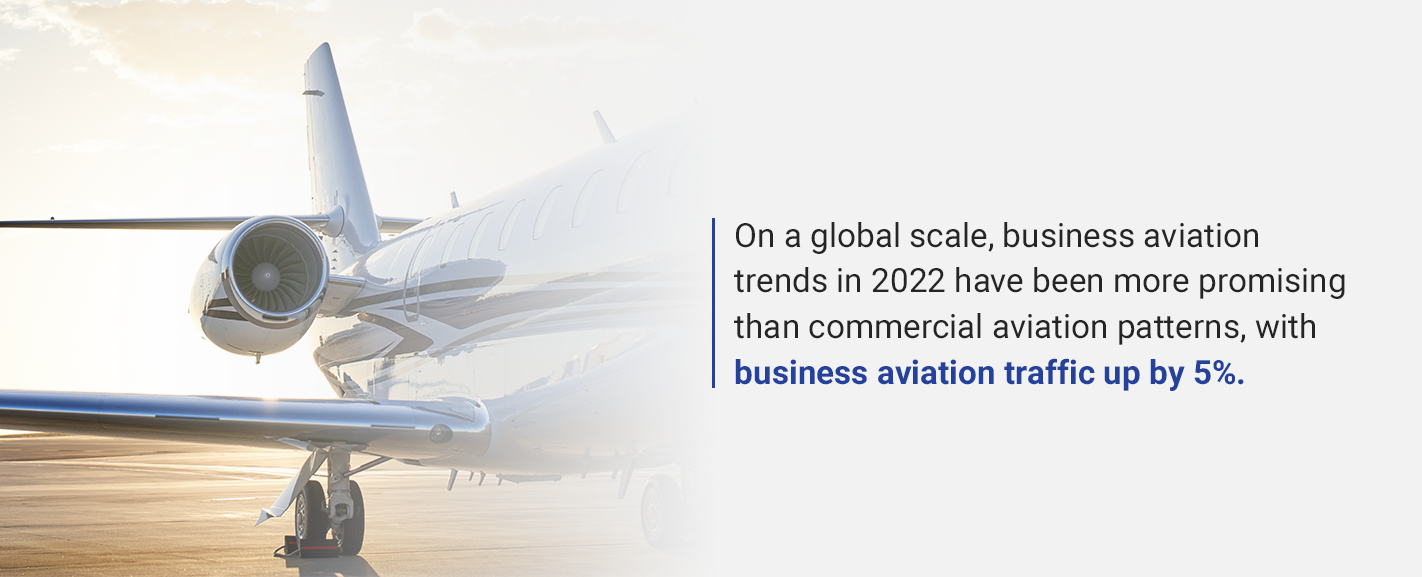 The U.S. has been driving the increased demand for business aviation and leading the industry's recovery. Although many travel hubs still have a ways to go before seeing pre-pandemic numbers, some areas are already boasting more business flights than ever. Specifically, West Palm Beach has seen more movement than it did before the pandemic, and business jet usage in Texas is as high as it has been since 2018.
8. Younger Passengers and Pets
While business aviation has slowed due to the reliance on remote meetings, leisure travel has recovered quicker. Families with children and pets are expected to continue to use charter flights more regularly for the rest of 2021. Due to this trend, private jet operators have begun to offer greater accommodations for pets and children.
To appeal to families with small children, operators outfit their planes with booster seats and sleeping areas where a child can nap comfortably. Private jets also invest in on-board entertainment systems designed for children to help them stay occupied on a long flight. Additionally, many private jets also offer toys and books for children to play with or read while flying.
Forward-looking operators also store refreshments that are healthy and appropriate for children. Private jet staff should be trained to handle milk and baby food as well, storing it in appropriate locations that are easy for parents to access while in flight. Private jet travel can offer greater flexibility for parents who need to bring medications on board that might be subject to liquid limits and other restrictions on commercial flights.

9. Managing Costs
Operators and flyers in the private jet charter industry are both going to be looking for ways to manage rising costs. Limited capacity based on new charter clients entering the market, declining private aircraft manufacturing over several years, and aircraft owners taking their aircraft off charter due to health concerns over the virus has placed pressure on the overall availability of flight options. Although costs have increased due to the low supply and high demand for private travel, flyers can take certain measures to manage the cost of their flight. Traveling on off-peak hours and picking up an empty leg flight are a few ways where travelers can reduce their costs on private flights.
Of course, private jet owners still have to deal with several costs related to the operation of their jets. Factors such as insurance, fuel, and a limited number of qualified pilots can all raise costs.
To remain profitable and provide more affordable prices to customers, jet owners will need to source parts and maintenance services at a lower cost. As a result, the industry will likely see jet owners searching out cost-efficient suppliers offering high-quality products and services. Brokers and aircraft managers may also play a larger role in procuring affordable flights for their clients by helping them find the right airports, supplies, and availability.

How the Private Jet Industry Is Poised to Evolve
With all of the likely trends for the rest of 2022, the private jet industry is poised to undergo a significant evolution. This evolution is likely to continue even when the dangers of COVID-19 subside, as passengers will have different expectations for their private flying experience.
Find out more about how the private aviation industry is uniquely equipped to handle the new priorities of clients:
Need for safety and security: While COVID-19 is a more immediate worry for flyers, the desire to reduce one's exposure to other diseases and viruses could continue to be a big consideration. The private aviation market has a great opportunity to continue to respond to these concerns by working on ways to deliver a more hygienic flying experience.
Desire for flexibility: The private aviation industry is all about flexibility, which is exactly what flyers want right now. With many commercial airlines scaling back the number of flights they are offering and limiting their availabilities, travelers are looking to private aviation to fill that gap and accommodate their schedules.
Demand for personal flying: As business flying has declined, the influx of private flyers on personal trips has increased. Due to the growth of new private flyers, operators may see greater demand from those on personal trips. These new flyers have different requests and concerns than business flyers, with private jets ready to meet their needs.
Change to necessity rather than a luxury: Many flyers have started to see private jet travel as a necessity for safe travel rather than solely a luxury experience. For the rest of 2022, we will continue to see a general shift in passengers' views of private aviation, as customers see it as a necessary expense to keep themselves safe. Due to this shift, companies will continue to adjust their marketing efforts to promote the benefits of flying on a private jet.

Charter Your Next Flight With Latitude 33 Aviation
At Latitude 33, we're prepared to offer all of our clients a luxurious and safe flying experience. As we operate the biggest and most cutting-edge fleet of light jets in the United States, we're able to get you to your destination fast. We understand the safety concerns of our clients, and our crews are trained to observe COVID-19 guidelines. When flying with Latitude 33, you can expect the ultimate in comfort and privacy.
Charter your next flight with Latitude 33 Aviation by requesting a quote. If you have any questions, please contact us, and our concierge charter department will be happy to speak with you about how we can accommodate your needs.