April 3, 2018 – Latitude 33 Aviation experienced remarkable growth in 2017. All three business units (aircraft sales and acquisitions, aircraft management, and private jet charter) grew year over year, with a 50 percent increase in charter hours flown.  Some highlights include:
Total aircraft assets under management increased to $157 million
$68 million in aircraft (jet and turboprop) sales and acquisition transactions completed
Nearly 11,000 hours of flight time accumulated throughout the year
Expanded mid and super mid-sized aircraft portfolio with the addition of an Embraer Legacy 500 and Cessna Citation XLS+
Los Angeles private jet charter operations grew with the addition of Orange County/Santa Ana/John Wayne Airport charter base
ARGUS Platinum safety rating was achieved, placing Latitude 33 in the top 5% of all U.S. based charter operators
Local outreach program was launched to help raise $50,000 for community organizations
Friendly Flier awarded by Van Nuys Airport for the fourth consecutive year in recognition of outstanding flight operations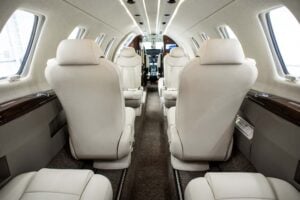 While growth in 2017 was expected to exceed previous years, the combination of unparalleled customer service, additional factory new aircraft added to the fleet, and industry tailwinds helped 2017 become a record-breaking year.
Latitude 33 Aviation has always offered bespoke aircraft brokerage services, but last year marked the expansion of the aircraft sales and acquisition division with the addition of a full-time sales team. When aircraft owners are looking to move up in aircraft capacity and capability, they choose Latitude 33 Aviation to oversee the sale of their current aircraft and acquisition of their next jet because of the company's specialized industry experience. Unlike many other aircraft brokers, Latitude 33 Aviation does not just buy and sell aircraft – it manages, operates, and maintains a large fleet of jets which provides the company with in-depth operating knowledge of each specific jet.
The company has also developed close relationships with major business jet manufacturers such as Cessna/Textron, Embraer, and Bombardier. As an operator who accepts and operates many factory-new aircraft on an annual basis, Latitude 33 Aviation is regularly recommended by manufacturers to prospective aircraft owners or current owners who are looking for professional aircraft management services.
Read the story of  Latitude 33 Aviation's first 10 years

In becoming San Diego's only ARGUS Platinum safety rated private jet charter company, Latitude 33 Aviation continues to demonstrate its commitment to constant improvement to its clients, aircraft owners, and partners. Although the company has a perfect safety record, it wanted to raise the bar and challenge itself to meet the most stringent standards in the industry. In doing so, Latitude 33 Aviation became one of the few qualified operators that meet the standards to provide supplemental flight support to some of the world's most well-known private flight companies.
For more information about private aircraft ownership or to book your next flight, call 800-840-0310 or email charter@L33jets.com