Aircraft interior refurbishment involves updating, replacing, and enhancing a cabin's interior elements. Owners often refurbish their aircraft to increase comfort, style, functionality, and resale value.
A high-quality refurbishment makes a cabin more aesthetically pleasing and desirable to potential buyers looking for an exceptional aircraft. Continue reading to learn more about how to effectively upgrade a jet's interior with superior design, functionality, comfort, and style.
What Does It Mean to Refurbish an Aircraft?
Refurbishing an aircraft is the process of extensively or subtly updating its interior elements. Refurbishment may include a few updates or a full remodel of the jet's interior facets. Aircraft owners may choose to refurbish all or a selection of the following features:
Windows
Window covers
Seat upholstery
Entertainment systems
Armrests
Lighting
Countertops
Flooring and carpeting
Cabinets
Composite panels
Sound system
Internet connection capabilities
Walls
Why Is Refurbishment a Good Investment?
Aircraft refurbishment is an exceptional investment for private jet owners and resellers. Refurbishing an aircraft increases its resale value and strengthens its appeal. Quality updates can impress potential buyers and significantly influence their purchasing decisions.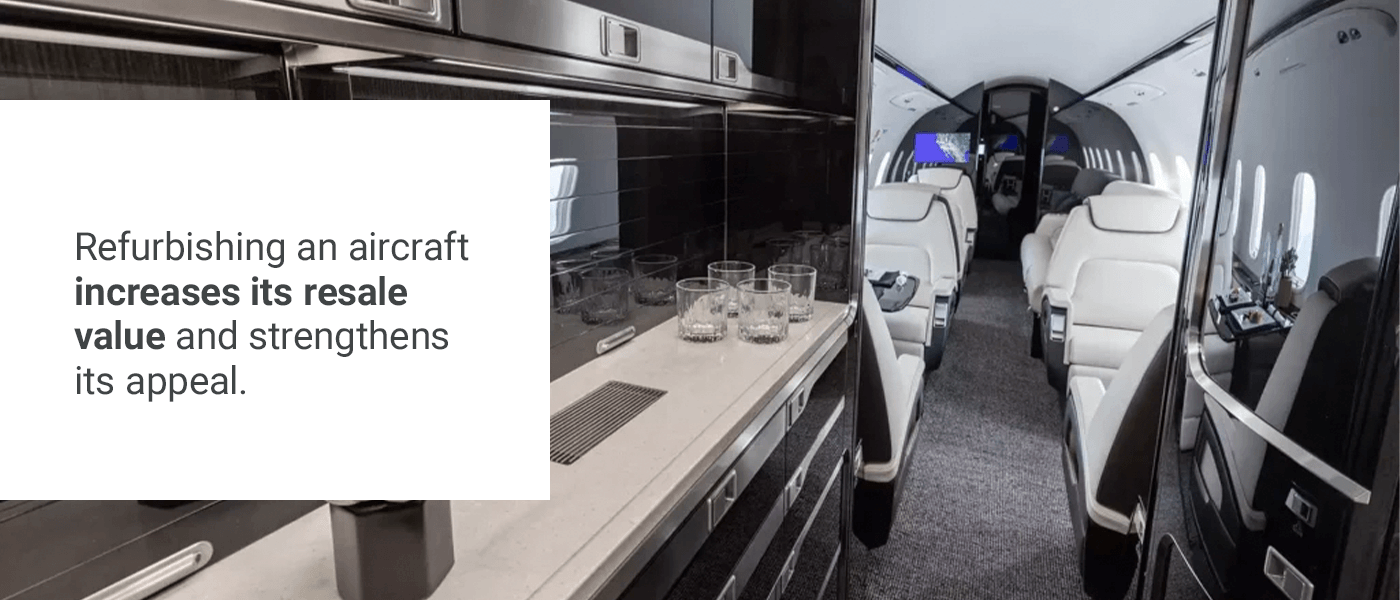 6 Points to Consider Before Refurbishing an Aircraft
Some aircraft owners start the refurbishment process without specific preferences, but keeping certain considerations in mind can make it easier to choose and plan aircraft interior upgrades. Before refurbishing a jet, owners should consider the following elements:
1. Style
Refurbishing an aircraft is the perfect opportunity for an owner to update their jet's style for a more appealing aesthetic. Older jets may have outdated styles with undesirable textures, colors, and furnishing, and owners can upgrade them to match more modern styles and create the look they desire.
Before starting the refurbishment process, aircraft owners should plan the design they want to create. Designing a jet's interior with the right colors and textures can help to fashion a pleasing interior style.
2. Comfort
Comfort is another essential factor. Updating interior private jet features can increase passenger comfort and safety. Updating upholstery eliminates wear and tear, and repairing window scratches can prevent hazardous broken windows. To enhance an aircraft's comfort, owners should consider seating features, convenient fixtures, adjustable mood lighting, cabin pressure, and humidification.
As an example, rotating seats enhance passenger experiences by allowing them easier window viewing, and reclining chairs or beds make sleeping easier and more comfortable. Convenient fixture additions such as cup holders and desks also increase convenience.
3. Functionality
An aircraft refurbishment goes beyond comfort and style to also address functionality. It's important to consider the jet's cabin management system and connectivity. Updating the interface allows the cabin crew to better control and monitor aircraft functions within the cabin such as passenger calls and signs and cabin illumination.
4. Capacity
Aircraft owners can increase capacity with the right updates. Refurbishing an aircraft provides the opportunity to optimize cabin space. Adjusting a jet's floor plan can create more space for additional seating as long as the adjustments align with Federal Aviation Administration (FAA) regulations. It can also create more space for optimal luggage storage.
Aircraft owners can schedule a professional evaluation before starting the refurbishment process to determine if it's possible to increase their jet's capacity and ensure their plans remain within FAA regulations.
5. Resale Value
Resale value is an important consideration when refurbishing an aircraft, as certain changes may add more value than others. Choosing the right colors, textures, furnishings, and features can increase a jet's appeal and value. Aircraft owners should consider elements that will stand the test of time. Trending colors and styles may not be as desirable in a few years, so it's best to choose elegant, neutral colors that will remain appealing.
6. Technological Features
Technological updates can significantly enhance an aircraft's interior. Features including automated window dimming, energy-efficient lighting, a strong internet connection, and televisions improve the passenger experience and increase a jet's appeal.
How to Refurbish an Aircraft Interior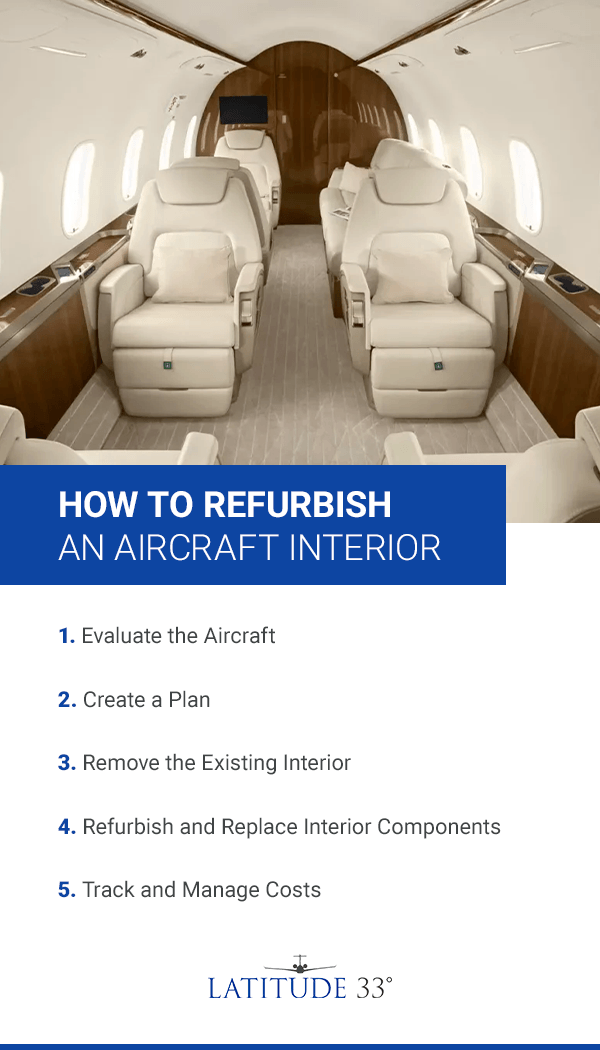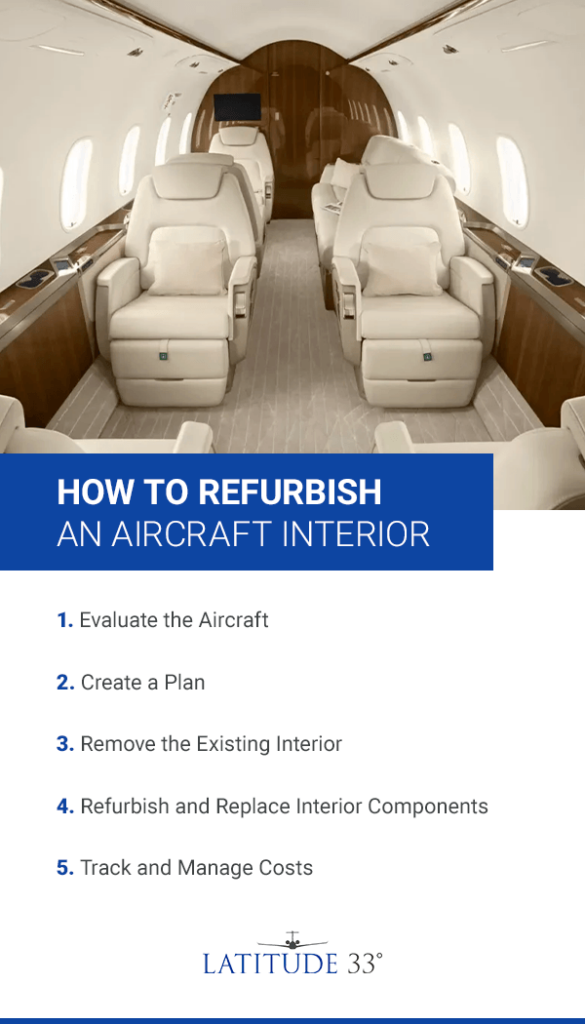 Refurbishing a private jet's interior requires planning and attention to detail. The aircraft refurbishment process consists of the following steps:
1. Evaluate the Aircraft
Aircraft evaluation is the first step of the refurbishment process. During an evaluation, a professional aircraft interior team inspects the jet's interior for concerning factors such as damage and scratches. They may also take photos for future reference. They'll consider the aircraft owner's functionality and style goals while evaluating the jet's condition and initiating quality control measures.
The team will also review the following documents in its process:
Flight records
Electric plans
Maintenance records
Avionics lists
2. Create a Plan
Following the evaluation, owners can then consult with a design team to start the aircraft interior design and planning process. During this step, aircraft owners can consider the colors, carpeting, seating, lighting, and layout they would like to use. This is also when owners and designers should begin contacting vendors for the supplies and materials they'll need for the refurbishment.
3. Remove the Existing Interior
Once a plan is in place, the refurbishing team removes the aircraft's existing interior. They take out interior elements such as lower walls, headliners, seats, window panels, and carpets. Then, the refurbishing team disassembles these components and strips them of fabrics and materials.
4. Refurbish and Replace Interior Components
The refurbishing team replaces components and re-installs updated elements after they make changes. During this step, they'll also detail and clean the jet's interior.
5. Track and Manage Costs
Tracking and managing aircraft interior refurbishment costs is crucial throughout the entire process. It's important to obtain quotes from several different respective vendors and receive details about what they can offer, as doing so allows you to choose the best options for the best prices. Remaining involved in tracking and managing costs helps to prevent potential unexpected occurrences and minimize changes.
4 High-Value Aircraft Interior Upgrades
Adding high-value aircraft interior upgrades can result in a high return on investment. If you're planning a jet refurbishment, consider the following beneficial upgrades:
1. High-Bandwidth Connectivity
Cabin electronics have become incredibly important to passengers. High-bandwidth Wi-Fi allows passengers to stay connected to email, social media, and online work programs during flight.
With a quality internet connection, you and other passengers can continue working on important tasks or stay connected to your favorite websites with ease. This increases a cabin's comfort and convenience during flights. You can also install tablets in the cabin's seats to optimize convenience.
2. Passenger-Friendly Cabin Management System
Functional improvements to the cabin management system can also enhance the passenger experience and optimize an aircraft upgrade. Updating the cabin's audio panel system improves audio quality for music and video connections, making it much easier to enjoy entertainment during flights.
3. Seating and Upholstery
Seating and upholstery elements are what provide the most comfort and style in an aircraft cabin. It's essential to replace all of a cabin's chairs even if only one appears outdated or damaged to create a more coherent design.
4. Carpeting
Adding new carpeting to an aircraft is a simple yet crucial upgrade. New carpeting gives a cabin a fresh, clean, and luxurious look. Carpet can wear easily due to foot traffic, so carpet replacement is one of the most important upgrades an aircraft owner can make.
Aircraft Interior Refurbishment Do's and Don'ts
If you plan to refurbish a jet for the first time, there are some important considerations to keep in mind. Before starting the refurbishing process, consider the following do's and don'ts:
What You Should Do
For a high-quality aircraft interior upgrade, remember to take the following actions:
1. Plan Ahead
Planning ahead is essential when refurbishing a private jet. The more advanced planning you do, the more you can minimize aircraft downtime. Planning ahead prevents challenges, scheduling delays, and changes once the refurbishing process begins. If you and the refurbishing team are in agreement about your goals, selected designs, chosen vendors, and scheduled timelines, the process can proceed smoothly.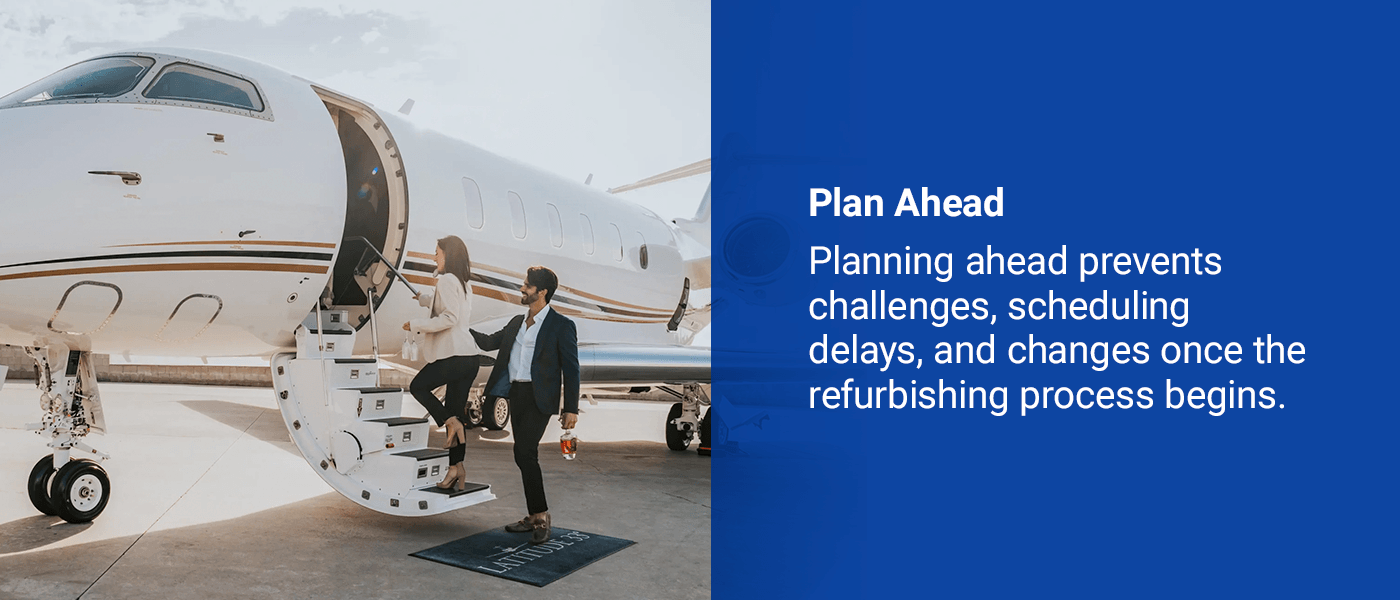 2. Consider Proportions
When you step into an aircraft, you visually take in the entire interior at once. Therefore, you want your upholstery, carpet, wall colors, and fixtures should work together to complement each other. Making all of the cabin's elements one color can cause that color to overpower the cabin, but choosing too many colors can make the space appear busy, so you should aim for balance.
3. Test Lighting and Colors
Lighting may seem simple, but different lighting options can dramatically affect your aircraft cabin's overall aesthetic. Different bulbs and fixtures offer warmer or cooler tones, which can give the cabin's colors and materials various appearances. Choosing quality lighting and colors that complement it can set the tone for your aircraft's mood and atmosphere. LED lights are an excellent option that can enhance lighting and conserve energy.
When you choose a jet's interior colors, examine your color samples in natural sunlight, and pay close attention to how they look throughout the day. You may love one color in the early morning light but dislike its appearance in the dimmed evening light. The best color option for your cabin is one that you find appealing in all lighting conditions.
What You Shouldn't Do
For a smooth process and desirable results, you should take action to avoid the following mistakes:
1. Neglect Small Details
Pay close attention to details during the design and refurbishing process. Small changes may seem unimportant compared to larger upgrades you plan to make, but they can make a significant difference. Specifically, focus on perfecting your seating and flooring and request any unique features that can complement your overall style.
2. Delay Ordering Materials
Ordering materials in advance can help ensure you receive the colors and styles you prefer. Ideally, you should order products three to six months ahead of time to avoid needing to choose different styles at the last minute due to items selling out or requiring long production periods.
Other Aircraft Interior Design Tips and Best Practices
Choosing the right elements, colors, fabrics, flooring, and details can help you fashion the elegant interior you desire. If you're unsure where to start, consider the following design tips and best practices:
1. Use Neutral Color Palettes
Neutral color palettes are ideal for interior refurbishings. While some trends may ignite temporary interest in bold colors, toned-down options remain stylistically timeless. Neutral colors can complement other design elements and highlight bolder details. They beautifully accentuate textures and furnishings and make it easier to create a well-designed space.
Using whites, grays, browns, and black in an aircraft interior opens the space up for various styles and design options, allowing future owners to style it according to their personal tastes.
2. Prioritize Durability
Leather is the standard seating option for aircraft interiors because it's stylish and durable. You can add leather to other interior elements to enhance its appearance and increase longevity. Consider doing so for features such as armrests and the divan base in addition to the cabin's chairs.
3. Choose the Right Fabrics
Aviation regulations allow certain fabrics in aircraft, which are mainly natural fibers such as nylon, wool, and vinyl. Fabric enhances comfort, adds to the cabin's aesthetic, and absorbs sound. Choosing the right fabric can complement your aircraft interior's style and make your materials last longer.
4. Select Quality Flooring
Quality flooring contributes to your jet's aesthetic and the interior's durability. Wool loop carpet is made of tightly-packed wool loops, and it offers a wide variety of design options. You can choose from various yarn colors and loop heights to create an exquisite look. Wool carpeting is the most long-lasting option because it naturally repels dirt and is easy to clean. Its durability can help you save time and money on future refurbishments.
It's also essential to select quality flooring for your aircraft's galley, vestibule, and lavatory because these areas are prone to spills, dirt, and weather intrusion. Cabins maintain a refreshed appearance with durable vinyl flooring, which offers water resistance and can come in various types for maximum customization.
5. Add Comfortable Accessories
Accessories can add a luxurious touch to your aircraft interior for optimal comfort. Consider adding and providing items such as custom pillows, stylish throws, and soft slippers.
Buy and Sell Refurbished Jets With Latitude 33
Refurbished aircraft are exceptional investments due to their updated style, comfort, functionality, and value. Latitude 33 Aviation offers professional jet brokerage and sales services to help you purchase or sell your private jet. Our jet acquisition services are tailored to meet client needs, and our team can help you determine the ideal aircraft for you based on your requirements and needs.
Latitude 33 also offers brokerage services to help clients sell aircraft. If you wish to sell your refurbished aircraft, our experienced professionals can guide you through the sales process with negotiation mastery, marketing acumen, and extensive market expertise.
With a factory acceptance program, complete services, and an experienced team, we understand the marketplace and the intricacies of each aircraft ownership stage. Contact Latitude 33 to learn more about how we can help you purchase or sell a private jet.