Aircraft Dealers vs. Aircraft Brokers: What's the Difference?
As you begin your search for a private aircraft for sale, one of the first questions you may have to answer is whether you will purchase your aircraft from an aircraft dealer or an aircraft broker. Your choice of an aircraft broker or aircraft dealer will impact factors such as your costs and relationship with the manufacturer. Keep reading to learn more about the differences between an aircraft broker vs. dealer.
What Is an Aircraft Dealer?
Typically, an aircraft dealer is a business that will buy or trade aircraft to build an inventory to resell to buyers. All transactions will go directly through the aircraft dealer without involvement from a third party. Purchasing from an aircraft dealer is different than buying from an individual seller. Many aircraft dealers have an affiliation with original equipment manufacturers and may have new aircraft in their inventory.
Most aircraft dealers receive authorization to resell or accept trade-ins. Use caution when trading or buying a private aircraft with an aircraft dealer and ensure you are receiving the best advice without conflicting interests.
What Are the Registration Requirements for Aircraft Dealers?
All aircraft dealers must apply for registration with the Federal Aviation Administration and receive a Dealer Aircraft Registration Certificate before conducting business. An aircraft dealer must renew their registration yearly to continue buying and selling.
After receiving a Dealer Aircraft Registration Certificate, an aircraft dealer can perform the following:
Make any flight tests the aircraft requires
Operate, demonstrate, and merchandise the aircraft without the need to obtain a Certificate of Aircraft Registration for each time the ownership of an aircraft changes
According to Subpart B of the Federal Regulations, dealers can use their Dealer Aircraft Registration Certificate in place of a Certificate of Aircraft Registration. The requirements of this subpart state that a dealer may apply for multiple Dealer Aircraft Registration Certificates in combination with their original certificate. Dealers can also use a Dealer's Aircraft Registration Certificate for any aircraft currently in their possession.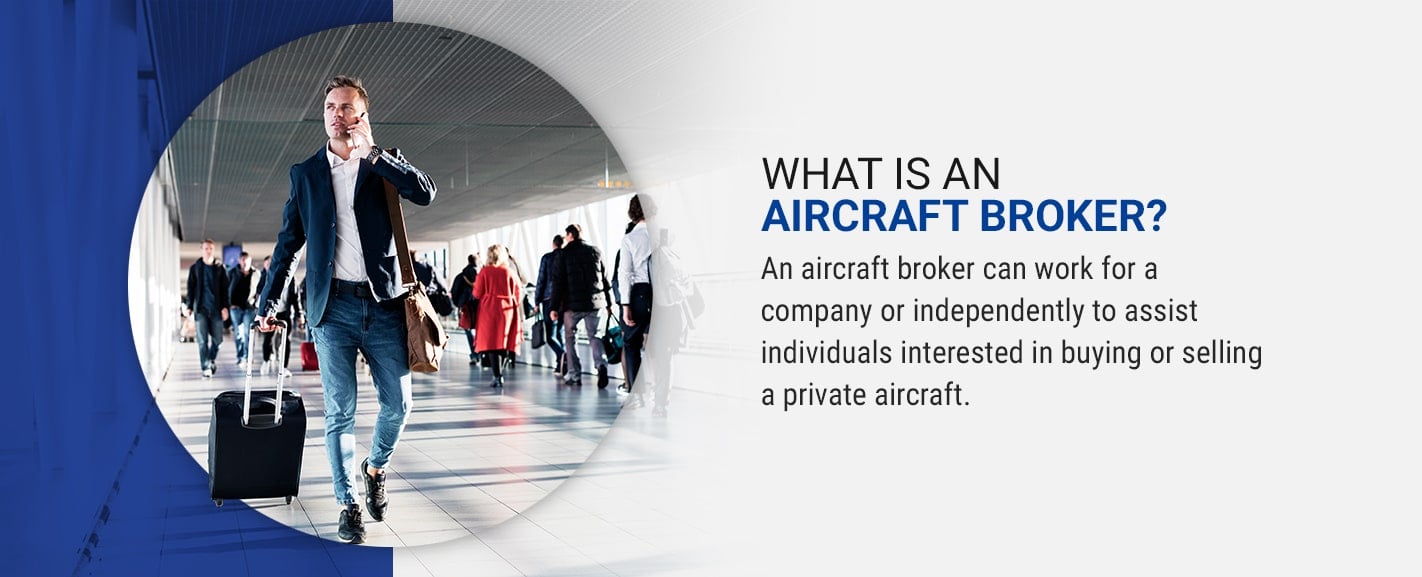 What Is an Aircraft Broker?
An aircraft broker can work for a company or independently to assist individuals interested in buying or selling a private aircraft. A broker will be present throughout the entire process, from initial negotiations to final transactions between a buyer and seller.
The Seller's Broker
There is much more to selling aircraft than what may meet the eye. A seller's broker needs to have the expertise to know what a potential buyer may look for in an aircraft, know where to find buyers, and understand how to maximize profits from the sale.
One of the primary duties of a seller's broker is to make a proper evaluation of the value of your aircraft. They should be knowledgeable about recent sales and familiar with other aircraft on the market. In short, a seller's broker will create a strong value proposition for your aircraft while searching for potential buyers.
In addition, an individual looking to sell their aircraft can also rely on their broker for advice on offers, negotiations, concessions, and any issues in the contract process. Your seller's broker should have an intensive knowledge of the terms and conditions of the contract for both buyer and seller. A seller's broker will be present at all critical moments and discussions from the initial inquiry to closing. The value that a seller's broker brings by getting top dollar for the sale and facilitating a smooth transaction should well exceed the price of their service.
The Buyer's Broker
The opposite of a seller's broker is a buyer's broker. This broker must be fully aware of the buyer's needs without bias or a conflict of interest. Buyers will consult their broker for assistance throughout the entire decision-making process. After listening to the buyer's needs, a broker will search the market for all available aircraft or aircraft scheduled to arrive on the market soon. A buyer's broker will then discuss their findings to establish a shortlist of potential purchases.
Intimate knowledge of market conditions, aircraft available for purchase, and recent sales are important benefits a buyer's broker provides. The buyer's broker will facilitate the process of making an offer on an aircraft, negotiating the price and associated purchase conditions, as well as protecting the buyer's investment by performing aircraft history research and pre-purchasing inspections to ensure the aircraft is in the expected purchase condition and not misrepresented. The broker can also assist in minimizing tax liability during and after the purchase process.
The duties of a buyer's broker and seller's broker may overlap at times. Both types of brokers should have experience on either side to better serve their clients and understand the risks involved in each deal.
Do You Need a Broker to Sell or Buy an Aircraft?
Using a broker is not required to buy or sell an aircraft. However, when making a multimillion-dollar purchase or sale, it is recommended to have an experienced expert in your corner to protect your investment and your interests.
A broker can assist with many details, such as creating a stronger value proposition, negotiating to improve your purchase/sale position, leveraging the proper legal resources for contract preparations, or completing the registration, bill of sale, and other required forms. When you sell or buy through a broker, you will need to pay a fee for their services. If you decide to sell or buy an aircraft yourself, you will be responsible for determining the value and completing all the legal requirements. Buying or selling through a broker is entirely your choice.
Pros and Cons of Using Aircraft Brokers
Using an aircraft broker to buy or sell your aircraft has its positives and negatives. An ideal broker will provide benefits such as:
Knowledge of the aircraft market: An aircraft broker will have access to comprehensive market data that is not publicly available, as well as know where to source buyers and sellers to aid in your transaction.
Expertise: Aircraft brokers can conduct inspections and evaluations, as well as inspect flight and maintenance logs.
History of the market: Your broker should know the current and past market trends. This knowledge allows your broker to recognize the value of your aircraft and negotiate based on market changes.
Transaction skills: A good broker can navigate contracts, price negotiations, and tax considerations.
Post-sale assistance: Experienced brokers can assist with sourcing a flight crew, hangar arrangements, aircraft navigation system subscriptions, insurance, and maintenance. 
You will need to pay service fees for using a broker, which may reduce your profits as a seller or increase your costs as a buyer. Before working with a broker, do some research to see if they are reputable to avoid possible scams. Aircraft brokers that also provide aircraft management services must protect the best interests of their clients long-term throughout the aircraft purchase/sale, rather than simply assist with a single transaction.
Pros and Cons of Using Aircraft Dealers
Using an aircraft dealer has its positives and negatives. Many aircraft dealers have new aircraft in their inventory, allowing for a relationship between dealers and manufacturers throughout your aircraft ownership. A dealer and manufacturer may assist with maintenance and technical problems, and they can also answer any questions you may have. Buying a new aircraft also allows for customization.
Buying your aircraft from a dealer can have some disadvantages as well. After purchasing a new aircraft from a dealer, the value will quickly depreciate. While purchasing a pre-owned aircraft is typically a safe option, you may risk undisclosed mechanical issues when you buy from a dealer.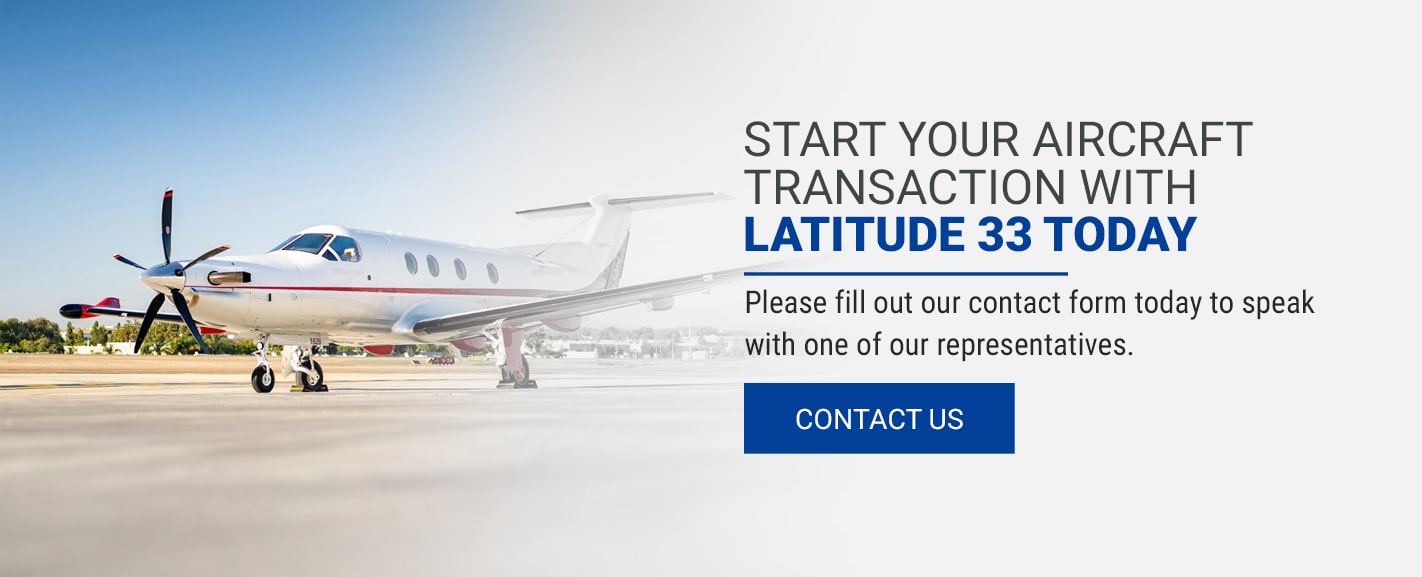 Start Your Aircraft Transaction With Latitude 33 Today
When it comes to your aircraft, you want the best service. At Latitude 33 Aviation, we offer aircraft for sale, and we can assist with buying or selling your aircraft with our brokerage services. With our complete line of services and our factory acceptance program, Latitude 33's team has a thorough knowledge of the marketplace to ensure each transaction is successful. Please fill out our contact form today to speak with one of our representatives.