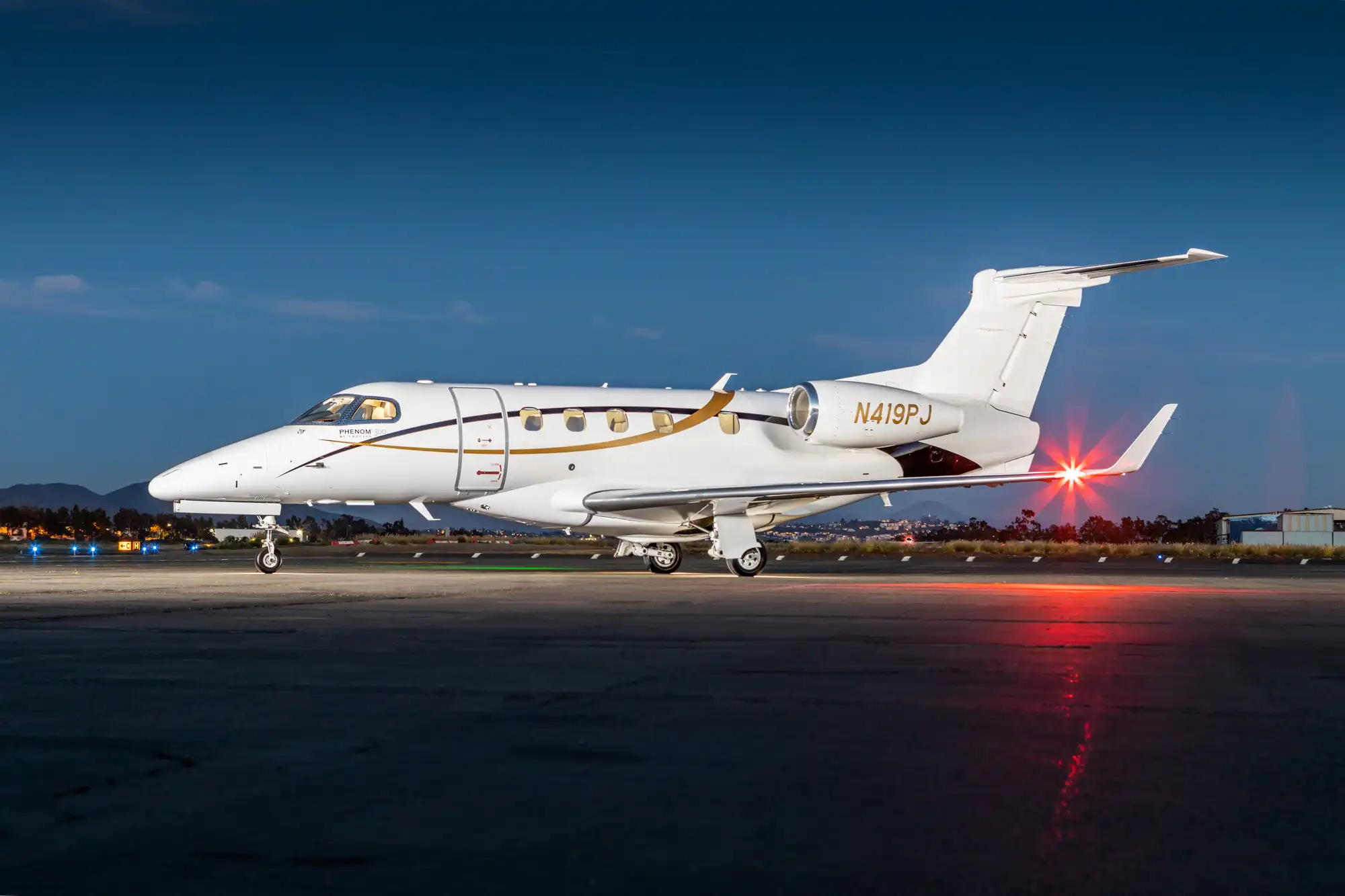 Aircraft Sold by Latitude 33 Aviation
2015 Embraer Phenom 300 N419PJ – Sold
This 2015 Embraer Phenom 300, the best-selling light business jet in the world, is for sale and ready for delivery. Our 2015 Phenom 300 (serial number 50500281) is based in a temperature-controlled hangar in San Diego, CA and has been meticulously managed and professionally flown Part 91 since new. This aircraft is fully enrolled in ESP Gold and EEC-Enhanced programs and is equipped with TCAS II w/Change 7.1 and Gogo Biz with Text & Talk Inflight Phone WiFi Internet (ATG-2000). This stunning aircraft seats nine total passengers – eight passengers in the main cabin and one belted seat in the private enclosed lavatory with a sink. The main cabin features a forward refreshment center and a two-place sideways-facing divan.
For more information, please call 800.840.0310 or email AircraftSales@L33Jets.com.
Learn more about our private jet brokerage and aircraft acquisition services.
Pratt & Whitney PW535E / 5,000 Hr TBO
Fully Enrolled on ESP Gold
CAMP
Enrolled on EEC Enhanced
Engine 800 Hour/12 Month Inspection – Apr 2022
24 Month Inspection – May 2021
36 Month Inspection – May 2021
60 Month Inspection – Apr 2020
Garmin G1000 Prodigy Suite 
Three 14-inch interchangeable Garmin Displays
Flight Management System with Graphical Flight Planning Capability
Electronic Charts
Synthetic Vision System
Satellite Weather and Radio
Electronic Checklist
Mode S Transponder with Diversity
Flight Data Recorder (FDR)
TCAS II V7.1
TAWS Class A
Honeywell KN 63 DME
Collins ADF-462
KRA-405B Radio Altimeter
ELT/NAV Kannad 406AF
Crew Alerting System
Gogo Biz w/ Text & Talk Inflight Phone WiFi Internet (ATG-2000)
Inflight Entertainment Package – CD Player, Portable media player inputs, XM radio, Cabin equipped with speakers and subwoofer
Closed Door Lavatory with Belted Seat
Aft Lav Sink
Forward LH Refreshment Center
Forward Side Facing Divan
Hot Jug
Premium Passenger Door
Cockpit Sheepskin Covers
Cockpit Flood Lights
Aircraft painted in 2015. Overall White Base with Las Vegas Gold and Black Stripes.
Overall taupe. Light walnut veneer cabinetry with polished aluminum hardware. Nine-passenger total seating capacity – main cabin seating for eight passengers arranged in a center club configuration for four, two forward-facing captain chairs, a forward side-facing two-place divan, and aft belted externally serviceable lavatory. Executive tables and forward refreshment cabinet.
Explore our 2015 Embraer Phenom 300 N419PJ – Sold
To learn more about Embraer aircraft, please visit their website.
Specifications subject to verification by buyer. Aircraft subject to removal from market at any time without notice.
Inquire About an Aircraft For Sale