Eight-time winner of the Friendly Flyer award
June 15, 2023 – The Los Angeles World Airports are committed to minimizing noise impact on the neighboring communities with aircraft operating at Los Angeles International Airport (LAX) and Van Nuys Airport (VNY). Since 1959, LAWA has developed and implemented noise abatement programs, established partnership-based solutions, and worked with stakeholders in a cooperative and collaborative manner.
Latitude 33 Aviation manages aircraft at the Van Nuys airport and frequently performs flights into and out of the airport. The private jet charter, executive jet management, and aircraft sales and acquisitions company headquartered at McClellan-Palomar Airpor­­t in Southern California, received the Friendly Flyer Award for achieving outstanding compliance with the Van N­uys Airport's Fly Friendly Program for the eighth year.
In 2012, the "Friendly Flyer" Award program was created to recognize jet operators and efforts being made to achieve the highest level of compliance with mandatory noise regulations and voluntary noise abatement programs at Van Nuys Airport. Latitude 33 Aviation was among 20 other companies recognized in the 11th annual Van Nuys Airport Friendly Flyer Awards ceremony. A breakfast ceremony was held at the Los Angeles Board of Airport Commissioners board meeting to recognize the winners of the prestigious award.
­­
The Friendly Flyer Award is presented annually to operators who meet or exceed the following criteria:
· At least 60 southbound jet departures
· No violations of the following:
· Noise Abatement and Curfew Regulation
· Non-Additional Rule
· Noisier Jet Phase-out
· 99% or greater compliance with the No Early Turn and the Quiet Jet Departure Programs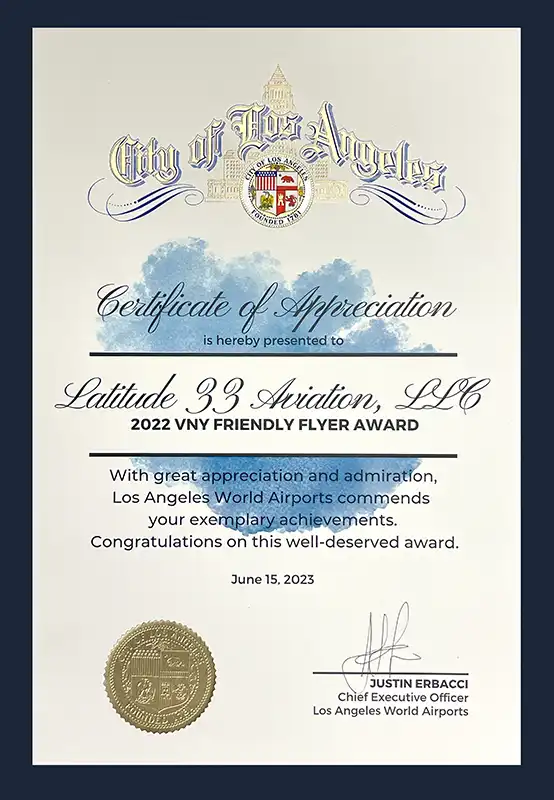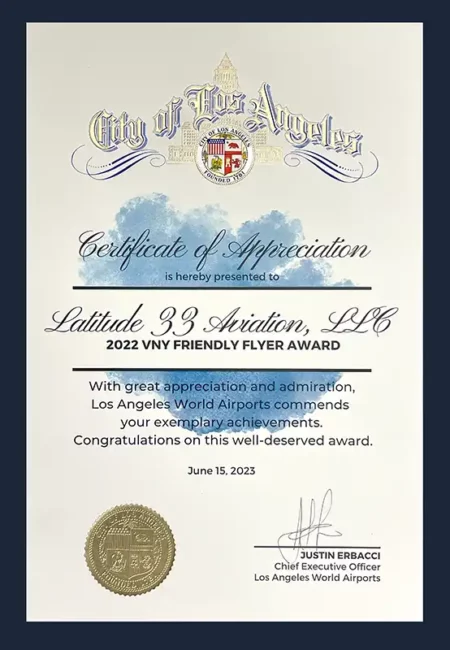 Latitude 33 Aviation manages one of the newest and largest fleets of light, midsize, and super-midsize jets in North America. Founded in 2006 in San Diego and led by two ambitious pilots looking to redefine the private aviation experience, Latitude 33 Aviation is the premier private jet charter, executive jet management, and aircraft sales and acquisitions company that serves a wide variety of travelers and destinations around the world. As part of the top five percent of U.S. private jet charter operators to achieve the prestigious ARGUS Platinum safety rating, Latitude 33 Aviation continues to lead the industry with community involvement and educational initiatives that continue to grow year over year.