When planning to travel by air, there is an ever-growing diversity of choice for flight services. However, commercial airlines are focused on increasing their profits by packing more passengers into each aircraft resulting in deteriorating passenger experiences. Whether you are traveling for business or pleasure, choosing to charter a private jet instead of flying first class or business class on a commercial plane offers significant advantages.
FLYING PRIVATE – TRAVEL ON YOUR OWN TIME
Convenience and time savings are benefits that are often considered priceless in our modern, busy world, and flying private offers both in spades. Whether you are running late or early simply call ahead and notify the crew. When flying on a private aircraft, your flight leaves when you are ready. Easily avoid the hassles of busy airports with a private charter and set your own schedule instead of being required to work around the schedule of a commercial airliner. As the number of budget commercial carriers increases, if your destination is not a hub then the choices are limited and restrictive. The overall travel time with a private jet service is significantly lower than commercial airline travel time. You will not need to navigate through large airport complexes or wait in long lines – instead, enjoy planeside valet parking and step aboard as soon as you arrive.
Flying privately makes the most of your valuable time by giving you the privacy and convenience to hold business meetings, work efficiently, or relax before your destination. Private jet charter operators are able to fly into smaller airports that will be closer to your destination. With over 5,000 smaller airports available to you when you fly on private aircraft (approximately 10 times as many airports than are available by commercial airline service), the time saved will quickly add up. Flexibility increases with private charter services, as well, because itinerary changes can be made last minute or even mid-flight in some cases, should an urgent need arise. One-way flights further boost the time savings by offering quick options for short-notice meetings or spontaneous getaways.
CLASS & COMFORT
Feeling comfortable when traveling is of high priority and it is also what frequently motivates the decision to fly first class or business class. However, private jet services are substantially more customizable to perfectly suit an individual's comfort and preferences. For instance, by choosing the type, size, and onboard amenities of your jet, you are able to tailor your experience to the exact needs you and your passengers have. When you arrive at one of the private fixed-base operators, you will find private lounges offering complimentary refreshments and toiletries where you can rest and freshen up. The Private Suite at LAX is a luxurious and popular example! The seating arrangement within most private jets more closely resembles a high-end living room, and you are free to move around from one seat to another throughout your flight. You can count on superior service from start to finish, with crew focusing exclusively on the needs of you and your guests.
PERSONALIZED JUST FOR YOU
Private jet charter travel offers a bespoke travel experience, with the possibilities of requesting such personalized amenities like catering, entertainment media, reading publications, even specific designer fragrances. If you are celebrating a special occasion, you can coordinate with the operator ahead of time to have the plane decorated according to your theme. Fill the plane with balloons or other décor to start your vacation off in the most memorable way. Concierge companies that work directly with private charter flights are available to manage every detail of your in-flight celebration for you. Receive made-to-order catering or special food choices delivered to you ahead of time to enjoy while on your flight, and relish in the privacy of traveling only with whom you are comfortable. On a private flight, you will have more control over the overall experience of "getting there", occasionally even at a rate per person comparable to flying first class commercially.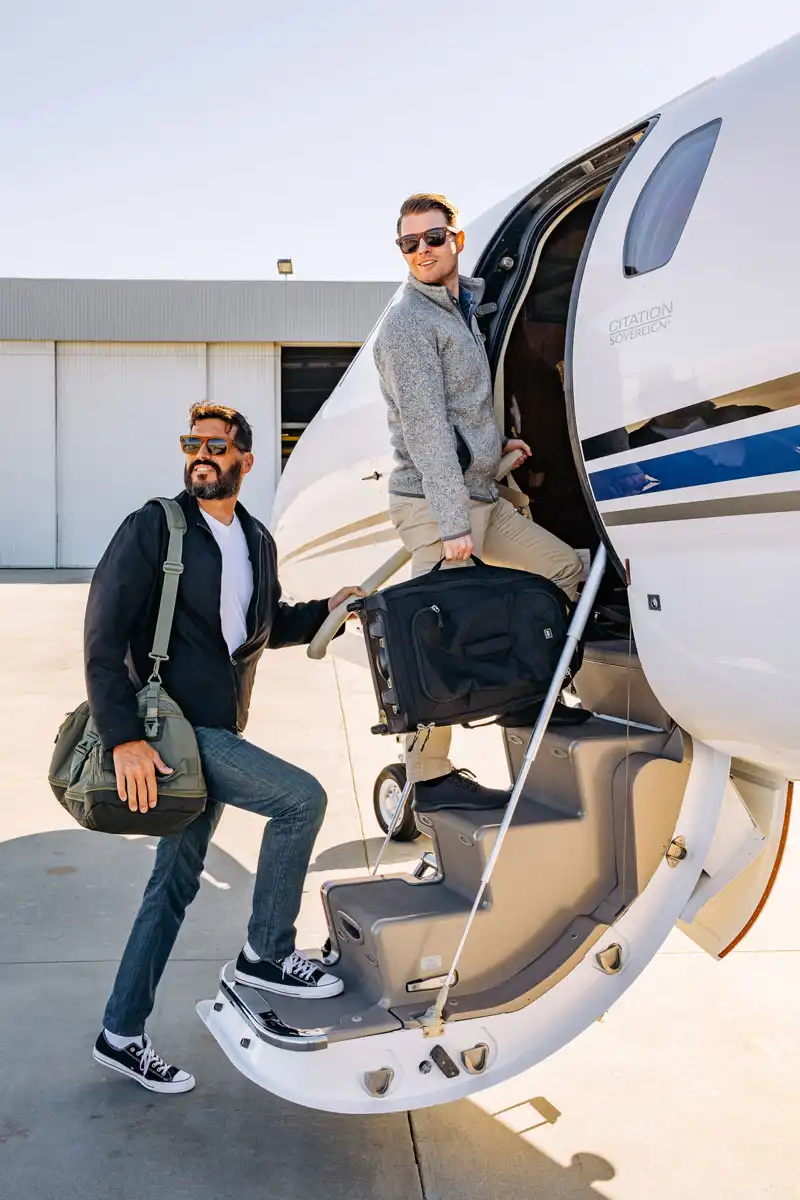 A NEW LEVEL OF PRIVACY
Peace of mind is another invaluable perk of flying private. On your customized chartered jet trip, you can feel free to continue confidential business meetings, hold personal conversations, and entirely stay out of the public eye while you travel. Utilizing the in-flight Wi-Fi, you are able to host video conferences from inside the plane with people back at the office or even hold a presentation with laptop slides or whiteboards and presentation decks. There are no limits to productivity when you fly privately, as there would be on a commercial flight. The benefit for companies to be able to continue their work and enhance their productivity while en route to the destination will far outweigh the potential additional cost. There will not be any lost luggage or lengthy security check procedures and lines to endure, drastically reducing both wasted time and stress. A private jet charter trip also has few liquid restrictions or limitations and you are welcome to travel on your terms.
CHOOSE LUXURY
The pace of modern life requires airplane travel, sometimes involving multiple flights in a single day, and so it is important to choose wisely. We want our lives to be enhanced by our experiences and the way we travel matters. Meeting business deadlines, spending more time at home with loved ones, and enjoying life with less overall stress are all benefits of choosing to fly privately instead of commercial. With considerable benefits, private jet charter services can help you truly enjoy your time spent in the air.
BOOK A PRIVATE JET WITH LATITUDE 33 AVIATION
Latitude 33 Aviation's private charter aircraft are conveniently based in Carlsbad (San Diego), Orange County, Long Beach, Hawthorne, Van Nuys, and Fresno, California, for your next private trip. With nearly two dozen aircraft in our private jet charter fleet and the highest safety rating in the industry, we set the standard for private air travel. Latitude 33 Aviation's charter department is available 24/7 for your custom flights and trips. Contact our concierge charter department at 1-800-840-0310 or email Charter@L33Jets.com.
Celebrate this Fourth of July by taking a trip on a private jet with Latitude 33 Aviation.
Keep up-to-date with Latitude 33 Aviation news, fleet additions, and one-way empty leg flights.
Read our latest blog posts ranging from the private jet onboard experience to the top 5 tips for private jet summer travel.