There are many reasons why you or your company may be considering aircraft ownership if you are flying more than you anticipated this year. Summer travel continues to be a hot topic with all the uncertainty as the world opens back up. Major airlines continue to change schedules and drop routes. Commercial flights are fully booked with hundreds of passengers and thousands of touch-points you come in contact with during your entire flight process. Private jet charter welcomed many first-time flyers during 2020. Brokers, operators, and jet cards are introducing more blackout days, fully booked schedules on peak charter days, and higher fees. Increased booking windows and less availability of select aircraft are making an impact on the type of plane and experience you have come to expect. As the demand for travel significantly increased, so have private aircraft sales.
As a private jet owner, you are in control of the schedule, destination, and passengers on board – all without the wasted time waiting in long queues or navigating through crowded major airports.
Your aircraft is available whenever you want it, on your schedule.
Tax Benefits
Potential for significant tax savings, including up to 100% bonus depreciation.
Privacy/Safety/Accessibility
Enjoy minimal touch-points, travel with only the passengers you choose, and have control over your aircraft's schedule and availability.
Cost of Ownership
Managing your asset and planning for the future.
Tax Benefits
If your plan is to use your jet primarily for business, there are some potential tax benefits that can help offset the costs of the initial investment. On average, these deductions go above and beyond to help justify the sizable upfront purchase price.
Previously, businesses were able to recover up to 70% of a factory-new jet's initial cost within three years time, based upon a disparity between the asset's real-life rate of depreciation and accounting. In addition, a "bonus depreciation" was possible to speed up defined depreciation rates upwards of 50%. However, tax reform passed in late 2017 allows the potential for 100% bonus depreciation for the aircraft in the first year and applies to both new and used aircraft – a key benefit to those who can take advantage of the change. This means that after a business purchases a private jet, it can potentially depreciate the full purchase price of the aircraft immediately. Keep in mind, these potential tax deductions don't apply to recreational/personal use of the aircraft. It is uncertain how long these tax incentives will remain in place, so many would-be aircraft buyers are choosing to take advantage of these current benefits before they go away.*
Privacy/Safety/Accessibility
Privacy
With the purchase of your own private jet, you can ensure a level of confidentiality and security above all other forms of personal or business travel. Whether it's required due to your industry or a personal preference, owning your own aircraft places you in control of your personal and private travel requirements. Normally common among high-profile business professionals and celebrities, private jet travel is now becoming more widespread as privacy and personal information concerns are on the rise.
Safety
Private jet travel is extremely safe, but not all companies invest in the same level of standards. You want to work with a company like Latitude 33 Aviation who is among the top five percent of U.S. private jet charter operators to achieve the stringent ARGUS Platinum safety rating. However, safety concerns expand beyond the aircraft. You may have allergies or want to ensure a completely risk-free environment. You may experience sensitivities to perfumes or strong odors or have a compromised immune system. Perhaps you are concerned about your pet's safety during flights or wary of not having the freedom to bring them along with you when traveling. Private jet ownership offers you the safety and convenience of controlling your surroundings by traveling consistently on your aircraft which is important for those with health concerns.
Accessibility
Accessibility is a huge deciding factor and an added plus for private aircraft owners. Are you having a difficult time securing an aircraft for your private charter flights? Are your charter rates or jet card rates continuing to climb? Are holiday and peak travel period surcharges exceeding your planned budget? Then ownership of a private aircraft is a perfect solution to remove limitations of accessibility for your personal or business life. Whatever your reason, owning a private aircraft will always supply the greatest opportunity for privacy, comfort, and flexibility. These preferences are major factors influencing the decision for many clients to move from chartering to private jet ownership.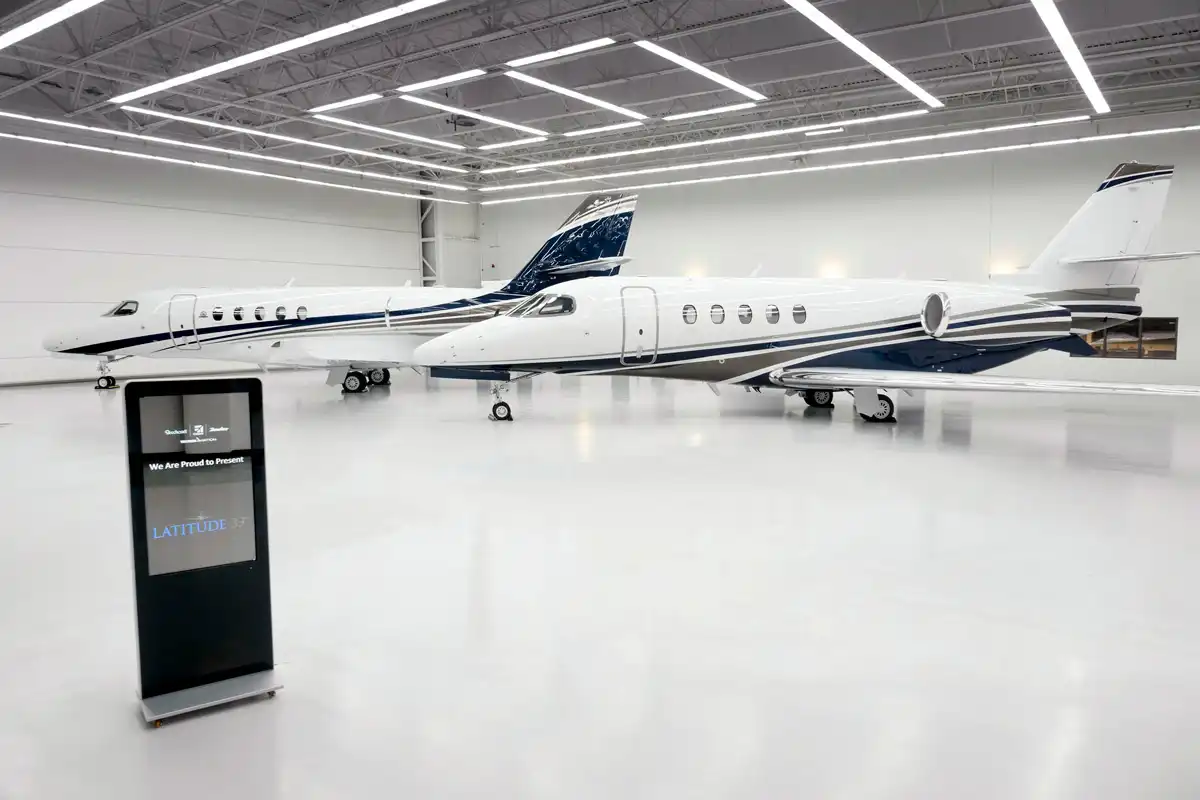 Cost of Ownership
Attempting to become a jet expert overnight and purchasing an aircraft unassisted alone can be risky. Latitude 33 Aviation will help you select the perfect aircraft for your specific needs and introduce you to the latest aircraft models by industry-leading manufacturers. Whether you are looking for an all-new private jet or pre-owned aircraft for sale, our aviation company based out of Southern California walks you through the selection process to maximize your investment and minimize your risk. In some cases, the cost of ownership could possibly cost less than chartering or being a jet card member depending on your amount of travel.
When purchasing an aircraft, there are five primary categories of planes to choose from. The category is determined by factors like maximum range and passenger-carrying capacity:
Determining which aircraft category is right for you depends on various factors of your travel requirements. Are you traveling for business or pleasure? How many passengers do you normally travel with? How far away are your frequently traveled destinations?
 For example, if you fly shorter local trips between 100-600 miles, a turboprop is a good choice. However, if you travel with a larger party of 11 or more passengers and want to cover longer distances nonstop, then a heavy jet is best-suited for that mission.
If you are thinking about buying a jet to charter out or for personal use, it's best to include the following in your thought process: average trip length, typical and maximum number of passengers that will be flying, potential savings from chartering, factory-new or pre-owned aircraft, desired acquisition budget, etc.
Finding a private jet to purchase can be a daunting task to pursue alone. It will most likely have you wondering if you're vetting out all the best aircraft on market or getting a good deal as there are few aircraft valuation tools that are easily accessible. Latitude 33 Aviation makes the entire aircraft purchase process seamless and enjoyable for a buyer. Our dedicated in-house aircraft market intelligence team will build a custom aircraft market report with curated jet options aligned to your specific needs and preferences. Our data is based on a proven mix of real-time market updates, industry trends, market reports, realistic cost of ownership, aircraft history, and comprehensive investigative research. This allows you to make an informed and confident decision on the purchase of a factory direct acquisition or a pre-owned private jet. Information in these reports include the aircraft's manufacture year, serial number and registration, aircraft location, total number of airframe hours, days on market, condition of paint and interior, pricing expectations, and more. Our experts are upfront about the condition of each aircraft for sale, as we closely analyze maintenance history and inspection reports for a sound purchase. We will also assist with negotiations, inspections, FAA documentation, closing, and delivery of your new aircraft. 
After purchasing an aircraft, there are ongoing costs for managing your private jet. These costs include but are not limited to hangar fees, fuel, landing fees, catering, hull insurance, liability insurance, crew and/or crew training, and average maintenance for parts and labor. When purchasing an aircraft, it is important to understand the total cost of ownership by evaluating not just the acquisition cost but also those for ongoing operations.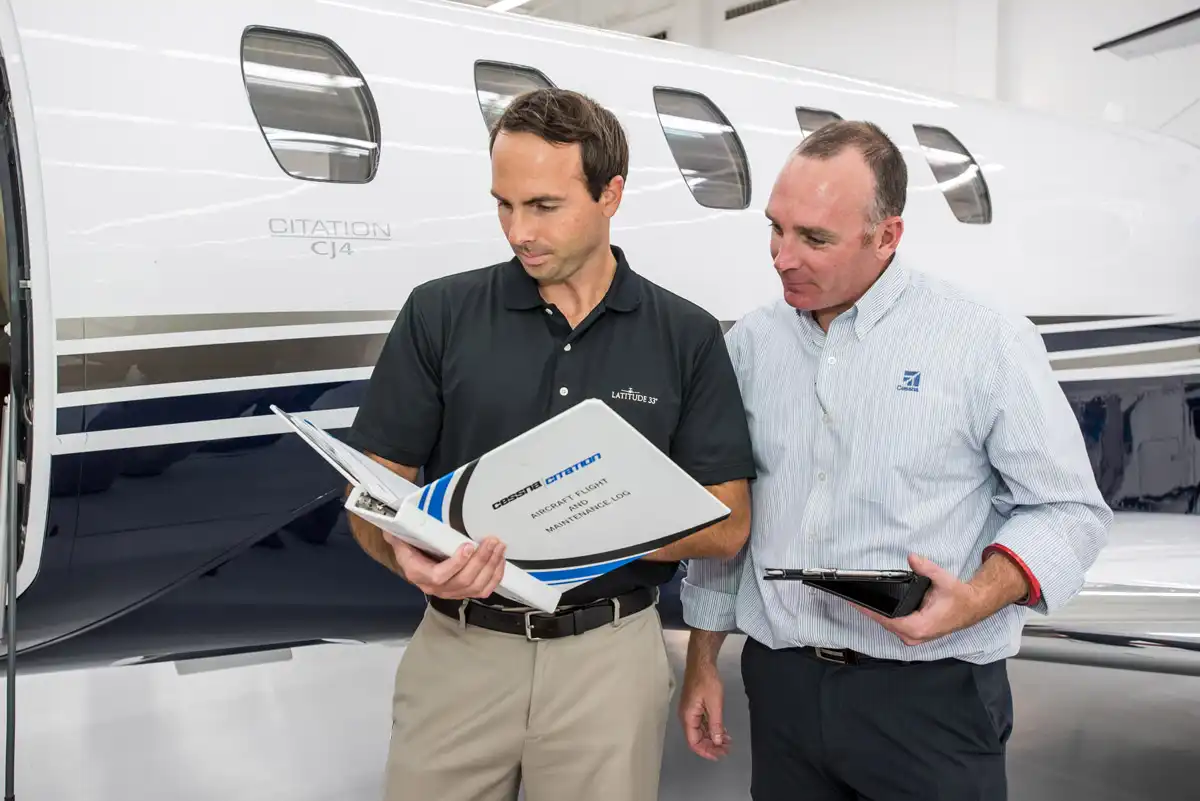 PARTNERING WITH AN EXPERT IN PRIVATE AIRCRAFT SALES
Latitude 33 Aviation is a fixed-fleet operator – not a broker, jet card, or app on your phone. We manage one of the newest and largest fleets of light, midsize, super-midsize, and heavy jets in North America. With over 120,000 hours of operational experience, we leverage our expertise to help you acquire the right aircraft that aligns with your mission profile and helps you gain the most out of your private jet asset for your business, family, and lifestyle. Deploying our management services will simplify the ownership experience and reduce your costs with fleet discounts, significant buying power to save on fuel, maintenance, subscriptions, and more. We understand details matter at each phase of the process – cash flows, account reporting, fuel savings, training, maintenance, and a flight crew that allow you to focus on what matters most to you. Let Latitude 33 Aviation help you make the most of your valuable time.
 Ready to purchase an aircraft?
At Latitude 33 Aviation, we are glad to help you through this process. Leverage an industry-recognized group of experts delivering professional, full-service private aircraft sales and acquisition services. Latitude 33 will handle every aspect of the private jet acquisition process for you including market analysis, aircraft selection, contract negotiations, legal and tax referrals, facility selection, on-site pre-buy representation, and jet pilot mentoring. We will gladly answer any questions and help you through the acquisition process. There has never been a better time to start the buying process than right now.
Already have a jet you're ready to sell? Learn more about our private aircraft sales services.
Keep up-to-date with Latitude 33 Aviation news, fleet additions, and one-way empty leg flights.
Read our latest blog posts ranging from private aviation trends to the top five tips for private jet summer travel.