Visit California's wine country for a truly exquisite experience. Sample some of the most divine varietals while enjoying California's gorgeous coastline, lush forests, and charming small towns. Stroll through peaceful gardens, listen to crashing waves, enjoy vineyard views, or tour beautiful historic buildings.
The top three California wine areas include Anderson Valley, Sonoma County, and Napa Valley. These wine country destinations offer some of California's most unique winery experiences. Whether you enjoy sophisticated art, live music, beautiful flowers, delicious food, or a small-town ambiance, you are sure to have a delightful time in the best California wine regions.
Anderson Valley
Visit Anderson Valley to slow life down and enjoy the small-town charm of California's Mendocino County. It is both a productive and a laid-back valley where you can see undulating hills, lush woodlands, olive groves, fruit orchards, pasturing livestock, and plenty of vineyards. Simply stroll through the valley to find peace and serenity, and enjoy an incredible glass of wine to make your visit even more delightful.
Take in breathtaking ocean views as you sample wine at Pacific Star Winery. Sit back and relax with a signature white or red wine blend as you listen to the waves crash against the cliffs. Sample various wines to find your favorite, and spend some time by the water to catch a glimpse of the gray whales that frequently swim close to the shore.
Visit Navarro Vineyards and Winery for an intimate, rustic experience. Sample some incredible wine paired with artisan cheese and meats directly from their farm, or enjoy a refreshing glass of non-alcoholic grape juice. Relax and sip wine on the deck, or stroll through the beautiful gardens overlooking the vineyards.
For a truly unique experience, sample some wine at Husch Vineyards. The charming tasting room is a converted pony barn that dates back to the 19th century, and it's covered in gorgeous flowers and ivy to create a secret garden ambiance. Try a Pinot Noir with hints of orange, vanilla, and cherry or a Cabernet Sauvignon with tastes of mulberry, cassis, and mocha. The winery offers 22 unique wines produced from hand-harvested grapes.
Sonoma County
Sonoma County is full of coastal beauty, stately redwoods, and charming small towns. Treat yourself to a relaxing spa experience, hike among redwood trees, feel the ocean breeze on your skin, or indulge in some acclaimed wine and food.
Located in Sonoma, one of California's many wine cities, Ram's Gate Winery reflects the landscape's weathered farmsteads that covered the area 100 years ago. Book a wine tasting paired with a cooking class and demo, or reserve a chef-packed picnic to enjoy while you sample wine crafted with locally sourced grapes.
Sample varietals as you stroll through lush gardens at Ferrari-Carano Vineyards and Winery. Sip wine as you make your way across charming footbridges, around meandering paths, and past a peaceful stream. Marvel at panoramic views of the gorgeous valley, or enjoy a delicious Sunday wine and brunch.
Visit Gundlach Bundschu Winery for a taste of history and unique wine. It is a family-run winery founded in 1858 that spans six generations. Tour the winery or enjoy live music while you sample delicious wine. Try a glass of dry Gewürztraminer or fruity rosé, and enjoy a truly charming experience on this historic property.
Napa Valley
Savor the best of California's wine country in Napa Valley. Whether you enjoy a glass of rosé after hiking to the top of Mount St. Helena or find your zen at Calistoga's Labyrinth, Napa Valley is sure to delight. Enjoy a wine tasting at a rustic, historical winery or indulge in a fully luxurious experience. There is something for every type of wine lover in Napa Valley.
Sip wine inside a Gothic-style stone castle at Chateau Montelena. Wine lovers appreciate this 1800s chateau for its delectable Chardonnay and Cabernet Sauvignon. Stroll through the grounds to enjoy a gorgeous Chinese garden and a tranquil lake. Book a Library Tasting to experience Chateau Montelena's history and sample exclusive wines not featured in the marketplace.
Experience the perfect combination of marvelous art and delectable wine at Hall St. Helena, a winery showcasing incredible architecture and expressive art. Take in beautiful contemporary art as you enjoy a delightful Merlot. Book a wine-tasting tour to sample four wines and learn about the history of Hall St. Helena.
Visit Round Pond Estate to enjoy Old World Italian hospitality. Sample delicious wines on a covered terrace and enjoy a meal featuring seasonal ingredients from the estate's on-site garden. Take in the serenity and beautiful views as you enjoy a glass of Cabernet Sauvignon.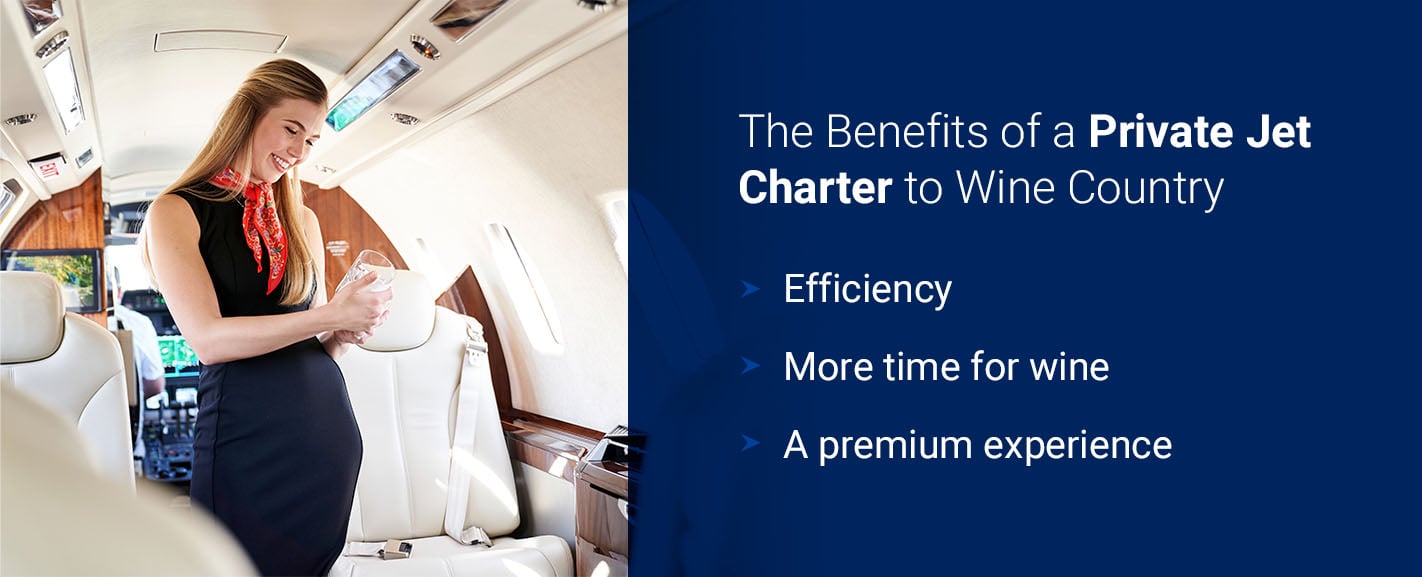 The Benefits of a Private Jet Charter to Wine Country
Flying to California's wine country will enhance your wine-tasting experience. A private charter flight is the perfect pairing for a wine tasting trip, and you can enjoy a private jet wine experience like no other with Latitude 33 Aviation. With years of experience transporting clients to the top wine destinations, we make traveling to California's wine country safe, quick, efficient, and stress-free.
Travel with Latitude 33 Aviation for a wine experience with the following benefits:
Efficiency
Fly with a charter that can accommodate your unique schedule. Skip the strict timelines and specific routes of commercial airlines, and enjoy the flexible availability of a private jet. Arrive at your destination faster at a time that works for you.
More Time for Wine
Spend more vacation time on wine and less time on stressful airport protocols. Take a private charter flight to avoid parking, shuttles, waiting in long lines, checking bags, and going through security at a public airport. Private flights offer a much simpler experience. Arrive shortly before your scheduled departure time, unload your luggage next to the plane, and board for take-off.
A Premium Experience
Enjoy a relaxing and comfortable flight to California's wine country. At Latitude 33 Aviation, we maintain our aircraft to the highest standards, and ours are newer than other charter companies' aircraft. Fly on a private charter jet equipped with the best technology and amenities. Arrive at your destination safely with the highest level of pilots, aviation experts, and crew members who hold the ARGUS Platinum Safety Rating.
Explore California's Wine Country on a Private Jet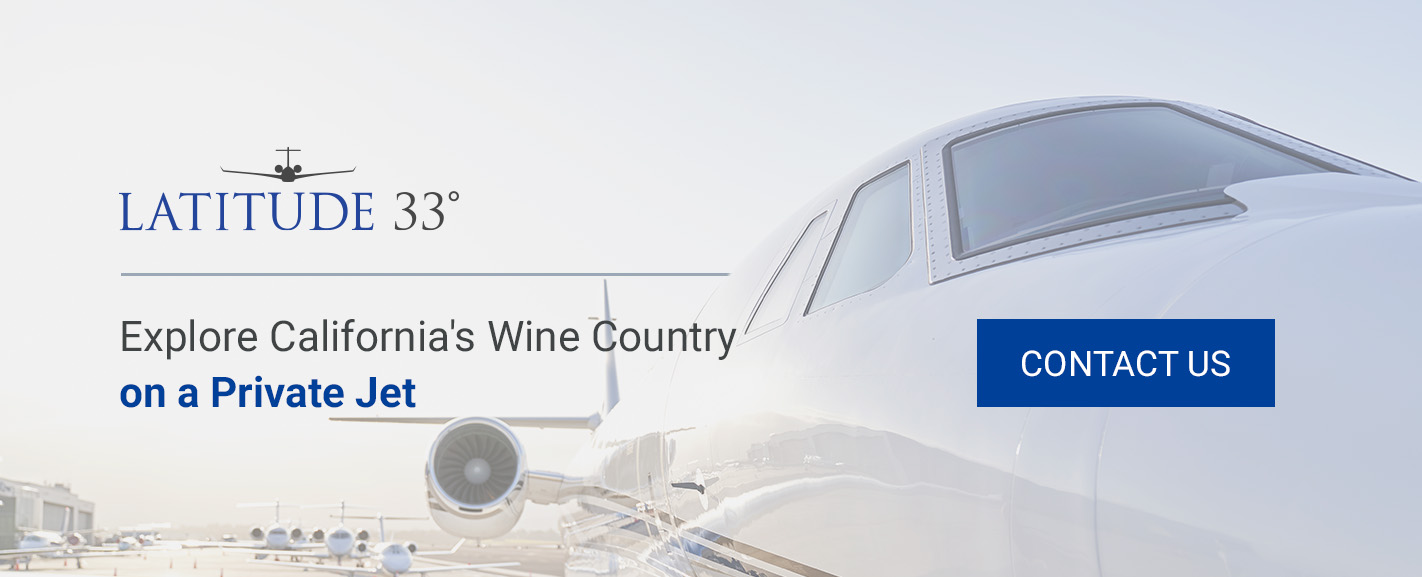 Fly to California's wine country for a delightful experience. Enjoy a stress-free flight into California's top wine destinations and spend more of your valuable vacation time sampling irresistible flavors. Indulge in a truly exquisite experience sipping wine along California's coastlines, strolling through charming small towns, or dining al fresco while overlooking gorgeous vineyards.
With Latitude 33 Aviation, you can rest assured you will reach your destination on your preferred schedule. Whether you want to experience Anderson Valley's small-town charm, Sonoma County's beautiful views, or Napa Valley's upscale ambiance, you are sure to have an incredible time. Contact Latitude 33 to learn more about how we can help you reach your destination efficiently and make the most of your time in California's wine country.