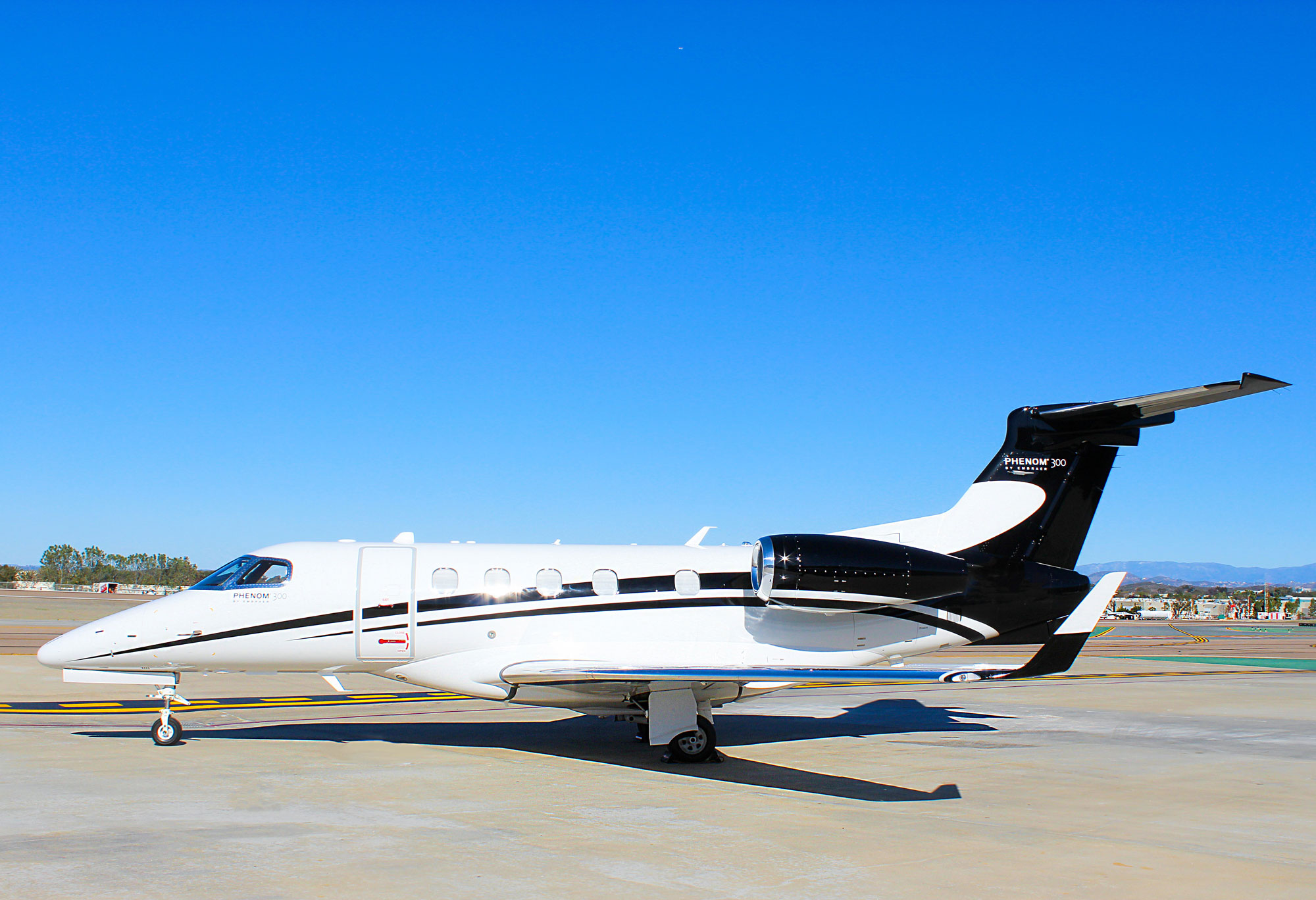 WELCOME ABOARD – PHENOM 300 AVAILABLE FOR CHARTER
Latitude 33 Aviation is proud to announce the latest addition to its private jet charter fleet – the Embraer Phenom 300. This addition is the sixth Phenom 300 Latitude 33 Aviation has added to its private jet fleet. With a generous cabin space, modern interior, and best-in-class cabin altitude, this Embraer Phenom 300 truly provides a satisfying private jet experience. The fresh 2018 exterior features a Matterhorn White base and Gloss Black striping. Based in San Diego, CA at Palomar Airport (KCRQ), this impeccable aircraft is ready for your upcoming charter flights.

Max speed – 453 ktas
Max range – 1,971 nm
Cabin – 324 cubic feet
Stores up to 12 bags
Seats 7 passengers
AirShow
Satellite phone & radio
Video monitors & DVD player
Private lavatory with sink
Wi-Fi
New 2018 paint
Fully reclining seats
Two distinct temperature zones
Custom cabinetry
New style armrests
LATITUDE 33 AVIATION'S PHENOM 300 FLEET FOR CHARTER
This Phenom 300 now flies among Latitude 33 Aviation's fleet of Phenom 300s – the largest managed fleet of Phenom 300s in the world. With four Phenom 300's available for charter in Carlsbad, CA, this latest charter addition has expanded Latitude's capabilities in Southern California and beyond. Latitude 33 Aviation takes pride in the aircraft and the exceptional services provided to its clients. As the best-selling light business jet in the world six years in a row, Embraer's Phenom 300 provides the unparalleled experience clients expect. When you book a private charter flight in a Phenom 300 with Latitude 33 Aviation, you will experience the highest level of luxury travel.
SALES & ACQUISITION SERVICES
As part of our aircraft sales and acquisition services, Latitude 33 Aviation oversaw the entire aircraft acquisition, inspection, and acceptance process for this beautiful aircraft. After efficiently selling the aircraft owner's Embraer Phenom 100 as part of our executive aircraft brokerage service, Latitude 33 Aviation scoured the global market to find the best possible aircraft for the owner's specific set of needs.
FLY PRIVATELY WITH LATITUDE 33 AVIATION
Our private charter aircraft are conveniently based in Carlsbad, Orange County, Long Beach, Hawthorne, Van Nuys, and Fresno, California, for your private jet charter services. With nearly two dozen aircraft in our private jet charter fleet and the highest safety rating in the industry, we set the standard for private air travel.
Contact Latitude 33 Aviation's concierge charter department for arrangements. Whether you are looking for a private jet rental in San Diego, air charter services in Los Angeles, or a private jet flight in Southern California or beyond, our team will get you where you need to go.
To learn more about Latitude 33 Aviation's private jet charter offerings, please visit: